Douglas Fairbanks, Jr. and Joan Crawford, Santa Monica, by Nickolas Muray 1929. Vanity Fair, October 1929. ©Conde Nast Publications Inc. / Courtesy Conde Nast Archive
TORONTO.- The Institute for Contemporary Culture (ICC) at the Royal Ontario Museum (ROM) presents Vanity Fair Portraits: Photographs 1913-2008 from September 26, 2009 to January 3, 2010. The exhibition, which garnered record-breaking attendance in its recent European engagements, showcases 150 portraits, including classic images from Vanity Fair's early period and photographs featured in the magazine since its 1983 relaunch. A collaboration between Vanity Fair and the National Portrait Gallery, London, the exhibition is curated by Terence Pepper, Curator of Photographs at the National Portrait Gallery, and David Friend, Vanity Fair's Editor of Creative Development. Vanity Fair Portraits is presented by the Bay and will be displayed in the Roloff Beny Gallery on Level 4 of the Michael Lee-Chin Crystal. The ROM will be the only Canadian venue to display Vanity Fair Portraits, and this will be its first showing in eastern North America.

Throughout its 95-year history, Vanity Fair magazine has helped define the public persona of some of the most influential individuals in the world. The exhibition brings together a collection of captivating images of cultural icons from the magazine's vintage and modern periods. Sitters range from Claude Monet, Amelia Earheart and Jesse Owens to David Hockney, Arthur Miller and Madonna, as well as legendary Hollywood personalities from Charlie Chaplin and Greta Garbo, to Demi Moore and Tom Cruise. The magazine's mix of artistic seriousness and popular celebrity means that portraits of writers, artists and leaders of the avant-garde will be displayed alongside images of actors, musicians and athletes, providing a fascinating range of high and popular culture.

"We are delighted to bring Vanity Fair Portraits to the ROM. Across its history, the magazine has been a barometer of the cultural mood of the time. This exhibition succeeds in channelling a mixture of the bygone days of Hollywood glamour, as well as newsmakers in art, business, politics and sport - all captured by some of the best portrait photographers in history. We are grateful to the National Portrait Gallery in London and Vanity Fair magazine for the opportunity to show this beautiful exhibition in Canada. It will be the centrepiece in an upcoming series of programming on the nature of celebrity," said William Thorsell, ROM Director and CEO.

"I'm especially proud that the Vanity Fair Portraits exhibition will be making a stop in Canada, and at the Royal Ontario Museum, no less. It's a wonderful institution – a place I remember fondly from my childhood," said Graydon Carter, Editor, Vanity Fair.

"For the better part of this past century Vanity Fair has granted an intimate glimpse into the glamorous and mysterious world of high profile personas and celebrities. The magazine's striking portrait photography has epitomized both the beauty of each individual selected and stood for the iconography of each era," said Bonnie Brooks, the Bay CEO. "The Bay is proud and excited to be a part of this collaboration with the ROM, Vanity Fair and the Institute for Contemporary Culture."

Vanity Fair Portraits was mounted to coincide with the 25th anniversary of the modern-era magazine and the 95th anniversary of the original magazine's founding. The exhibition is divided into two parts, 1913-36, the magazine's early period, and 1983 to the present. In addition to the portraits, the exhibition will include vintage and modern editions of Vanity Fair magazines.

The magazine was launched in 1913 by visionary publisher Condé Nast and editor Frank Crowinshield. From its inception, the magazine strove to engage its cosmopolitan and discerning audience with the vibrant modern culture that sparkled at the beginning of the 20th century. The birth of modernism, the dawning of the Jazz Age, and the 1913 Armory Show that introduced avant-garde art to the American public, all marked the beginning of this sophisticated new era. Vanity Fair magazine became a cultural catalyst, introducing and providing commentary on contemporary artists, personalities and writers.

In these early years, Vanity Fair was the showcase for what was to become the most accessible art form in the 20th century, and an alluring array of portraits were commissioned from the greatest photographers of the period. Edward Steichen (1879-1973), the magazine's chief photographer for 13 years (from 1923 to 1936), became America's leading photographer of style, taste and celebrity. Steichen is best remembered for his timeless images of actors, whose likenesses in print and onscreen helped shape popular culture during the first quarter of the 20th century. A selection of his iconic photographs will be shown in the exhibition.

From the magazine's beginning, British, Irish and American literary figures were frequently profiled in the magazine along with their writings. Among the vintage portraits shown in the exhibition are iconic images of H.G. Wells, James Joyce, D.H. Lawrence, Rebecca West, Ernest Hemingway and George Bernard Shaw.

Vanity Fair Portraits offers a rare opportunity to see some of the definitive portraits of the Jazz Age. Memorable images of men and women of the day are presented, such as Albert Einstein, Collette, Pablo Picasso and English playwright Noel Coward, whose images were captured by legendary photographers such as Martin Hölig, Cecil Beaton, Baron De Meyer, Man Ray and Edward Steichen.

In 1936, Vanity Fair suspended publication, laying dormant for almost half a century. In the early 1980s, the vibrant cosmopolitan spirit streaming through the culture of the time persuaded Condé Nast Publications to resurrect the magazine. Once again, the magazine succeeded in immortalizing the newsmakers of the day - individuals of talent, stature and culture who were firmly embedded in the popular culture. And, as in the early period, portrait photography was the graphic bedrock of the magazine. Tina Brown, editor from 1983 to 1992, notably imbued the magazine with a mixture of personality profiles and first-rate reportage. When Brown moved on to the New Yorker in 1992, Graydon Carter took the editorial reigns at Vanity Fair and expanded the magazine's coverage of news and world affairs, and, amongst a variety of new franchises, inaugurated the now annual Hollywood Issue along with the much-celebrated annual Oscar party.

The section of the exhibition representing the period 1983 to the present illustrates how the revived monthly followed in the tradition of its first editor, Frank Crowninshield, and commissioned the world's leading portrait photographers, among them Helmut Newton, Nan Goldin, Herb Ritts, Harry Benson, Mario Testino, Bruce Weber and Annie Leibovitz, Vanity Fair's principal photographer since 1983. Leibovitz, the most famous imagemaker of her generation, first came to prominence while she was working as a photographer for Rolling Stone magazine, eventually becoming chief photographer. Her Vanity Fair covers have left us with unforgettable images of prominent figures in American pop culture.

Vanity Fair's iconic photographs continue to make news. Post-1983 cover images include the Reagans dancing (1985), a very pregnant Demi Moore (1991), a formal portrait of President George W. Bush's Afghan War Cabinet (2002) and, most recently, actresses Scarlett Johansson and Keira Knightley photographed nude (2006). Exclusive to the ROM is a Jonathan Becker portrait of Conrad Black with his wife, Barbara Amiel.

Exhibition highlights:
From vintage to contemporary prints, Vanity Fair Portraits captures viewers' imagination, taking them on a journey of nearly 100 years of popular culture. The glamour of the golden age of cinema shines in portraits of American actresses Gloria Swanson, Anna May Wong and the Gish sisters; an incandescent portrait of Jean Harlow three years before her death; and beloved icons of the silver screen, Katharine Hepburn and Cary Grant. With a nod to modernity – a significant element of the magazine's inception - the Jazz Age is represented by classic studies of trumpeter Louis Armstrong and entertainer Josephine Baker. The selection also includes unpublished images, including a portrait of 1930s actress Alice White by Florence Vandamm and a study of Weimar era artist George Grosz by Emil Bieber.

Bringing the exhibition to the 21st century, we are invited to look into the eyes of firefighters near Ground Zero (2001); a powerful image of actress Hilary Swank running on a beach (2004) and Annie Leibovitz's Hollywood Issue cover (2001), featuring Nicole Kidman, Catherine Deneuve, Meryl Streep, Gwyneth Paltrow, Cate Blanchett, Vanessa Redgrave, Kate Winslet, Chloe Sevigny, Sophia Loren and Penelope Cruz. From the world of music, portraits of Philip Glass (2002) and Liza Minnelli (2002) are juxtaposed with images of Run DMC (2005) and Radiohead (2000).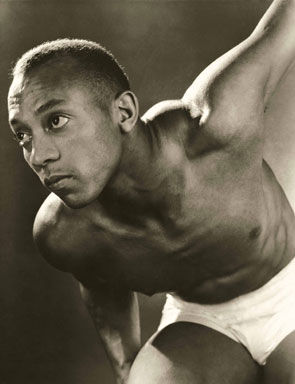 Jesse Owens by Lusha Nelson 1935. Vanity Fair, September 1935. ©Conde Nast Publications Inc. / Courtesy Conde Nast Archive
Toronto (Ontario) – Du 26 septembre 2009 au 3 janvier 2010, l'Institut de culture contemporaine (ICC) du Musée royal de l'Ontario (ROM) présentera Les portraits de Vanity Fair : photographies de 1913 à 2008. Cette exposition, qui a attiré des foules records en Europe, regroupe 150 portraits, autant de la période légendaire de Vanity Fair que de l'époque actuelle, depuis la reprise de sa publication en 1983. Fruit d'une collaboration entre Vanity Fair et la National Portrait Gallery de Londres, elle a été montée par Terence Pepper, commissaire spécialisé en photographie à la National Portrait Gallery, et par David Friend, chargé de la création au Vanity Fair. Présentée par la Baie, l'exposition aura lieu à la Galerie Roloff Beny, au niveau 4 du Cristal Michael Lee-Chin. Seul endroit au Canada où l'on pourra voir cette exposition, le ROM est également sa première escale dans l'Est de l'Amérique du Nord.
Tout au long de ses 95 ans d'existence, Vanity Fair a contribué à façonner l'image que l'on se fait des grands noms de ce monde, et l'exposition rassemble des portraits fascinants des célébrités culturelles qui ont marqué les deux périodes d'existence du magazine. Ont posé pour les photographes du magazine des personnalités aussi diverses que Claude Monet, Amelia Earheart, Jesse Owens, David Hockney, Arthur Miller et Madonna, ainsi que des vedettes hollywoodiennes – Charlie Chaplin, Greta Garbo, Demi Moore et Tom Cruise. Dans ce magazine qui allie rigueur artistique et culture populaire, les portraits d'écrivains, d'artistes et d'inspirateurs de l'avant-garde côtoient ceux d'acteurs, de musiciens et d'athlètes, brossant ainsi un tableau vaste et saisissant de la culture et du divertissement.
« Nous sommes fiers de présenter Les portraits de Vanity Fair au ROM, a déclaré M. William Thorsell, directeur et chef de la direction générale du Musée royal de l'Ontario. Tout au long de son histoire, le magazine a reflété les tendances culturelles de son époque. Cette exposition réunit les témoins de la splendeur passée de Hollywood et ceux qui ont fait la une dans les milieux des arts, des affaires, de la politique et du sport et dont l'image a été saisie par certains des meilleurs photographes de l'histoire. Nous sommes reconnaissants à la National Portrait Gallery de Londres et à Vanity Fair de nous avoir donné la chance de présenter cette magnifique exposition au Canada. Elle sera le pivot d'une programmation sur le thème de la célébrité. »
« Je suis ravi de savoir que l'exposition Les portraits de Vanity Fair fera escale au Canada, qui plus est, au Musée royal de l'Ontario, endroit merveilleux que j'ai visité étant enfant », a déclaré M. Graydon Carter, rédacteur en chef de la revue Vanity Fair.
La tenue de l'exposition Les portraits de Vanity Fair coïncide avec deux dates importantes : le 95e anniversaire de sa fondation et le 25e anniversaire du magazine moderne. Elle se décline donc en deux époques : celle de 1913 à 1936, et celle de 1983 à nos jours. Outre les portraits, l'exposition présente des numéros de Vanity Fair qui sont représentatifs de son histoire.
Créé en 1913 par Condé Nast, éditeur aux larges vues, et par Frank Crowinshield, futur rédacteur en chef, Vanity Fair a fait découvrir à son lectorat cosmopolite et cultivé une modernité qui brillait de tous ses feux en ce début de XXe siècle. La naissance du modernisme et du jazz, l'« Armory Show » de 1913, qui présentait au public américain ce qui se faisait de plus avant-gardiste dans le monde des arts, marquaient le début d'une ère plus complexe. Le magazine Vanity Fair est devenu un catalyseur culturel qui a révélé et suivi des artistes, personnalités et écrivains de l'époque.
Dès le début, Vanity Fair était la vitrine de ce qui allait devenir le moyen d'expression artistique le plus populaire du XXe siècle. Des portraits saisissants ont alors été réalisés sur commande par les grands photographes de l'époque. Edward Steichen (1879-1973), photographe en chef de la revue pendant 13 ans (de 1923 à 1936), a dominé la scène américaine en ce qui concernait le style, le bon goût et la célébrité. Il a pris des clichés inoubliables d'acteurs dont l'image, tant sur papier que sur écran, a marqué la culture populaire du premier quart du XXe siècle. L'exposition comprend plusieurs de ces portraits.
Le magazine publie depuis toujours des portraits et des textes de grands écrivains anglais, irlandais ou américains. Sa première phase a produit les photos désormais mythiques de figures telles que H.G. Wells, James Joyce, D.H. Lawrence, Rebecca West, Ernest Hemingway et George Bernard Shaw.
L'exposition offre également la chance rare de voir des portraits de géants du Jazz. Parmi les autres sujets qui ont posé pour le magazine pendant les Années folles, mentionnons Albert Einstein, Colette, Pablo Picasso et le dramaturge anglais Noel Coward, immortalisés par de fabuleux photographes, tels Martin Hölig, Cecil Beaton, Baron De Meyer, Man Ray et Edward Steichen.
Vanity Fair a cessé de paraître en 1936 et le silence a duré près d'un demi-siècle. Pourtant, au début des années 1980, époque de bouillonnement cosmopolite sur la scène culturelle, Condé Nast Publications a décidé de faire revivre le magazine, qui a de nouveau rempli sa mission : immortaliser l'image du jet set dont le talent, l'influence et l'esprit cultivé sont reconnus par la culture populaire. Le portrait photographique est donc redevenu le fondement visuel du magazine. Tina Brown, rédactrice en chef de 1983 à 1992, a imposé, aux côtés de portraits de célébrités, des reportages de très bonne tenue. En 1992, Mme Brown est passée au New Yorker et Graydon Carter a pris les rênes de Vanity Fair, où il a donné encore plus de place aux nouvelles et aux affaires internationales. Entre autres nouveautés, il a créé le numéro périodiquement consacré à Hollywood et la célèbre réception annuelle des Oscars.
La partie de l'exposition portant sur la période contemporaine montre à quel point le mensuel, dans sa nouvelle mouture, s'est inspiré des idées de son premier rédacteur, Frank Crowninshield, en s'adressant aux plus grands photographes portraitistes du monde : Helmut Newton, Nan Goldin, Herb Ritts, Harry Benson, Mario Testino, Bruce Weber et Annie Leibovitz, principale photographe de Vanity Fair depuis 1983. Mme Leibovitz, la plus célèbre créatrice d'images de sa génération, s'est fait connaître alors qu'elle travaillait pour le magazine Rolling Stone, dont elle deviendra la photographe en chef. Ses pages couvertures pour Vanity Fair nous ont donné des images inoubliables des grands noms de la culture populaire américaine.
Les photos des célébrités continuent de faire les manchettes. Rappelons-nous les couvertures qui montrent M. et Mme Reagan en train de danser (1985), une Demi Moore très enceinte (1991), un portrait très officiel du cabinet de la guerre d'Afghanistan du président Bush (2002) et, tout dernièrement, les nus des actrices Scarlett Johansson et Keira Knightley (2006). Le ROM expose en exclusivité le portrait, réalisé par Jonathan Becker, de Conrad Black et de sa femme Barbara Amiel.
Les joyaux de l'exposition

Les portraits de Vanity Fair fascineront les visiteurs et leur feront traverser près d'un siècle d'histoire de la culture populaire. L'apogée du cinéma hollywoodien resplendit dans les portraits d'actrices américaines Gloria Swanson, Anna May Wong et les sœurs Gish, dans celui, lumineux, de Jean Harlow, trois ans avant sa mort, et dans ceux des stars adulées du grand écran Katharine Hepburn et Cary Grant. Clin d'œil à la modernité, au cœur de la vocation du magazine, l'âge d'or du jazz est représenté par les portraits légendaires de Louis Armstrong avec sa trompette et de la grande vedette Josephine Baker. L'exposition présente également des images inédites, dont un portrait de l'actrice Alice White par Florence Vandamm et un cliché, signé Emil Bieber, de George Grosz, artiste ayant vécu à l'époque de la république de Weimar.
Au XXIe siècle, nous voyons le regard des sapeurs-pompiers près de Ground Zero (2001), une image frappante de l'actrice Hilary Swank courant sur la plage (2004) et la couverture hollywoodienne d'Annie Leibovitz (2001) où posent Nicole Kidman, Catherine Deneuve, Meryl Streep, Gwyneth Paltrow, Cate Blanchett, Vanessa Redgrave, Kate Winslet, Chloë Sevigny, Sophia Loren et Penélope Cruz. Dans le monde de la musique, des portraits de Philip Glass (2002) et de Liza Minnelli (2002) côtoient ceux de Run DMC (2005) et de Radiohead (2000).