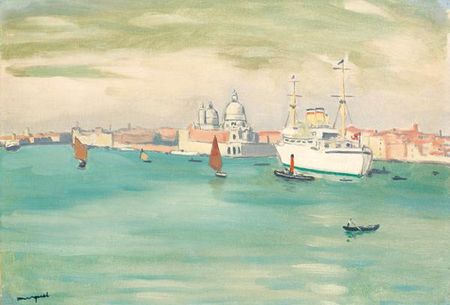 Albert Marquet, (1875-1947) Venise, 1936
Huile sur toile. Signée en bas à gauche, 38 x 55 cm. Estimation : € 120,000-140,000

Provenance : Aquavella Galleries, New York
Collection particulière, Suisse

Un certificat du Wildenstein Institute référence 04.06.04/678/9234, en date du 4 mai 2004, sera remis à l'acquéreur

Cette œuvre figurera dans le catalogue raisonné actuellement en préparation sous l''égide du Wildenstein Institute
TAJAN; ART MODERNE, ART CONTEMPORAIN & DESIGN, 28 juil. 2009 20:00, Monaco www.tajan.com
Plus tôt, dimanche 19, est proposée une litho d'Albert Marquet sur Venise de la même année :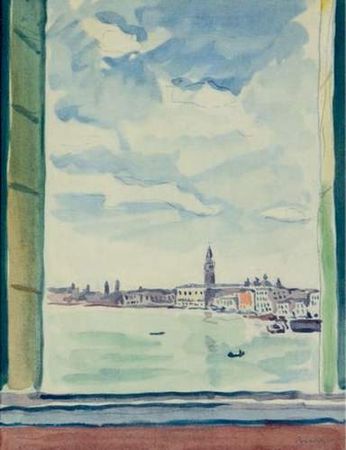 Albert Marquet (1875-1947) Venise, 1936
Lithographie. Signée et datée : " 36 " en bas à droite. 280 x 220 mm - Pas d'estimation.
Vente du Dimanche 19 juillet 2009. Art Impressionniste et Moderne, Art Contemporain, Tableaux du XXe siècle. Cannes Auction - 06400 Cannes. Pour tout renseignement, veuillez contacter la maison de ventes au (33) 04 93 99 22 60
Une toile fut vendue chez Christie's New York au mois de mai dernier :
Albert Marquet (1875-1947) Venise, San Giorgio , signed 'marquet' (lower right) oil on canvas , 13 1/8 x 21 7/8 in. (33.3 x 55.6 cm.) Sold $86,500 @ Christie's Impressionist & Modern Art day sale. 7 May 2009, New York, Rockefeller Plaza
Guy Wildenstein will include this painting in his forthcoming Marquet catalogue critique being prepared under the sponsorship of the Wildenstein Institute.
Une huile sur toile d'Albert Marquet (1875-1947) Venise, vue de la Giudecca, 1936., signée en bas à droite (65 x 81 cm) fut vendue 495 547 € le 11 décembre 2007 pr l'Etude Tajan.
Albert MARQUET, né à Bordeaux, arriva jeune à Paris. Il devint l'élève de Gustave Moreau à l'École des Beaux-Arts, fréquenta avec assiduité le Louvre pour y copier les maîtres, découvrit les impressionnistes, participa en 1905 à l'exposition des fauves, courant auquel il adhéra un temps très court. Observateur subtil, grand voyageur, Marquet a peint des vues de Paris, mais aussi du Havre, de Saint-Tropez, de Venise et de Hambourg, simplifiant les formes, éliminant l'anecdote pour rendre sans complaisance, mais avec émotion, l'essence même des formes. L'apprentissage, la période fauve, les voyages en Europe font l'objet de l'ouvrage bilingue, en préparation sous la direction de Guy Wildenstein. Mille sept cent quatre-vingt-neuf peintures y seront recensées.