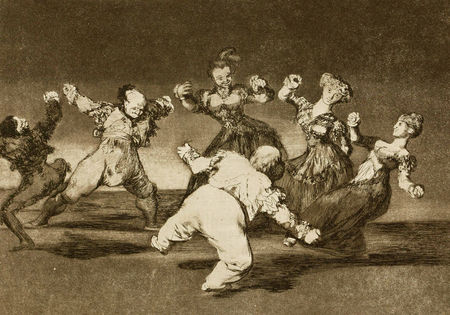 Francisco de Goya, Disparate Allegre (merry folly) © Manchester City Galleries
MANCHESTER.- A new exhibition featuring a compelling selection of rarely displayed etchings by Francisco de Goya opens at Manchester Art Gallery this August.

Fantasies, Follies and Disasters features 30 prints selected from the artist's three best-known and most significant groups of etchings: Los Caprichos (The Fantasies), Los Desastres della Guerra (The Disasters of War), and Los Disparates (The Follies).

The works are all drawn from Manchester Art Gallery's superb collections, and have not been exhibited together as a group for over 20 years. The gallery's collection of graphic works by the artist is recognised for being one of the most important in the world. It includes over 90 rare first-edition examples of etchings which were purchased in the early 1980s from the estate of the leading Goya scholar Tomás Harris.

Francisco de Goya (1746-1828) was one of the most important and influential European artists of his time. As both Principal Painter to King Charles IV and Director of Painting at the Spanish Royal Academy, he was awarded Spain's highest professional honours. Goya also enjoyed a prolific and lucrative career in the portraiture business; his numerous sitters were frequently figures of the establishment.

Yet behind his public facade Goya was profoundly disaffected. In 1792 an illness left him deaf and increasingly introspective. Like other Spanish intellectuals, he was also deeply concerned by his nation's troubles: Spain in the late 18th century was widely considered to be backward and rife with poverty and corruption, and the country's suffering was only to be compounded by the French occupation in 1808.

Goya's etchings, produced largely in private, provide a window into the tormented imagination of this extraordinary artist. His prints feature a mixture of satirical caricatures attacking the ignorance and hypocrisy of late 18th century Spanish society and the Church, and dark, nightmarish landscapes exposing the atrocities and misery suffered in war. Only fully known after his death, many of the works were withheld from publication during his lifetime because of their controversial and disturbing qualities. Yet, today Goya is as well known for these works of art, as he is for his portraits of Europe's 18th century nobility.

The exhibition includes some of Goya's most memorable images, such as the iconic The Sleep of Reason Produces Monsters, with a sleeping artist visited by the terrifying creatures of his imagination. Elsewhere, the famous war subjects withhold nothing in their horrified depiction of violence, torture and famine – a woman holds a child in one arm while she spears a soldier with the other; another gruesome scene shows bodies strung up from a tree. Yet Goya's later, final etchings are perhaps the most memorable of all, transforming some of his earlier themes into a timeless, dreamlike world which anticipates much of twentieth-century art.

Manchester City Council's Executive Member of Culture and Leisure, Councillor Mike Amesbury commented: "Just like the gallery's hugely successful Leonardo da Vinci exhibition earlier this year, this is another fabulous opportunity to see artworks by one of the great Masters for free."

A second exhibition of Goya's prints from Manchester Art Gallery's collections will follow in February 2010.