Marshmallow Sofa, 1956. Photo: Vitra
A CORUNA, SPAIN.- In the year 2008, the American designer George Nelson (1908-1986) would have celebrated his 100th birthday. To commemorate this occasion, the Vitra Design Museum is planning the first comprehensive retrospective of his work. Nelson was one of the most influential figures in American design during the second half of the twentieth century. With an architectural degree from Yale, he was not only active in the fields of architecture and design, but was also a widely respected writer and publicist, lecturer, curator, and a passionate photographer. His office produced numerous furnishings and interior designs that became modern classics, including the Coconut Chair (1956), the Marshmallow Sofa (1956), the Ball Clock (1947) and the Bubble Lamps (1952 onwards). As design director at Herman Miller, a leading US manufacturer of modern furniture design, Nelson had a major influence on the product line and public image of the company for over two decades. He played an essential role in bringing the company together with designers such as Charles Eames, Alexander Girard and Isamu Noguchi. Early on, Nelson was convinced that design should be an integral part of a company's philosophy, and by promoting this viewpoint, he also became a pioneer in the areas of business communication and corporate design.

As an architect, designer and writer, Nelson was deeply interested in the topics of domestic living and interior furnishings. In the bestselling book Tomorrow's House (1945, co-authored with Henry Wright), he articulated the groundbreaking concept of the "storagewall". The walls of a house, Nelson explained, could be used to store things by transforming them into floor-to-ceiling, two-sided cabinets. A revolutionary idea at the time, it anticipated the flood of consumer goods that the economic boom in the western world would soon produce, turning the single-family home into a small warehouse.

Nelson designed several private homes, including a New York town house for Sherman Fairchild (1941, together with William Hamby) and Spaeth House on Southampton beach (1956, together with Gordon Chadwick). As a committed proponent of industrial building methods, Nelson published numerous texts on the topic of prefabricated architecture. In the 1950s he developed the "Experimental House", a modular system of cubic volumes with Plexiglas roof domes which owners could assemble into personal habitations according to their own spatial requirements.

In addition to his preoccupation with architecture and the domestic interior, Nelson intently pursued the topic of office furnishings. Besides designing the first L-shaped desk, he played a major role in the development of Herman Miller's Action Office, and in the 1970s he created his own office system, Nelson Workspaces. Similar to Nelson's home furnishings and experimental architecture, this system was based on a variety of modular elements that could be freely combined.

The extraordinary diversity of design tasks taken on by the Nelson office extends far beyond the field of furniture design, although the latter forms the basis of his reputation today. Numbering among his clients were many large corporations including Abbott, Alcoa, BP, Ford, Gulf, IBM, General Electric, Monsanto and Olivetti, as well as the United States government. In his New York office, which he established in 1947 and ran for more than three decades, Nelson employed over fifty people at times, including familiar figures such as Ettore Sottsass and Michael Graves. Along with exhibitions, restaurant interiors and showrooms, George Nelson & Company designed kitchens, flatware and dishes, record players and speakers, birdhouses and weathervanes, computers and typewriters, company logos and packaging, rugs and tiles.

Nelson's wide-ranging abilities culminated in the organisation and design of the American National Exhibition in 1959, which was held in Moscow. Nelson and his associates selected several hundred industrial products manufactured by American companies and displayed them on a vast threedimensional multi-level platform designed especially for the exhibition. He also furnished a "model apartment" and designed a large fiberglass umbrella for two other modular exhibition pavilions. The Moscow exhibition made history as the backdrop for the famous "Kitchen Debate" between Nixon and Khrushchev. Similarly spectacular was Nelson's exhibit for Chrysler at the 1964 New York World's Fair, which featured a Pop-Art-inspired, 64-foot long "giant car" and a huge walk-in engine as part of the exhibition space. While this Fair still celebrated the automobile, Nelson expressed a more critical view of automotive transportation in his essays and lectures on urban planning. As early as 1943, he outlined the mall concept as an auto-free shopping zone in the article "Grass on Main Street". In the 1970s he devised plans that would completely eliminate cars from city streets, such as an unrealized project for a holiday village in Portugal.

After earning an architectural degree, Nelson began his career as a writer and journalist. Throughout his lifetime he was regarded as a brilliant publicist. He was not only co-editor of the eminent journal Architectural Forum, but also worked for many other well-known magazines including Fortune, Life, Industrial Design, Interiors and Harper's. He also published more than half a dozen books on design topics. Nelson was one of the speakers at the first Aspen Design Conference in 1951 and a regular participant in the years thereafter. His engaging sense of humour and penchant for radical theories surely contributed to his popularity as a speaker at a wide range of conferences and symposiums. In 1961, at the height of the Cold War, he created a television program entitled "How to Kill People: A Problem of Design" — both an apt and bitingly ironic commentary on warfare from the designer's viewpoint. Like the Eameses, Nelson was one of the early pioneers of multi-media lectures. He often used his own photographs for this purpose, many of which were taken on his wide and numerous travels. His photographic work and engagement with questions of everyday aesthetics found expression in the book How to See, which offered suggestions for sharpening one's conscious perception of the everyday environment.

Nelson once described himself as being more interested in systems and their usefulness for humanity than in things. Nelson's analytical eye, his admonition to go beyond mere questions of form and think in the larger context of practical applications, and his achievements in the area of design education make his work today more than ever—significant and highly relevant.

The exhibition will be divided into five subject areas. Numerous furnishings by Nelson from the collection of the Vitra Design Museum—not only many classics, but also lesser known pieces—will form the core of the exhibition. They will be organized in three categories:

• Nelson and the House: Nelson as a pioneering planner and designer of the modern singlefamily home during the 1940s and '50s: Sherman Fairchild House (townhouse in New York, 1941), The House of Tomorrow (bestselling book on modern housing, 1944), The Holiday House (model vacation home for Holiday Magazine, 1950), Experimental House (design of a modular prefabricated house, 1952-57). Additional subjects: Storage Wall (1944), Herman Miller Casegoods (from 1946), Comprehensive Storage System (1959), Seating (Coconut Chair, 1956; Marshmallow Sofa, 1956; etc.) and kitchen design.

• Corporate Design: Nelson's work as a designer and design director for Herman Miller. Brochures, advertisements and vintage audiotapes document the development of corporate design at Herman Miller from the mid-1940s into the 1960s. In this context, corporate design programs for other firms, such as the pharmaceutical company Abbott (1959), will also be presented.

• The Office: Nelson as a prominent innovator in the development of the modern office environment: L-shaped desk as the forerunner of the workstation (1947), Action Office (1964), Nelson Workspaces (1977).

Two additional exhibition areas will be devoted to the following topics:

• Exhibition Design: This section will focus on the American National Exhibition in Moscow (1959), for which Nelson was responsible as head designer. Other topics include the Chrysler Pavilion at the 1964-65 New York World's Fair, and Nelson's exhibition work for the United States Information Agency.

• Nelson as an author, editor, and one of the most important thinkers and visionaries in the realm of twentieth-century design. In addition to providing an overview of the numerous articles and books published by Nelson, this section of the exhibition will also show some of his films and slide presentations, in which he addressed the topics of urban planning, consumerism, and aesthetic perception in Western society.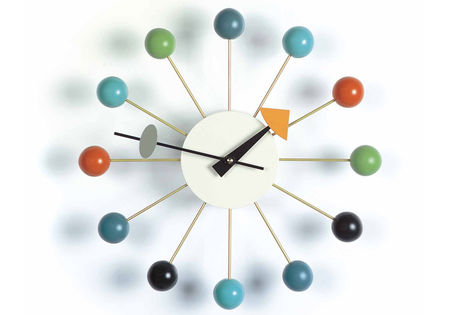 Ball Clock, 1948. Photo: Vitra Design Museum