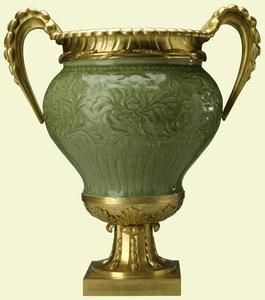 Vase, fifteenth century (French mounts, c.1760-70), 15th cent. Porcelain and gilt bronze, 52.5 x 47 x 32.5 cm. Probably bought by George IV. RCIN 2315. The Royal Collection © 2009, Her Majesty Queen Elizabeth II
Among George IV's large collection of celadon porcelain (the term denotes the grey-green glaze) probably only two pieces are earlier than the eighteenth century, suggesting that the quality or rarity of the porcelain was of less concern to him than the formal variety and lustre of the metal mounts. In this instance a large and early celadon jar from Longquan, with relief decoration of scrolling flowers and foliage, has been mounted as a double-handled vase in the bold and somewhat austere gout grec style of the 1760s. The rim and the tapering, gadrooned handles were cast in one piece, and the raised foot is cemented to the base of the vase.

This is probably the vase listed in store at Brighton in 1826 as 'A sea green Vase, impressed scroll leaf pattern & border, ormolu rim bow handles, stem base on square plinth threaded - 20. In'. (Catalogue entry from Royal Treasures, A Golden Jubilee Celebration, London 2002)
Pair of ewers, c.1740 (French mounts, c.1750-5), c.1740. Porcelain and gilt bronze, 30.8 x 17.5 x 9.5 cm. Probably Robert Fogg; from whom bought by George IV, 1818 (PRO LC11/26) RCIN 360.1-2. The Royal Collection © 2009, Her Majesty Queen Elizabeth II
These Chinese celadon vases, each in the form of grotesque carp, were made in China in around 1740 and not long afterwards were mounted as ewers in France. The two vases were not made in the same mould and their glazes are markedly different, indicating that they may have been made into a pair by the marchand-mercier responsible for mounting them. Their form suggests that they may in fact have been made for the purpose of mounting in the West. The gilt bronze mounts separate into six pieces (the handle, the two sides of the base, the acanthus-leaf mount of the tail, one of the shells at the back and a base plate), which are screwed together in such a way as to disguise the joins.

Vases of this type arrived in France in some numbers. A similar vase with the same design of mounts appears in a painting of the Baron de Besenval of 1790-1 by Henri-Pierre Danloux (Paris, private collection), and a closely related pair of ewers is in the National Gallery of Art, Washington DC. Other examples were sold at Christie's, London, 11 June 1992; Christie's, New York, 26 October 1994 and 23 May 1995.

This pair are probably those mentioned in Robert Fogg's invoice for the period ending 10 October 1818 as '2 do. [China vases Sea Green Ground] Fish do. [richly mounted in ormolu]'. They were listed in the Music Room Gallery at Brighton in 1826 as '2 very fine Sea green dolphin China Jars with wide spreading tail lips, superbly mounted in scroll rush handles and scroll rush and shell bases 12. In high'. (Catalogue entry from Royal Treasures, A Golden Jubilee Celebration, London 2002)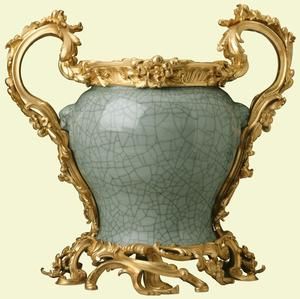 Mounted jar, c.1745-9 (French mounts) c.1745-9. Porcelain and gilt bronze, 37 x 41.2 x 29 cm. Probably Colnaghi & Co.; from whom bought by George IV, 1818 (Jutsham II, p. 31) RCIN 2311.2. The Royal Collection © 2009, Her Majesty Queen Elizabeth II
This Chinese craquelé celadon jar, one of a pair, is probably very nearly contemporary with the gilt bronze mounts, which bear the crowned 'C' stamp applied to bronzes that were on the market in France between 1745 and 1749. The style of the vase imitates much earlier Song dynasty wares (960-1279 ad). The highly prized fine craquelure was achieved by the successive application of glazes with different co- efficients of expansion. The four separate mounts, in a yellow and very heavy bronze alloy, were most probably cast by the lost-wax process and then finely chiselled and burnished. The protruding porcelain handles, modelled as animal heads with rings in their mouths, seem to have given the bronze-maker some difficulty. The gilt bronze handles were modelled in two sections, with their floral sprigs separately modelled and applied. On one of the handles, two secondary screw fixings were used to retain the flower sprigs from behind. The unusually open and three-dimensional rocaille work of the foot mount was probably cast from a carved wooden model with the floral sprigs applied at the wax stage. The rim mount was modelled in one piece and fitted to the rim with a detachable narrow, grooved gilt brass collar.

This form of foot mount was relatively widespread (it can be found, for example, on a jar sold at Sotheby's, Monaco, 14 December 1996), but its designer and maker are not known.

The vase was probably acquired (with its pair) by George IV from the London print-sellers Colnaghi & Co., whose invoice for the quarter ending April 1818 included 'Two Crackled China Jars elegantly mounted in or Molu'. They may be those recorded in the Music Room Gallery at Brighton in 1826 as 'A pair of old Sea green crackle China jars with small mask and ring handles, superbly mounted in antique ormolu scrolled lips handles and bases 15. in.' (The word 'antique' was added in pencil in around 1840).
Inscribed on the base, in black paint 12-kch; stamped four times with a crowned 'C' on the mounts. (Catalogue entry from Royal Treasures, A Golden Jubilee Celebration, London 2002)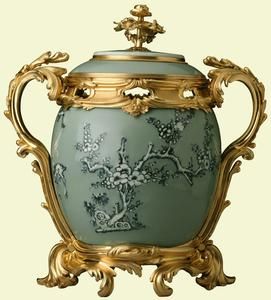 Pot-pourri vase, c.1725-50 (French mounts, c.1750), c.1725-50. Porcelain and gilt bronze, 34.6 x 31.7 x 21.6 cm. Probably acquired by George IV. RCIN 2306. The Royal Collection © 2009, Her Majesty Queen Elizabeth II
This single Chinese celadon jar was probably originally of the ovoid form with a raised neck and lid known as a 'ginger jar'. It has been cut at the neck and the raised section removed from both the jar and the lid. It is decorated with deer and with pine, bamboo and prunus, the 'three friends of winter'. After importation into France the jar was mounted as a pot-pourri with six separate gilt bronze castings, probably made by the lost-wax process and very well chased and burnished. The eight 'eyes' in the neck mount allowed the escape of the scent contained within the jar.

In the inventory of Madame de Pompadour's possessions taken after her death in 1764, her apartments at the Hôtel d'Evreux in Paris contained (in the 'première antichambre') 'un pot-pourri d'ancienne porcelaine Celadon avec des desseins bleus, garnis de deux ances de bronze doré' valued at 100 livres. A further pair of similar vases was included in the L.-J. Gaignat sale of 1769. The present vase was probably that listed in store in the 1826 inventory of Brighton Pavilion as 'A Pot Pourri bowl & cover sea green, blue & white trees & flowers ormolu flower top pierced rim scroll handles & base 14 In'. All the mounts appear to have been regilded. (Catalogue entry from Royal Treasures, A Golden Jubilee Celebration, London 2002)

Bottle vase mounted as a ewer. Qianlong (porcelain) (mounts, French, c. 1810). Porcelain, gilt bronze mounts. Purchased by George IV in 1827. RCIN 2348.1-.2. The Royal Collection © 2009, Her Majesty Queen Elizabeth II
The celadon porcelain, enamelled in what was termed 'sea green,' is decorated with butterflies and trailing vines applied in white 'slip,' a very liquid clay. This type of porcelain was made for export to the West and was often transformed with gilt bronze mounts for strictly decorative purposes - in this case as ewers, incorporating river gods, swan necks and the badge of the French Order of the St Esprit.