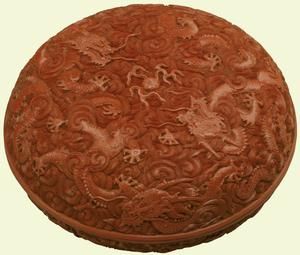 Chinese: Qianlong (1736-1795). Circular covered box with dragons in clouds, c.1736-95. Red, green and yellow lacquer on wood, 8.0 x diameter 20.0 cm, (?)presented to George III by the Emperor Qianlong, 1793. RCIN 10806.1. The Royal Collection © 2009, Her Majesty Queen Elizabeth II
By the end of the eighteenth century the East India Company had been trading with Chinese merchants for two hundred years, but in a strictly limited way. They were only allowed into Canton for five months in a year, and all trade had to be carried on through Chinese officials. The British Embassy of 1792-4, led by Earl Macartney of Lissanore (1737-1806), was charged with negotiating a treaty of friendship between George III and the Emperor Qianlong, establishing a permanent diplomatic post in Peking, and improving trading conditions in Canton. In these objectives it failed completely. In the eyes of the octogenarian Emperor, the British were coming to pay tribute to him rather than to establish diplomatic relations as understood in the West. In a lengthy edict addressed to the King, he refused to allow a permanent British mission to Peking, which was 'a request contrary to our dynastic usage'. When presented with the King's gifts, which included a Herschel telescope, a planetarium, artillery pieces, air pumps and carriages, as well as Wedgwood pottery, chandeliers, clocks and watches, he declared: 'I set no value on objects strange or ingenious, and have no use for your country's manufactures'.
Macartney's mission did not return empty handed. A list of the numerous gifts which the Emperor made to George III is preserved in the India Office Library. The King was sent an agate ruyi sceptre and large quantities of porcelain, jade, carved lacquer and silk. Among them were 'caskets', some of them 'in the shape of a peach' and others decorated 'with clouds of Dragons' in 'red varnish' or lacquer. Aeneas Anderson, whose account of the Embassy was published in 1795, described them as 'a number of callibash boxes of exquisite workmanship, beautifully carved on the outside, and stained a scarlet colour, of the utmost softness and delicacy'. The decoration, which is deeply carved into the many layers of vegetable lacquer, some of them in different colours, includes the five-clawed dragon reserved for use on imperial wares.
When Joseph Farington visited Frogmore in November 1797 he noticed 'some presents from the Emperor of China', and carved boxes of this type can be seen in Pyne's view of the Green Closet.
Inscribed on the underside with the imperial reign mark incised and filled with gold.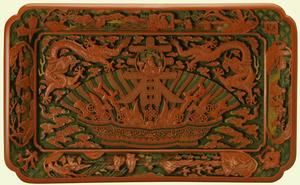 Chinese: Qianlong (1736-1795) Rectangular tray with a collection of precious emblems, c.1736-95. Red, green and yellow lacquer on wood. 3.0 x 13.2 x 21.9 cm. Inscribed on the underside with the imperial reign mark incised and filled with gold. (?)presented to George III by the Emperor Qianlong, 1793. RCIN 10809.1. The Royal Collection © 2009, Her Majesty Queen Elizabeth II
Chinese: Qianlong (1736-1795) Covered rectangular box with dragon and phoenix, c.1736-95; Red, green and yellow lacquer on wood, 8.2 x 25.8 x 15.7 cm. Inscribed on the underside with the imperial reign mark incised and filled with gold. (?) presented to George III by the Emperor Qianlong, 1793. RCIN 10810.1. The Royal Collection © 2009, Her Majesty Queen Elizabeth II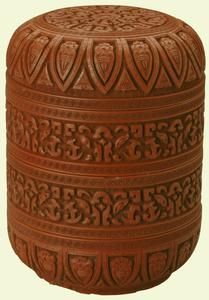 Chinese: Qianlong (1736-1795) Tiered covered box with dragon and phoenix. c.1736-95. Red, green and yellow lacquer on wood, 20.7 x 15.3 cm. Inscribed on the underside with the imperial reign mark incised and filled with gold. (?) presented to George III by the Emperor Qianlong, 1793. RCIN 10818. The Royal Collection © 2009, Her Majesty Queen Elizabeth II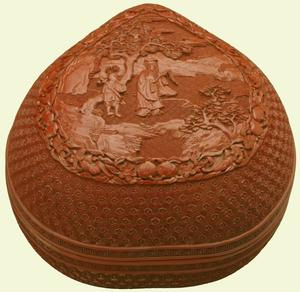 Chinese: Qianlong (1736-1795) Covered peach-shaped box with a Daoist immortal in a landscape, c.1736-95.Red, green and yellow lacquer on wood, 10.4 x 16.3 x 16.5 cm. (?)presented to George III by the Emperor Qianlong, 1793. RCIN 10821.2. The Royal Collection © 2009, Her Majesty Queen Elizabeth II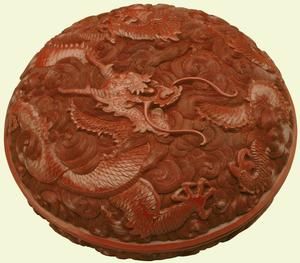 Chinese: Qianlong (1736-1795), Covered circular box, c.1736-95. Red, green and yellow lacquer on wood, 6.9 x diameter 15.2 cm. Inscribed on the underside with the imperial reign mark incised and filled with gold. (?)presented to George III by the Emperor Qianlong, 1793. RCIN 10823. The Royal Collection © 2009, Her Majesty Queen Elizabeth II