View of Seattle Asian Art Museum
SEATTLE, WA.- Highlights of the Seattle Art Museum's (SAM's) renowned Asian art collection will tour to five major Japanese museums beginning this summer. Luminous Jewels: Masterpieces of Asian Art from the Seattle Art Museum opens July 25 at the Suntory Museum of Art in Tokyo and features nearly 100 of SAM's Asian art masterpieces including paintings, screens, sculpture, ceramics, stone, wood, lacquer and metal ware.

"We are honored to travel highlights of the Seattle Art Museum's Asian collections throughout Japan," said Mimi Gates, Director Emerita of the Seattle Art Museum. "It is a particular pleasure to have our masterworks of Japanese art seen in the land in which they were created."

Inspired and educated by travel to Asia with his mother, SAM's founding director Dr. Richard E. Fuller had a deep knowledge and passion for Asian art which went into his personal collection. Many of the works he collected, including Crows (ca. 1650), a pair of six-paneled Japanese screens that he purchased not long after the museum's 1933 opening, became the core of the museum's collection and are still beloved by visitors.

Today, the bulk of the museum's Asian art holdings of more than 7,000 works are exhibited at SAM's original home in Volunteer Park, which since 1994 has been known as the Seattle Asian Art Museum. SAM's Japanese collection is considered one of the top five in the world outside of Japan, and the extensive holdings include significant examples of ink painting, calligraphy, Buddhist sculpture, metalwork and folk textiles.

The Chinese collection spans the Neolithic period through the present and includes large-scale Buddhist sculpture, tomb figures, ceramics, ritual bronzes, paintings, lacquers, textiles, jade carvings, snuff bottles and more than 350 Chinese puppets. Highlights of the Korean collection include folding screens, celadons and early stoneware ceramics. The South and Southeast Asian collection includes Buddhist and Hindu sculpture in stone and bronze, painting, decorative arts, a premier collection of Thai ceramics and a large selection of blue and white Vietnamese ceramics from the late 15th to early 16th centuries. In recent years, SAM has acquired contemporary Japanese, Chinese and Korean works.

Luminous Jewels was curated by Dr. Yukiko Shirahara, the former John A. McCone Curator of Asian Art curator of Asian Art at SAM and current Chief Curator at the Nezu Museum of Art in Tokyo, along with two other distinguished scholars of Asian art, professor Masatomo Kawai (Professor Emeritus, Keio University) and Mr. Nishioka Yasuhiro (Former Deputy Director, Tokyo National Museum). These three scholars also edited the accompanying exhibition catalogue which features entries from 24 scholars from the U.S. and Japan including Mimi Gates and Josh Yiu, Foster Foundation Associate Curator of Chinese Art at SAM.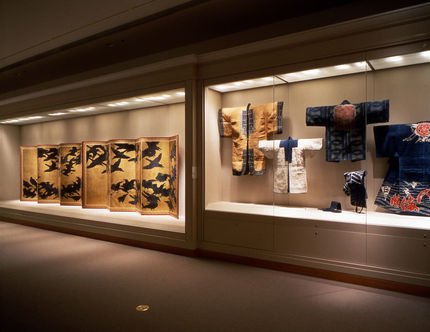 View of Seattle Asian Art Museum