Hugh Douglas Hamilton (1739 – 1808), Portrait of Charlotte Williams Wynn (1754-1830).


Hugh Douglas Hamilton (1739 – 1808), Portrait of Sir Watkin Williams Wynn, 4th Baronet (1749 – 1789).
CARDIFF.- National Museum Wales announced that it has recently acquired two eighteenth century pastel portraits of Sir Watkin Williams Wynn, 4th Baronet and his wife Charlotte Willams Wynn by the Irish artist Hugh Douglas Hamilton. The acquisition was made possible through a £25,000 (pro rata-ed) grant from The Art Fund, the UK's leading independent art charity.

The two portraits are of the highest quality and their addition to the collections at Amgueddfa Cymru adds significantly, both to the holdings of works related to the Williams Wynn family and to the Museum's National Portrait collection. They are also the first works in the collection by the significant eighteenth century artist Hugh Douglas Hamilton.

Beth McIntyre, Curator, Prints and Drawings, Amgueddfa Cymru said: "They are fine examples of his delicate technique capturing a true likeness of the sitters as well as their characters."

Andrew Macdonald, Acting Director of The Art Fund said: "These two oval portraits, kept in their original frames, celebrate the lives of two generous patrons of the arts and are a fitting addition to National Museum Wales' permanent collection. They will make a subtle pairing with the Sir Joshua Reynolds portrait Charlotte Grenville, wife of Sir Watkin Williams Wynn and her children (1777 – 1779) also in the National Museum Wales collection, acquired with The Art Fund's help in 1998."

The works will mainly be displayed within the newly refurbished eighteenth century gallery at National Museum Cardiff, and will also be available for viewing when not on display in the Prints and Drawings Study room.

Amgueddfa Cymru - National Museum Wales aims to acquire works reflecting the history of patronage and collecting in Wales. These exquisite works offer a more vivid and intimate picture of the Williams Wynns, to complement the grand paintings by Joshua Reynolds and Pompeo Batoni already in the collection.

Amgueddfa Cymru – National Museum Wales operates seven national museums across Wales. These are National Museum Cardiff, St Fagans: National History Museum, National Roman Legion Museum, Caerleon, Big Pit: National Coal Museum, Blaenafon, National Wool Museum, Dre-fach Felindre, National Slate Museum, Llanberis, and the National Waterfront Museum, Swansea.
Hamilton, Hugh Douglas (b Dublin, 1736; d Dublin, 10 Feb. 1808).
Irish painter, mainly of portraits, active for much of his career in England and Italy. He worked in London 1764–79, then in Italy 1779–91 (mainly Rome and Florence), before returning in 1792 to Dublin, where he became the leading portraitist of the day. Early in his career he worked mainly in pastel and it was in this medium that he produced his masterpiece, Antonio Canova in his Studio (c.1789, V&A, London), which shows the celebrated sculptor with Henry Tresham (?1751–1814), an Irish painter, art dealer, and writer; in front of them is a full-size plaster model for Canova's Cupid and Psyche. The picture is unusually large and ambitious for a pastel (it is a metre (3 ft) wide), and it is the work with which Hamilton relaunched his career in Britain, at the Royal Academy exhibition in 1791, after his long residence in Italy. Dignified in composition and masterly in its richness of technique, it is regarded as the greatest pastel ever produced by an artist from the British Isles. The Oxford Dictionary of Art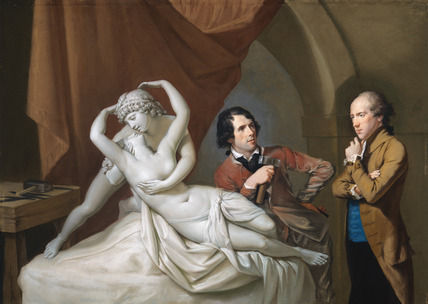 Antonio Canova in his studio with Henry Tresham and a model for the Cupid and Psyche sculpture, by Hugh Douglas Hamilton (c.1739-1808). Pastel on paper. England, 1788-89. © Victoria and Albert Museum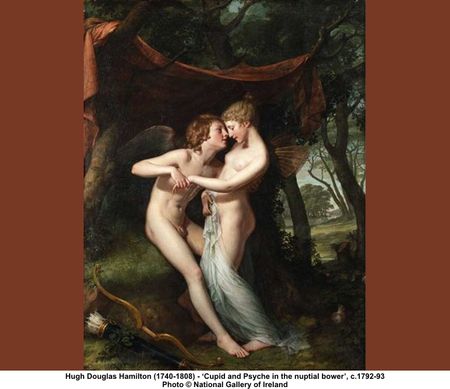 Some pastel portraits by Hugh Douglas Hamilton :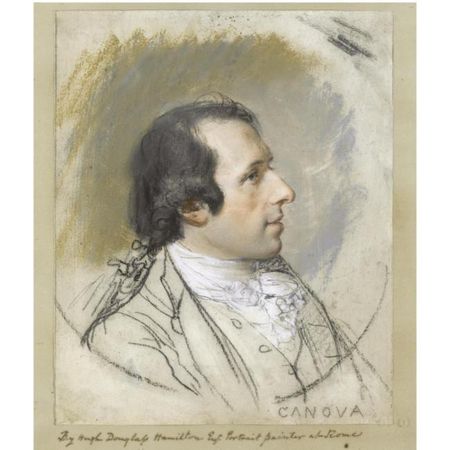 Hugh Douglas Hamilton, Portrait of Antonio Canova (1757-1822), pastel over traces of pencil, 25 by 20.6 cm.; 9 7/8 by 8 1/8 in. Est. 6,000—8,000 GBP. Sold 199,250 GBP. Sotheby's London: Thursday, December 4, 2008
Hugh Douglas Hamilton (1736 - 1808) Oval portrait of James Byres. Pastel, 28 x 24 cm. Aberdeen Art Gallery © Aberdeen Art Gallery
Hugh Douglas Hamilton (1736 - 1808), Portrait of a lady, 18th century. Watercolour on paper, height: 16.3 cm (oval); width: 12.4 cm.Witt, Robert Clermont (Sir); bequest; 1952. D.1952.RW.761 Copyright: © The Samuel Courtauld Trust, The Courtauld Gallery, London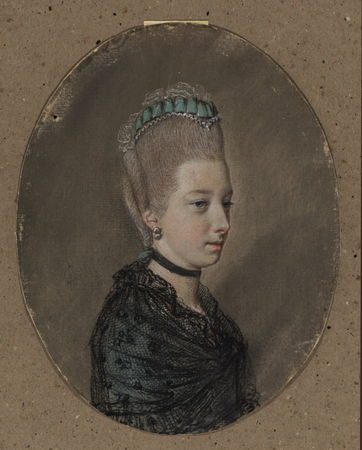 Hugh Douglas Hamilton (1736 - 1808), Portrait of a lady, bust length, half turned to the right. Pastel on paper, height: 23.7 cm (oval); width: 18.5 cm (oval) Witt, Robert Clermont (Sir); bequest; 1952. D.1952.RW.3809. Copyright: © The Samuel Courtauld Trust, The Courtauld Gallery, London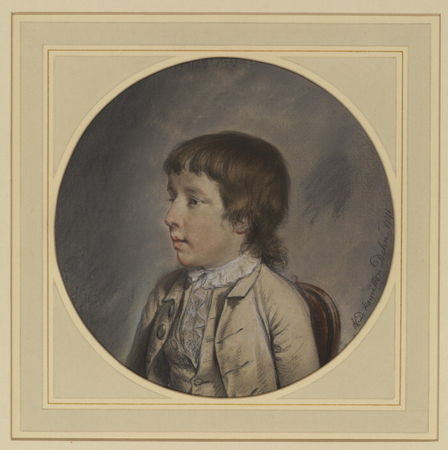 Hugh Douglas Hamilton (1736 - 1808), Portrait of boy, bust length, half turned to the left, 1771. Pastel on paper, height: 20.3 cm; width: 20.3 cm. Inscribed, signed, dated, recto, right: H.D. Hamilton Delin.1771. Witt, Robert Clermont (Sir); bequest; 1952. D.1952.RW.3734. Copyright: © The Samuel Courtauld Trust, The Courtauld Gallery, London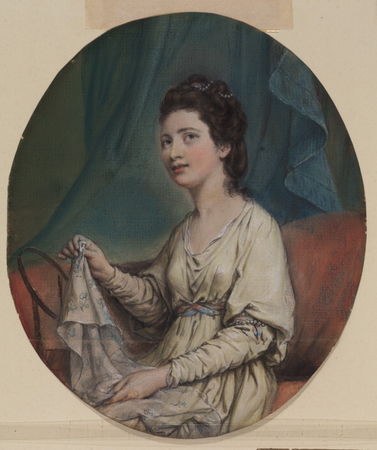 Hugh Douglas Hamilton (1736 - 1808), Portrait of Maria Gunning, Countess of Coventry. Pastel on paper, height: 32.8 cm; width: 27.6 cm. Inscribed, verso, in another hand: (one of the beautiful Miss Gunnings. Inscribed, graphite, verso, in a later hand: Maria, Countess of Coventry. Witt, Robert Clermont (Sir); bequest; 1952. D.1952.RW.3150. Copyright: © The Samuel Courtauld Trust, The Courtauld Gallery, London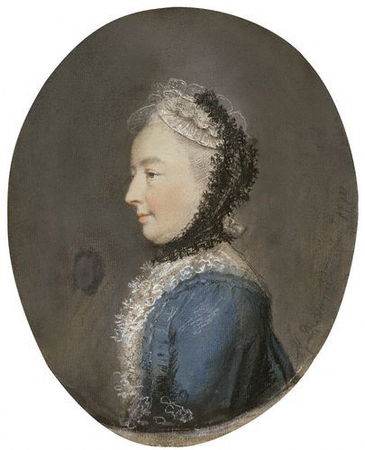 Hugh Douglas Hamilton, Anna (Chamber), Countess Temple, pastel, 1770, 9 3/4 in. x 7 3/4 in. (248 mm x 198 mm) oval, uneven. Purchased, 1867. NPG 246 © National Portrait Gallery, London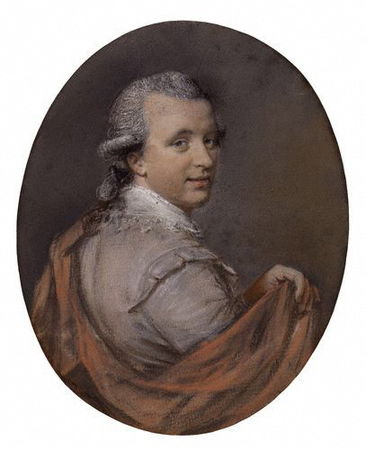 Hugh Douglas Hamilton, Samuel Ireland, pastel on grey paper, 1776, 10 1/2 in. x 8 1/4 in. (267 mm x 210 mm) oval. Purchased, 1963. NPG 4302 © National Portrait Gallery, London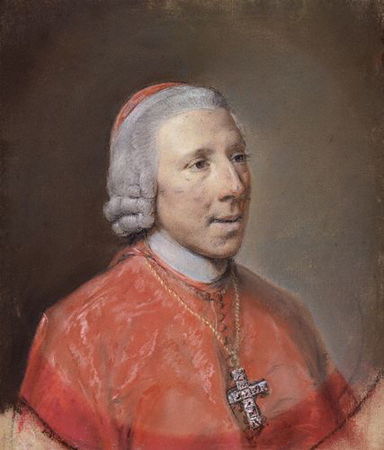 Hugh Douglas Hamilton, Henry Benedict Maria Clement Stuart, Cardinal York, pastel, circa 1786, 9 5/8 in. x 8 1/2 in. (244 mm x 216 mm). Purchased, 1873. NPG 378 © National Portrait Gallery, London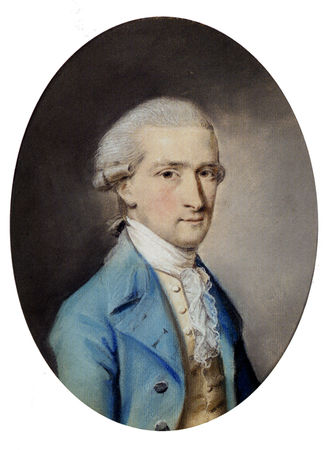 Hugh Douglas Hamilton (1734-1806), Portrait Of A Gentleman, Pastel on paper, 9 1/4 x 7 inches (23.5 x 18 cm) Private collection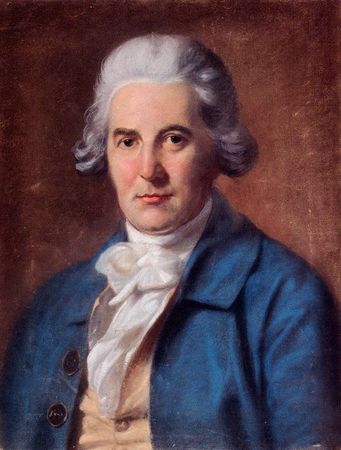 Hugh Douglas Hamilton (1734-1806), Portrait Of Francis Seymour Conway, Marquis Of Hertford (1719-1794), Pastel on paper, 23 x 17 7/8 inches (58.5 x 45.5 cm) Private collection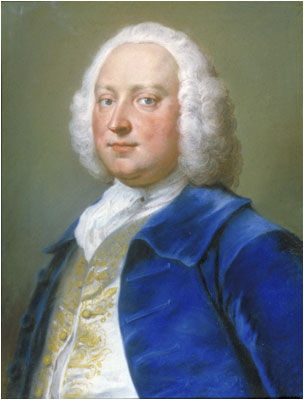 Hugh Douglas Hamilton (1734-1806), Portrait of a Man, c1775. Pastel on paper, 59(H) x 44.5(W) Purchased from Sir Bruce Ingram, 1963. UK Government Art Collection
Hugh Douglas Hamilton (1734-1806), Portrait of a Woman, c1775. Pastel on paper, 59(H) x 44.5(W) Purchased from Sir Bruce Ingram, 1963. UK Government Art Collection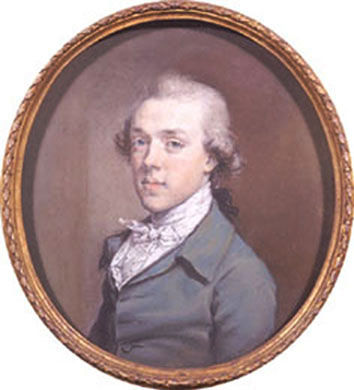 Hugh Douglas Hamilton, Bust-length Portrait of James Colyear Dawkins of Stanlynch. Pencil and pastel in its original Italian carved and guilded neo-classical frame, 9 x 7 ¾ in - 23 x 19.5 cm (oval) @ "The Sublime and the Beautiful, Irish Art 1700 - 1830", 20th June - 27th July 2001
Literature: Walter Strickland, 'Hugh Douglas Hamilton, Portrait-Painter', in The Second Annual Volume of the Walpole Society, 1912 - 13, Oxford, 1913, p. 105 Walter Strickland, A Dictionary of Irish Artists; Dublin, 1913, (1969), Vol. 1, p. 437 Anne Crookshank and the Knight of Glin, "Some Italian Pastels by Hugh Douglas Hamilton", in Irish Arts Review Yearbook, 1997, Vol. 13, p. 69, no. 18 John Ingamells, A Dictionary of British and Irish Travellers in Italy 1701 - 1800, Compiled from the Brinsley Ford Archive, New haven and London, 1997, p. 284