China Northern Chou dynasty, Avalokitesvara, 571. Sculpture, Black marble with traces of pigments and gilding. 76 in. (193.04 cm) Minneapolis Institute of Arts. The William Hood Dunwoody Fund, 18.5 ©The Minneapolis Institute of Arts. Photographe : Photography ©The Minneapolis Institute of Arts
Next to the Buddha, the most popular of all Buddhist deities is Kuan-yin, commonly called the Bodhisattva of Compassion. Due to its Indian origin, early Kuan-yin images were represented as Gandharan princes sumptuously dressed in dhotis and adorned with silk scarves and rich jewelry. Held in the left hand is a lotus bud, the Buddhist symbol of purity.
This figure of Kuan-yin is especially significant in that it provides the only dated example of a regional sub-style that marks a departure from the rigid frontality that characterized the sculpture of earlier generations. Inscriptions on the base date the sculpture to 571 and indicate it was commissioned by Meng-yen, a district magistrate; Meng Sung-hsun, a village head; and 41 civic leaders who helped establish a temple at Ku-shih po-Ssu near Sian in Shansi province. By 581, the statue had been desecrated by anti-Buddhists but in that year, according to the second inscription, the temple was restored and rededicated.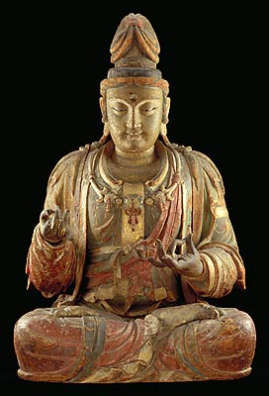 China Sung dynasty. The Bodhisattva Kuan-yin. Late 11th-early 12th century. Sculpture, Wood, gesso, and mineral pigments, and gold, 38 3/4 x 22 x 13 1/2 in. (98.43 x 55.88 x 34.29 cm) ((a) body) Minneapolis Institute of Arts. Gift of Ruth and Bruce Dayton, 98.62a-h ©The Minneapolis Institute of Arts. Photographe : Photography ©The Minneapolis Institute of Arts
Bodhisattvas are Buddhist deities who have forgone entrance into Nirvana until that time when all beings have attained enlightenment. In China, Kuan-yin became the most popular bodhisattva and was widely worshipped as the deity of mercy and compassion.
This magnificent example from north China is constructed of removable wooden sections that still retain traces of original pigment. The sculptural style is naturalistic, detailed, and fully three-dimensional. Several sections of the robes exhibit fine textile patterns executed in gold leaf, the eyes are inlaid crystal, and the original painted mustache is still clearly evident. The image is attired in the sumptuous silk garments and gold jewelry befitting a bodhisattva. The elaborate hairstyle was originally encased by a gilt metal crown now missing.
Seated cross-legged in the lotus position (vajrasana), both hands turn up with thumbs touching the middle fingers in the gesture of discourse or argumentation (varada mudra). Carved during the last creative epoch of Chinese Buddhist sculpture, this splendidly attired image expresses the new humanism of the day while capturing the gentle, benign calm of near enlightenment.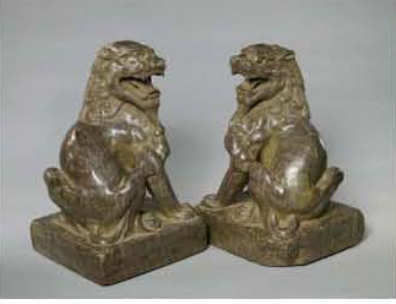 China, Asia T'ang dynasty, 8th century. Pair of Guardian Lions. Limestone conglomerate (puddingstone), 21 x 11 x 12 3/8 in. (53.34 x 27.94 x 31.43 cm). Minneapolis Institute of Arts. The Ruth Ann Dayton Chinese Room Endowment Fund, 2008.23.1,2