Vietnam. Pair of Slit Disc Eearrings, c. 4th-1st century B.C. Jade. a: Diam. 1-13/16 x W. 3/16 in. ; b: Diam. 1-3/4 x W. 3/16 in. Gift of Kathryn Glessing. ©The Minneapolis Institute of Arts
Vietnam. Pair of Slit Disc Eearrings, c. 4th-1st century B.C. Serpentine. a: Diam. 3/4 x 3/4 x 1/8 in. ; b: Diam. 11/16 x 11/16 x 3/16 in. Gift of Kathryn Glessing. ©The Minneapolis Institute of Arts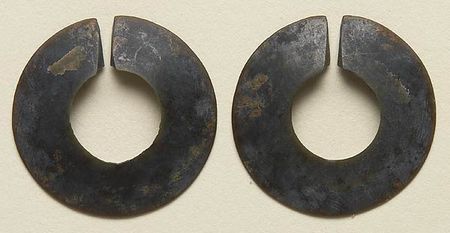 Vietnam. Pair of Slit Disc Eearrings, c. 4th-1st century B.C. Serpentine. 15/16 x 15/16 x 1/8 in.(2.4 x 2.4 x à.3 cm) . Gift of Kathryn Glessing. ©The Minneapolis Institute of Arts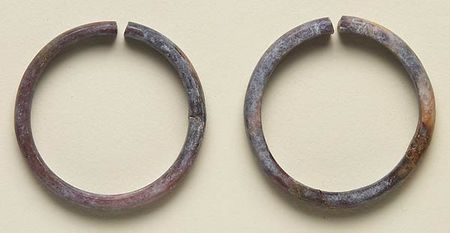 Vietnam. Pair of Slit Disc Eearrings, c. 4th-1st century B.C. Serpentine. a: 1-3/16 x -1-3/16 x 3-1/16 ; b: 1-3/14 x -1-3/14 x 3-1/16 . Gift of Kathryn Glessing. ©The Minneapolis Institute of Arts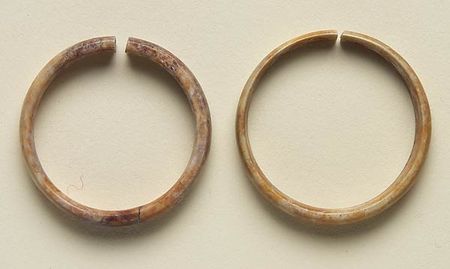 Vietnam. Pair of Slit Disc Eearrings, c. 4th-1st century B.C. Serpentine. 3/16 x -1-3/8 in. (0.5 x 3.5 cm) Gift of Kathryn Glessing. ©The Minneapolis Institute of Arts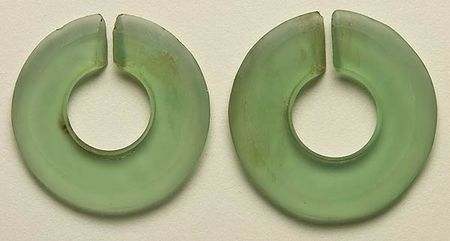 Vietnam. Pair of Slit Disc Eearrings, c. 4th-1st century B.C. Glass. Gift of Kathryn Glessing. ©The Minneapolis Institute of Arts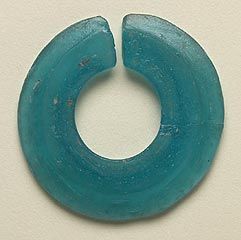 Slit Disc Eearring, c. 4th-1st century B.C. Glass. 1/8 x 1 1/2 in. (0.3 x 3.8 cm). The Helen Jones Fund for Asian Art. ©The Minneapolis Institute of Arts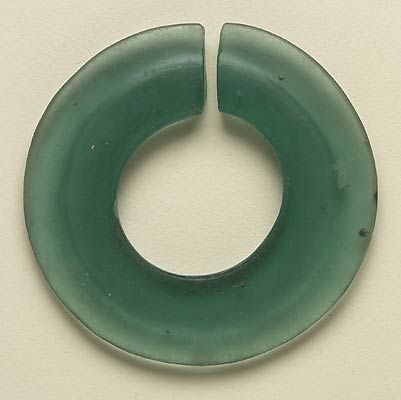 Slit Disc Eearrings, c. 4th-1st century B.C. Glass. 3/16 x 1 15/16 in. (0.5 x 4.9 cm). The Helen Jones Fund for Asian Art. ©The Minneapolis Institute of Arts
Vietnam, Phung Nguyên (?). Pair of Slit Disc Eearrings, c. late 20-early 10th century B.C. Jade. a: 13/16 x 13/16 x 1/4 ; b: 13/16 x 13/16 x 3/16 in. Anonymous gift. ©The Minneapolis Institute of Arts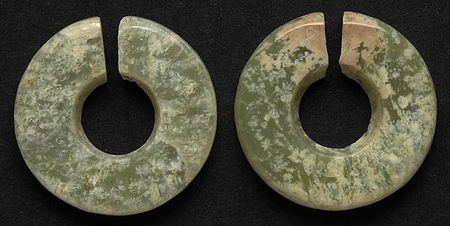 Vietnam, Phung Nguyên (?). Pair of Slit Disc Eearrings, c. late 20-early 10th century B.C. Jade. a: 1 x 1 x 3/16 in. (2.5 x 2.5 x 0.5 cm). Anonymous gift. ©The Minneapolis Institute of Arts
About Slit disc earrings : This earring is a band that has a slit in it. The slit allows the earrings to be slipped onto the thinnest part of your ear. Have you thought about placing them midway on your ear? Cuffs are not only for the earlobe. Your ears can look pierced, no matter where you place your cuffs! Simply, slide them to a desired location on your ear. After you've put them on, check to make sure they are secure with a slight tug. When removing them, just do the reverse.
A chinese pair was sold at Christie's, Fine Chinese Art From The Arthur M. Sackler Ccollections, on 18 March 2009. at New York, Rockefeller Plaza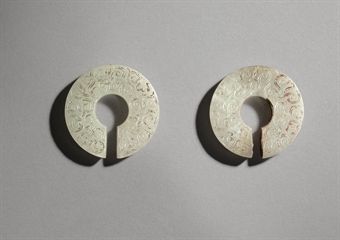 A rare pair of small white jade slit-disc earrings, jue. Eastern Zhou dynasty, 7th century BC
Each thick disc slit from one edge, finely incised on one side with interlaced double-line scrolls and on the outer edge with double-line S-shaped scrolls, the reverse plain, the semi-translucent stone of white color with an area of pale russet color on one earring. 1 1/16 in. (2.7 cm.) diam. (2) Estimate $6,000 - $8,000 - Sold $13,750
東周 白玉玦一對
公元前7世紀
Provenance: J.T. Tai & Co., New York, 1966 or earlier.
Notes: Compare the single slit disc carved with similar decoration illustrated by A. Salmony, Carved Jade of Ancient China, Berkeley, 1938, pl. LXI (3).