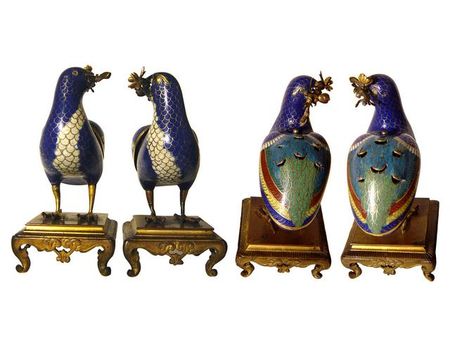 Paire de cailles en émaux cloisonnés Chine, dynastie Qing, époque Qianlong
H. 16 cm (21 cm avec base) L. 14,5 cm. Env. Estimation : 6500/7000€
VENDREDI 14 AOUT à 18 h 00. SVV Toledano. Email : contact@toledano.fr
La caille était un animal agressif, souvent élevé pour des combats. Le sujet étant populaire, la production s'est faite de masse et, un siècle plus tard, le style s'est assoupi Quant à l'art des émaux cloisonnés, il s'agit d'une technique mise au point au XVe siècle déjà. Elle consiste à poser des cloisons sur une âme en bronze pour former des alvéoles où seront appliqués les émaux. Après cuissons et ponçages, les parties en bronze seront dorées au mercure.
Une paire de cailles en émaux cloisonnés a été vendue par l'Etude Aguttes - Neuilly/Seine :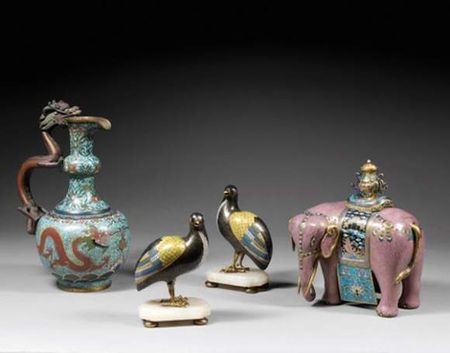 Paire de cailles en bronze et émaux cloisonnés, reposant sur des socles européens en albâtre. Chine, XIXème siècle H : 14,5 cm. Estimation : 800 / 1 200 €. Adjudication : 1 275 €. Aguttes - Neuilly/Seine. Vente du Mardi 9 juin 2009.
Le site arts.cultural-china.com recense une autre paire de cailles :
A Pair of Cloisonne Enamel Quail-Form Censers, Qing Dynasty. Height: 13.7cm
Each standing with head turned to the side, the beak cast open to reveal the delicate tongue and for the release of vapor, and the top of the separate cover formed by the wings similarly pierced with raised feathers, all in bright blue, yellow, mauve, turquoise, green, black and white enamels.
Une autre paire est également en vente :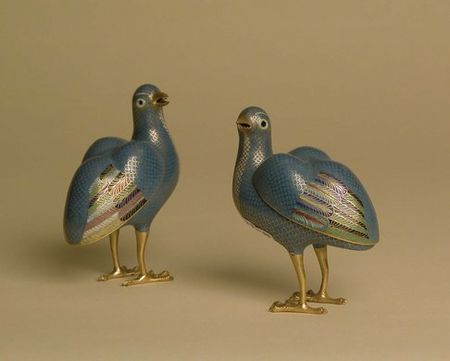 A Pair of Cloisonne enamel Quails, Chinese, Circa 1770
A fine pair of late Eighteenth century cloisonne enamel incense burners in the form of standing quails, with detachable wings and ormolu feet. Height: 5" 12.5cm. Price on request @ Apter-Fredericks Antiques, London - Email: antiques@apter-fredericks.com