Lucien Clergue, Nude Zebra-UN, 1998
Silver Print. 10 x 8 in. (25.4 x 20.3 cm.) Signed in pen on verso. Estimate: from $2,500 to $4,500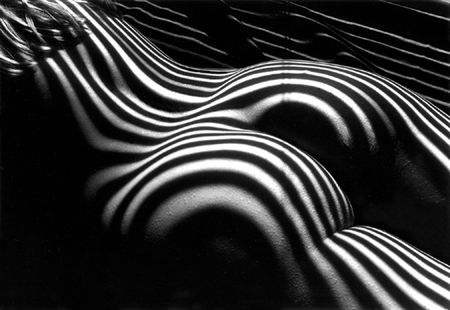 Lucien Clergue, Nude Zebra-1, 1998
Silver Print. 8 x 10 in. (20.3 x 25.4 cm. Signed in pen on verso. Estimate: from $2,000 to $4,000.
Whether it's the way water caresses a female nude or the passionate intensity of a bullfight, Lucien Clergue immortalizes his images with grace and finesse. At 19 at a local bullfight, after a chance meeting with Pablo Picasso, Clergue was thrust into the dynamic world of art and photography. As a fine art photographer, author, educator, and filmmaker, he has dazzled an international audience with his refined and beautiful images.

Emerging as an artist during the Cubist and Surrealist era, Clergue has attributed much of his influences to these movements. Early on in his career, photographer Edward Weston inspired him to explore the art of nudes, which comprises the bulk of Clergue's work. He has completely redefined the aesthetic of photographing the naked body.

Clergue has been presented with countless awards including the Legion of Honor by the Minister of Culture in Paris in December 2003. After 20 films, including a nomination for an Academy Award, 75 books, including Poesie Photographique, Prestal Publishing 2003. Lucien Clergue: GrandsNus, 1999 published by UMSCHAU/Braus, and as founder and producer of the the largest Annual European photography festival, Les Recontres Internationales de la Photographie, Lucien Clergue continues to produce stunning and hypnotic images and is regarded as one of the most prolific photographers of the 21st Century.

Clergue's work is in the collections of The Metropolitan Museum of Art, The Museum of Modern Art, The Centre Georges Pompidou, The Center for Creative Photography, and many other museums and private collections around the world.
Artnet Auctions. Thursday, August 20, 2009, 1:00 PM EST www.artnet.com