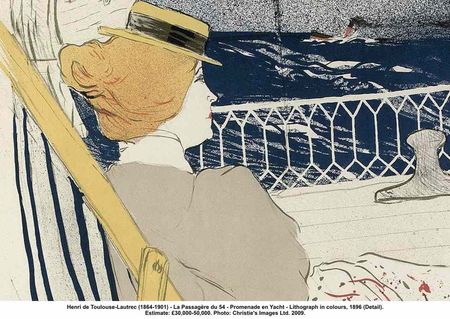 LONDON.- The Christie's London bi-annual sale of Old Master, Modern and Contemporary Prints in September will feature a fantastic variety of original prints from the Renaissance to the present day including well-known artists such as Dürer, Rembrandt, Picasso, Beckmann, Matisse, Miro, Bacon, Warhol, Lichtenstein and Hockney. A range of subjects by Andy Warhol (1928-1987) are on offer in the contemporary section of the sale ranging from Lenin to Marilyn Monroe, and include the particularly endearing 25 Cats name[d] Sam and one blue Pussy, circa 1954 (estimate: £35,000-45,000). This complete set of eighteen offset lithographs with hand-colouring (including the cover), is one of Warhol's earlier series, which suggests a much more personal tone. Sale on 17 September, 2009.

Madonna, or Liebendes Weib (Loving Woman) as Edvard Munch (1863-1944) also titled his composition, is recognized as one of the artist's most mysterious and important images, and Christie's is proud to be offering the lithograph with woodcut printed in black, pale green, blue and red from 1895-1902 (estimate: £200,000-300,000). Depicted during the act of conception, set against a mystic swirling sea of translucent colour and crowned with a luminous halo, Munch's Madonna encapsulates his fascination with the juxtapositions of life and death, desire and fear, holiness and carnality. Seen as an incredibly controversial image by contemporary audiences Munch's Madonna is not only pictorially complex, but also a splendid technical achievement. Originally conceived as a lithograph in black only, Munch experimented with colour, gradually adding the various layers to create the remarkably rich and striking image seen here.

Another depiction of a 'femme fatale' can be seen in Henri de Toulouse-Lautrec's (1864-1901) La Passagère du 54 - Promenade en Yacht lithograph in colours from 1896 (estimate: £30,000-50,000). It is recorded that Lautrec and his friends were on a cruise when he was captivated by this young woman. Lautrec was charmed by her beauty and this lithograph survives as documentation of his infatuation. The title of the work implies that he did not know her name, and it is not known whether he ever actually spoke to his perhaps unsuspecting model.

Unlike the younger members of Die Brücke who were more interested in city life, Otto Mueller was possessed by an Arcadian dream – the unity of man and nature – which he pursued with certain nostalgia, as if for a lost paradise. The subtly hand-coloured Zigeuner-Liebespaar (`Gipsy Lovers') on offer is a particularly charming, highly concentrated expression of the gentle, melancholy eroticism that lies at the heart of Mueller's art (estimate: £40,000-60,000). It is estimated that he created no more than 150-200 examples in his entire career of these 'hybrid' (part print, part watercolour) works. Large, extensively coloured lithographs such as the present work are great rarities and highly regarded as some of the best and most desirable of Mueller's compositions.

One particularly exciting lot on offer in the upcoming sale is Max Ernst's personal copy of his portfolio Fiat modes pereat ars (`Let there be fashion, down with art') from 1919 (estimate: £100,000-150,000. With impeccable provenance, these seven lithographs have never been offered on the market before, having come directly from the artist's estate, and thence by descent. This example is one of the most original and important printed works of the early Dada-movement, and is believed to have been conceived as an homage to Giorgio de Chirico.

Max Beckmann's (1884-1950) drypoint Selbstbildnis mit steifem Hut (`Self-Portrait with Bowler Hat') is arguably one of the most iconic portraits of 20th century printmaking and the inter-war years (estimate: £70,000-100,000). Executed in 1921, Beckmann portrays himself as a seemingly confident dandy, yet his eyes are full of doubt and unease. Since his first self-portrait at the age of only seventeen, Beckmann returned to his own likeness as a subject no fewer than thirty-five times, rivalling Rembrandt as possibly the greatest self-portraitist in the history of printmaking. He utilised all three techniques - drypoint, lithography and woodcut - at various times throughout his life, but it was the powerful immediacy of drypoint - whereby the image is scratched directly into the metal plate - that suited his purposes best.
A leading highlight from the sale is Les Deux Femmes Nues, an important and rare series of 22 lithographs from 1945 by Pablo Picasso (1881-1973), including five previously unrecorded intermediate variants of the print (estimate: £100,000-150,000). This incredible collection, portraying the image of two women 'morphing' with each impression, brilliantly displays Picasso's relentless creative drive, as well as his talent as a remarkably skillful printmaker. Over half a century on, commentators and cataloguers are still adding to the literature on this period of intense artistic activity, almost unparalleled in the history of western art. Through this fascinating group of prints it is possible to reconstruct the flow of events in the atelier.

A set of stage designs by Alexandra Exter (1882-1949) illustrated above provide a superb insight into Russian entertainment in 1930. Décor de Théâtre is a selection of fifteen pochoirs in colours with extensive hand finishing, from the edition of 150 (estimate: £20,000-30,000). Exter's designs were very warmly received when she showed them in 1927 at the Galerie aux Quatre Chemins, Paris. 'Alexandra Exter's exhibition demonstrates her very great talent', wrote André Boll in a contemporary review, 'her conceptions reflect that thirst for originality which presides over the renewal of stage design in the USSR'.