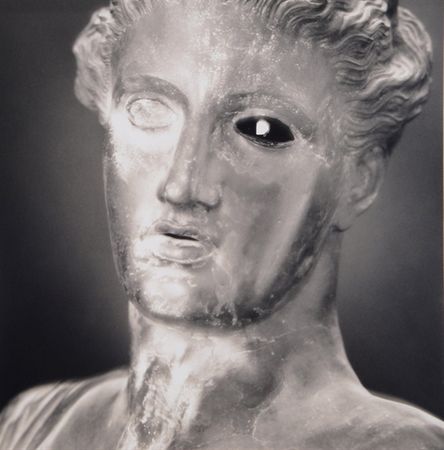 Mimmo Jodice: Mediterraneo III , 1983.
Height - 14.5 in, width - 14.25 in, depth - 0 in. signed, inscribed, Original, silver-gelatin photograph for the artist's book "Isolario Mediterraneo"; hand signed, "Mimmo Jodice" titled, "METiTERRANEO" and dated "95" in pencil on verso
Catalogue Raisonné: "Isolario Mediterraneo" Author: Mimmo Jodice, Predrag Matvejevic, Paola Bergna
Notes: A world in his iris ! A dramatic chiaroscuro of light and shadow creates a dramatic portrait from antiquity by this Italian master of black and white classical photography. MIMMO JODICE, one of Italy's greatest photographers, describes mediterranean light with optical illusion and magic realism.
JODICE has collaborated with many international artists active in the arte povera and Fluxus movements during the middle and late 20th century.
The artist lives and works in Naples and Paris.
Artnet Auctions. Tuesday, August 25, 2009, 1:00 PM EST www.artnet.com