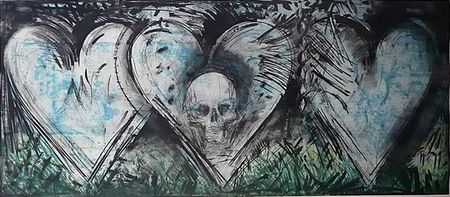 Jim Dine, 'My Nights in Santa Monica' , 1985
Engraving, Aquatint, Drypoint. height - 35.5 in, width - 72.25 in, depth - 0 in. Signed, Hand signed, numbered, and dated in pencil lower left. Estimate: from $6,000 to $8,000

Notes: This is an original, large scale etching, direct gravure, spit-bite aquatint, soft ground etching, and power tool drypoint with burnishing on Arches Cover Buff; with torn edges by artist Jim Dine entitled 'My Nights in Santa Monica' from 1986. The piece is hand signed, numbered, & dated in pencil by the artist from the very small edition of only 20. The art is beautifully framed in a heavy duty, contemporary matt black gessoed frame, recessed and floating on black linen matting. The framed size measures approx. 40X75-1/2" with both the art and frame being in mint condition. All framing materials used are of museum quality and are 100% acid free including 100% u.v. protective plexi-glas. This work is catalogued in Jim Dine Prints, 1985-2000 a Catalog Raisonne on page 68 under the ref: (C.14)

This work was taken directly from a drawing that Dine made during the middle of the night in a hotel in Los Angeles while he was undergoing a long period of psychotherapy. The act of drawing, according to the artist, allowed him to exorcise his demons.
Artnet Auctions. Tuesday, August 25, 2009, 4:00 PM EST www.artnet.com