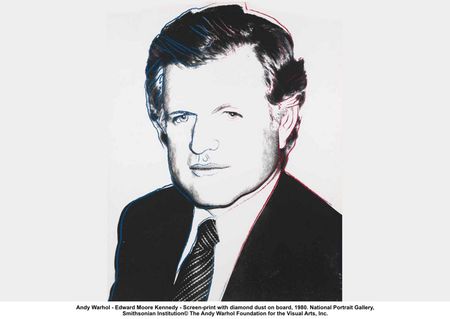 WASHINGTON, DC.- The Smithsonian's National Portrait Gallery installed a portrait of Sen. Edward Kennedy by Andy Warhol. It went on view when the museum opened to the public at 11:30 a.m. in a first-floor gallery that is designated for remembrance of recently deceased individuals represented in the gallery's collection. Warhol's silkscreened portrait of Kennedy was created in 1980 to raise funds for Kennedy's campaign for the Democratic presidential nomination. A special feature of the print is Warhol's use of the colors of the American flag and diamond dust. The Portrait Gallery acquired the portrait in 2000.

Elected to the United States Senate in 1962, Edward Kennedy owed his early success to his close identification with his elder brothers, President John F. Kennedy, whose Senate term he completed, and Attorney General Robert F. Kennedy. Praising their commitment to public service, he acknowledged, "I'm very proud of that association."

Kennedy built on this legacy when he sought the presidency in 1980. Andy Warhol's silkscreened portrait, created as a campaign fund-raiser, plays off the colors of the American flag and suggests the glamour of politics by enhancing the candidate's features with thin red and blue lines and diamond dust. Warhol's portrait of Kennedy is now on display at the National Portrait Gallery, on the museum's first floor.

Although Kennedy lost the 1980 Democratic nomination to Jimmy Carter, whom Warhol had portrayed four years earlier, the long-serving senator became an influential leader in his party.

Kennedy was elected to a full six-year term in 1964 and was reelected seven more times. His reputation was tarnished by the 1969 Chappaquiddick incident, which resulted in the death of automobile passenger Mary Jo Kopechne; Kennedy pleaded guilty to leaving the scene of an accident. Though it did not affect his standing in the Senate, the incident significantly damaged his popularity nationally, and Kennedy never appeared on his party's presidential ticket.

Known for his oratorical skills, Kennedy's 1968 eulogy for his brother Robert and his 1980 Democratic National Convention rallying cry for American liberalism were among his best-known speeches. He became known as "The Lion of the Senate" through his long tenure and influence. More than 300 bills that Kennedy and his staff wrote were enacted into law. He was known for working with Republicans and finding compromises among senators with disparate views. Kennedy played a major role in passing many laws, including laws addressing immigration, cancer research, health insurance, apartheid, disability discrimination, AIDS care, civil rights, mental health benefits, children's health insurance, education and volunteering. In the 2000s, he led several unsuccessful immigration reform efforts. At the time of his death, he was continuing to work on universal health care legislation, which is often described as his "life's work".

In May 2008, Kennedy was diagnosed with a malignant brain tumor which limited his appearances in the Senate. He died on August 25, 2009, at his home in Hyannis Port, Massachusetts.