Pablo Picasso (Spanish, 1881-1973) Woman in a Peplos, 1923. Gouache. R. T. Miller, Jr. Fund, 1944.24
This exhibition of drawings dating from 1900 to 2007 showcases the outstanding and highly diverse permanent collection of the Allen Memorial Art Museum. Included among over 125 stellar works are those by Close, De Chirico, De Kooning, Diebenkorn, Kandinsky, Klimt, Lichtenstein, Matisse, Miró, Picasso, Pollock, Prendergast, Rauschenberg and Wegman. The exhibition additionally highlights a wide variety of exciting new acquisitions, including an ethereal Sam Gilliam from Carl Gerber (OC 1958), a 1923 João Alves de Sá landscape (one of three drawings by this artist, the first Portuguese works to enter the AMAM's collection) from Oberlin Emeritus Professor of Music Theory Gil Miranda and his wife Sharon, a striking František Kupka showgirl from Frederic (OC 1955) and Zora Pryor, a luminous 1949 Ad Reinhardt from the artist's grandson James Reinhardt Rutherford, an intricate work by Oberlin Professor John Pearson from Marjorie and Anselm Talalay, and a wide selection of works from Kenneth and Barbara Watson, including important drawings by Arshile Gorky and Theodore Roszak.
The works in the exhibition exemplify the diversity of thought and practice from the 20th century to today. Many of them question previously-held conceptions of art, and some test the boundaries of the definition of drawing. A wide variety of techniques is on view, from the use of traditional drawing media such as graphite, ink, pastel and watercolor, to more experimental forms of drawing with acrylic and collage. The major movements and themes explored are equally diverse, with Oberlin itself – town, College, and museum – providing inspiration for several works that span the decades.
This exhibition is co-curated by Andria Derstine and Franny Brock (OC 2009).
Founded in 1917, the Allen Memorial Art Museum (AMAM) is one of the finest college or university collections in the United States. Comprising nearly 14,000 works of art from virtually every culture and spanning the history of art, the AMAM's collection is a vital cultural resource for the students, faculty, and staff of Oberlin College as well as the surrounding community. Notable strengths include seventeenth-century Dutch and Flemish art, nineteenth and early twentieth-century European and contemporary American art, and Asian, European, and American works on paper. The collection is housed in an impressive Italian Renaissance-style building designed by Cass Gilbert and named after its founder, Dr. Dudley Peter Allen (B.A. 1875), a distinguished graduate and trustee of Oberlin College. In 1977, Venturi, Scott Brown and Associates designed an addition that represents one of the earliest and finest examples of postmodern architecture in the United States.
September 1 - December 23, 2009. www.oberlin.edu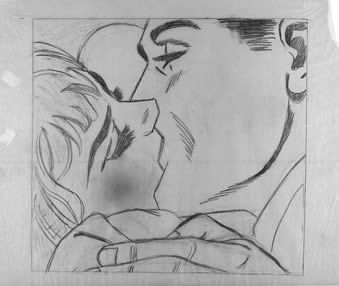 Roy Lichtenstein (American, 1923-97) Study for Kiss II, 1963 . Graphite Ellen H. Johnson Bequest, 1998.7.68