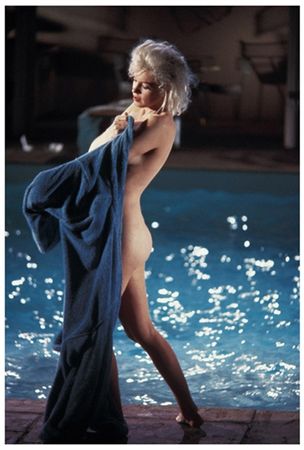 Lawrence Schiller, Marilyn Monroe in Something's Got to Give, Color 2 Frame 29, 1962
Chromogenic print, 40 x 30 in., 101.6 x 76.2 cm. Edition of 75. Signed. height - 40 in, width - 30 in, Estimate: from $6,000 to $7,000

Lawrence Schiller on Marilyn Monroe: When Lawrence Schiller got the assignment from the French magazine Paris Match to photograph Marilyn Monroe on the 20th Century Fox set of "Something's Got To Give", he thought nothing of it. It wasn't to be a private, studio shoot. He wasn't going to setup lights, create backgrounds, use a tripod. Just another assignment, he figured. Monroe by then was firmly established as a figment in the imagination of most young men. The orphan Norma Jean had re-created herself as the blond bombshell Marilyn Monroe. She'd appeared in twenty-nine films by the time Schiller photographed her in black and white and color in May of 1962. The world was unprepared for the moment when Marilyn jumped in the swimming pool in a flesh colored bikini and came up out of the water au natural. She was all smiles and in her element: the sex goddess, posing for eternity. The film crew brought out a birthday cake on June 1st 1962, when she turned 36, and she gleefully sat before the sparkler candles as Schiller captured the moment, her last day on a movie set. Two months later, she would be dead. Accidental overdose, suicide, or murder? We'll never know. But what we do know is that she welcomed Schiller's camera, and once again in the photographer's life, he was in the right place at the right time.
/www.artnet.com Wednesday, September 02, 2009, 2:00 PM EST