A blue and white 'windswept'-style meiping and cover. Ming dynasty, late 15th century
Painted in underglaze blue of cobalt tone on one side with a scholar awaiting an approaching attendant carrying an album, all in a landscape framed by an upper border of clouds trailing from the reverse where a willow tree stands, with a band of leaf tips below and lotus-filled quadrilobed cartouches reserved on a diaper ground above, the truncated conical cover with a band of pendent leaf tips below fish scale pattern on the top surrounding the bud finial. 16¼ in. (41.3 cm.) high, box - Est. $50,000 - $70,000
Provenance: J.J. Lally & Co., New York.
Notes: See a similar 'windswept' meiping, although without a cover, in the Benaki Museum, illustrated by L. Ashton and R.L. Hobson in the Catalogue of the Chinese Pottery & Porcelain, Athens, 1939, pl. XXIX, no. 398. Another smaller example (27.3 cm.), also lacking its cover, where the attendant carries a qin, was sold in these rooms, 19 March 2008, lot 574.
A rare blue and white rosewater sprinkler. Ming dynasty, late 15th-early 16th century
Based on a metal prototype, the globular body painted in underglaze blue with heaping and piling with bands of lingzhi and flower scroll separated by bow-string borders, below a band of upright lappets at the shoulder, with similar painted bands on the waisted neck and cup-shaped upper section which is inset on the interior with a recessed, convex sprinkler head pierced with five slits. 8½ in. (21.5 cm.) high - Est. $20,000 - $30,000
Notes: The present lot appears to be quite unusual, and few examples of this type appear to be published. However, see a late 15th-early 16th century flask of very similar shape and decoration, although with a neck fitted with a gold Ottoman mount, illustrated by R. Krahl and J. Ayers, Chinese Ceramics in the Topkapi Saray Museum Istanbul, vol. II, London, 1986, p. 545, no. 665.
A rare anhua-decorated blue and white bowl. Wanli six-character mark in underglaze blue within a double circle and of the period (1573-1620)
With wide flaring sides, the exterior incised with a pair of five-clawed dragons striding in pursuit of flaming pearls against a ground of waves painted in vivid underglaze blue, all above a narrow band of classic scroll encircling the foot. 7 7/8 in. (20 cm.) diam., wood stand and box - Est. $12,000 - $18,000
Provenance: Formerly J.M. Hu Collection.
Notes: A virtually identical Wanli-marked blue and white bowl in the National Palace Museum, Taipei, is illustrated in Blue-and-white Ware of the Ming Dynasty, Book VI, Hong Kong, 1963, pp. 62-3, pl. 17.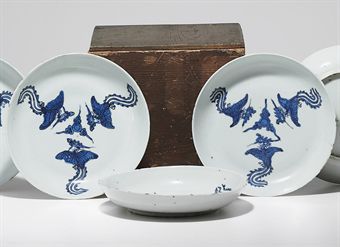 A set of ten blue and white shallow dishes. Late Ming dynasty, late 16th/early 17th century
Each with slightly flared upright sides raised on a shallow foot ring, the interior painted with three long-tailed phoenixes in flight around a cloud motif, the center of the dish slightly concave conforming to the slightly convex base, with Longqing four-character reign marks
7¾ in. (19.5 cm.) diam., Japanese wood box (10) - Est. $4,000 - $6,000
Provenance: Acquired in Asia prior to 1960.
Notes: A dish of comparable size painted with the same decoration, and dated to the third quarter of the 16th century, is illustrated by J. Ayers and R. Krahl, Chinese Ceramics in the Topkapi Saray Museum, Istanbul, vol. II, London, 1986, p. 707, fig. 1212.
Christie's. Fine Chinese Ceramics & Works of Art Including Property from the Arthur M. Sackler Collections. 15 September 2009. New York, Rockefeller Plaza. Image 2009 Christie's Ltd www.christies.com