MILAN.- Sotheby's Italy will present, over four days of sales from 12th-15th October 2009, the collection of 1,800 lots from the spectacular collection of Salvatore Romano and his son Francesco Romano. Comprising sculptures from the 14th to the 18th century, Old Masters paintings and drawings from the 1600s and 1700s, 19th-century Italian paintings, furniture and decorative objects including antique textiles and an interesting library, the collection bears witness to the legacy of one of the 20th century's greatest Italian antique dealers in the Italian and international market. Having come to light again after many years of being preserved in the magnificent salons of Palazzo Magnani Feroni – the galleries of the Romano family business, now reopened and restored to their former glory – the selection of pieces to be offered is estimated to fetch in excess of €10 million.

The Romano Family Legacy
Salvatore Romano (1875-1955) won his place among the most celebrated of art dealers active in Florence at the beginning of the 20th century not only due his aptitude for finding beauty in understated elegance, but also for his reserved charm together with his passion, which was reflected in his professional life. Trained in Naples at the turn of the century, Salvatore Romano chose Florence as his home town and the magnificent Palazzo Magnani Feroni as the gallery to house his growing collection, through which he established a reputation for his individual and original approach to his trade. At the time, Tuscany was the centre of the antiques market, and the likes of Luigi Bellini, Stefano Bardini, Elia Volpi, Giuseppe Salvadori, and Luigi Grassi, the major antique dealers of the era, all had their galleries in Florence. Collectors and museum curators from all over the world regularly paid visits to Florence in search of treasures to enrich their collections. Renowned art historians such as Roberto Longhi and Bernard Berenson founded study centres, among them the Longhi Foundation and the I Tatti, which attract international academics to this day.

As well as being remembered as a great antiquario, Salvatore Romano is also remembered with gratitude by the city of Florence for having donated, in 1946, a beautiful collection of sculptures representative of the true masterpieces of Haute Epoque sculpture, which are exhibited in the foundation bearing his name. This includes works such as the Angelo Adorante by Tino di Camaino, the Madonna con Bambino by Jacopo della Quercia and two bas-reliefs by Donatello, which are hosted in the Cenacolo della Chiesa di Santo Spirito. The Palazzo Magnani Feroni was famed for its hidden treasures, works of art which Romano sourced on his long and fascinating trips and then shipped back to Florence by the family's naval business to be distributed across his many Florentine stores.
During his career Romano enjoyed close friendships with the prominent scholars and European museum directors around the world, among whom he had enduring relationships with Bode and the epistolarius, with Longhi, Venturi, Toesca, Valentiner, Pope-Hennessy, Offner, Van Marle, Brandi and others.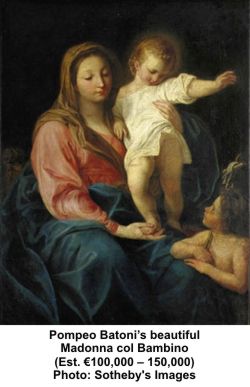 Old Master Paintings
In the Old Master paintings and drawings section of the auction, both Pompeo Batoni's beautiful Madonna col Bambino (est. €100,000 – 150,000) and St. Gerolamo by Nicolas Tournier (est. €50,000 – 70,000) will be offered.

Sculpture
Among the 1,800 lots to feature in the sale, Sotheby's is particularly pleased to present a number of Haute Epoque sculptures – the great passion of Salvatore Romano and the main focus of his research – among which is the Madonna col Bambino, a magnificent white marble sculpture attributed to Maestro della Madonna Piccolomini and dating to the end of the 15th century (est. €70,000-90,000). The sculpture was formerly housed in the celebrated collection of Samuel Kress, a significant portion of which now forms part of the collection of the National Gallery of Washington.

Also included is Pietà with St. Giovanni and Maria Maddalena, a group of figures in wood which was and written about by Leo Planiscig in 1929 and is attributed to Giacomo Cozzarelli (1453-1515), sculptor, painter and architect and one of Francesco di Giorgio's best pupils (est. €10,000 - 15,000).

A further sculpture to be offered is a group of figures attributed to Giuseppe Mazza, a Bolognese artist whom in this particular work expresses with great virtuosity the Lamentation in terracotta. Purchased in 1954, it was exhibited in Bologna in 1966 and is now estimated at €50,000 – 70,000.

Furniture
Among the significant number of furniture lots, which until now have beautifully enhanced the setting of Palazzo Magnani Feroni, is a spectacular group of four scenographic pedestals, each centred by a grotesque masque, similar to those preserved at Palazzo Pitti in Florence, dating to the 17th century and estimated at €30,000 – 50,000.

Of the grand chandeliers to be offered, one is comparable to those at Palazzo Rezzonico in Venice and features 26 light fittings (est. €70,000-100,000). By contrast, the Empire chandelier, which features 88 light fittings, is stylistically comparable to the series of the great chandeliers of Royal Italian residences such as the Reggia of Caserta, Palazzo Reale in Turin, the Racconigi Reggia and above all to the Sala dei Pappagalli's chandelier at Palazzo Pitti. Formed from gilded wood, bronze and crystal and featuring Medusa heads and satyrs, this exceptional impressive chandelier is estimated at €100,000 -150.000.