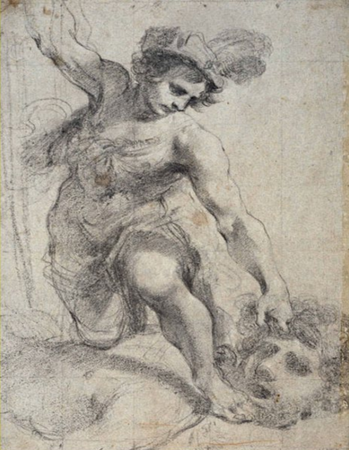 Giovanni Francesco Barbieri, genannt Guercino. David mit dem Kopf Goliaths, mit Federhut, um 1617; Schwarze Naturkreide gewischt, und Spuren weisser Kreide auf hellblauem Papier 41,1 x 27,5 cm. Florenz, Gabinetto Disegni e Stampe degli Uffizi
Originaire de Cento aux environs de Bologne, Giovanni Francesco Barbieri (1591-1666), appelé par ses contemporains " Le Guerchin " (" Il Guercino ") en raison de son strabisme, fait partie des artistes les plus importants du baroque italien. L'exposition du Musée des Beaux-Arts de Berne offre un panorama unique de sa création graphique. Une centaine de dessins appartenant à la collection des Offices est présentée dans l'exposition, des dessins du Guerchin et des dessins des peintres bolognais dont il s'est inspiré.

Le Guercin était non seulement un grand peintre mais aussi un des dessinateurs les plus talentueux de son époque. Grâce à la maîtrise magistrale de la technique dont il faisait preuve, il réussissait à capter l'atmosphère du thème représenté avec une grande subtilité. Au cours de sa carrière, Le Guerchin est passé du clair-obscur puissant des oeuvres dramatiques des débuts au style classique apaisé qui caractérise sa maturité. Son art englobe en effet de façon unique ces deux pôles entre lesquels se mouvait la peinture baroque en Italie.
Œuvres des Offices à Berne
Les Offices possèdent une des plus grandes et des plus importantes collections de dessins de l'artiste au niveau international. Elle a été inventoriée et analysée scientifiquement par Nicholas Turner, le plus grand spécialiste du Guerchin.
Pour l'exposition, 50 dessins de l'artiste ont été sélectionnés, de toutes les époques de création et de tous les genres - des études de personnages et de compositions, des paysages et des scènes de genre -, ainsi que 42 dessins de ses collaborateurs d'atelier et de ses successeurs. Les nombreux chefs d'œuvres connus côtoient les non moins nombreux dessins qui n'ont encore jamais été publiés ou exposés jusqu'à aujourd'hui.
C'est donc une grande chance pour le public suisse que l'exposition puisse, après sa présentation à Florence de décembre 2008 à février 2009, venir au Musée des Beaux-Arts de Berne. Elle constitue aussi la première exposition monographique du Guerchin organisée en Suisse.
Le Guerchin et son entourage
Pour donner au visiteur suisse une représentation du contexte artistique italien, une petite sélection de feuilles des artistes bolognais dont il s'est inspiré - parmi lesquels Ludovico et Annibale Carracci, Guido Reni et Domenichino - sera ajoutée aux dessins du Guerchin. Trois peintures du Guerchin en rapport avec les dessins exposés, donneront en outre une idée de son œuvre peinte. Un groupe d'estampes de la collection graphique du Musée des Beaux-Arts de Berne, dont une gravure exécutée par l'artiste ainsi que des reproductions d'après ses œuvres, complète l'exposition.
11 septembre 2009 - 22 novembre 2009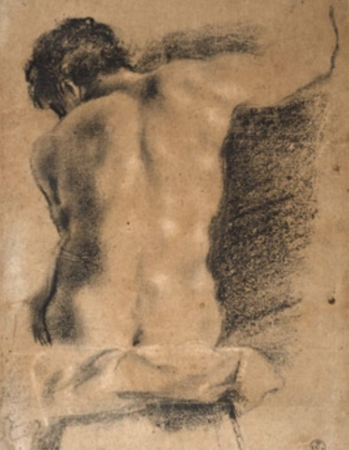 Giovanni Francesco Barbieri, genannt Guercino. Sitzender nackter Jüngling von hinten, 1619 (?) Kohle, gewischt, und weisse Kreide auf grünlich-braunem Papier; 38,2 x 27,7 cm. Florenz, Gabinetto Disegni e Stampe degli Uffizi
Giovanni Francesco Barbieri (1591-1666), who came from Cento near Bologna and was called "Il Guercino" by his contemporaries because of his squint, is one of the most important artists of the Italian Baroque era. In the course of his career as an artist, Guercino moved from a dramatic early oeuvre in which a striking chiaroscuro prevailed to the classically serene style of his mature period. His art is therefore a unique combination of the two poles between which Baroque painting in Italy hovered.
Guercino was not only a great painter, however, he was also one of the most gifted draughtsmen of his time. With a supreme mastery of the technical means at his disposal, he captured with great subtly the ambience surrounding the depicted motif - be it a dramatic story which he recorded on the sheet in a sweeping line, or the play of light and shadow in his chalk or charcoal crayon figure studies.

The Uffizi houses one of the world's largest and most important collections of drawings by Guercino. The exhibition in Bern comprises a selection of 50 sheets from all periods of his oeuvre and all genres - figure and compositional studies, landscape and genre scenes - and 42 drawings by his workshop staff and successors. In addition to many well-known masterpieces the exhibition also includes numerous sheets that have as yet never been published or shown.

In order to give the local viewers an impression of the artistic context, the exhibition in Berne will be complemented by a small selection of drawings by those Bolognese artists who influenced Guercino, namely, Ludovico and Annibale Carracci, Guido Reni and Domenichino. Examples of two or three paintings that have a bearing on the drawings in the exhibition will also provide an impression of Guercino's painterly oeuvre.

That this exhibition can be shown at the Kunstmuseum Bern after its presentation in Florence is a stroke of luck for the Swiss viewer. It is actually the first monographic exhibition of works by Guercino to be held in Switzerland. The Museum of Fine Arts Bern is the oldest art museum in Switzerland with a permanent collection and houses works covering eight centuries.