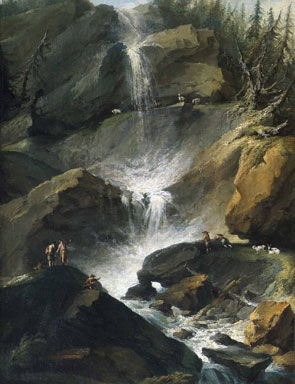 Der Obere Staubbachfall im Lauterbrunnental, 1774-1777. Öl auf Leinwand, 81 x 53,5 cm. Privatbesitz, Italien. Foto: Paolo Bonassi
DUSSELDORF.- Running in parallel with the Kirkeby show, museum kunst palast is holding an exhibition of 83 paintings and 84 drawings by the Swiss artist Caspar Wolf (1735-1783). A number of interesting parallels emerge from the simultaneous showing of the two artists. After all, Wolf has been described by the Danish artist as one of his !old favorites" and indeed as a "tip for insiders".

"He was like a mirror image for me: observation with an eye for structure (science) and thus a new landscape art." (Per Kirkeby)

The two artists are united across the centuries by their common interest in geology - an interest that was reflected in their motifs and, in Kirkeby's case, also in his artistic vocabulary and the layering structure of his paintings.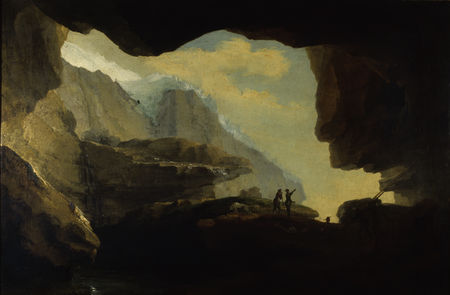 Die Kristallhöhle am Zinkenstock beim Unteraargletscher, 1778. Öl auf Leinwand . 54 x 81 cm . Privatbesitz, Aarau . Foto: Werberei Woodtli, Zürich
"Wolf is a painter of the lofty, gentle, yet terrifying beauty of Switzerland. He penetrated more deeply into the ice and snow of the Alps and their snow-clad peaks than any enthusiast or artist before him." (Karl Gottlob Küttner, 1786)

Caspar Wolf is considered to have discovered the Alps, particularly its high peaks, for Swiss art. He accompanied geographers, geologists, botanists and glaciologists on their expeditions into the mountains and painted pictures that show him to be an important representative of the period between the Enlightenment and Romanticism.

But whereas Alpine painters prior to Wolf had restricted themselves to the idyllic world of the foothills and primarily used the monumental dimensions of the high peaks for background purposes in their paintings, Wolf actually ventured right into the mountains. After a strenuous and dangerous climb alongside researchers such as Jakob Samuel Wyttenbach (1748-1838) and Abraham Wagner (1734-1782), a publisher from Berne, he would start working on his color studies and sketches, using a special oil that was resistant to low temperatures. Later, in his studio in Berne, he would then turn these sketches into paintings. We know from Wyttenberg that Wolf would frequently travel back to the same place to check a finished painting for its topographical accuracy and then make corrections.
Ansicht des Schlosses Bensberg von Westen. L.o. Détailskizze: Haus mit Treppenaufgang; r.o. Festungsmauer mit Vorgärten, 1781
Bleistift, Feder und Aquarell auf Papier. 23 x 34,3 cm. Kölnisches Stadtmuseum, Graphische Sammlung
Foto: Rheinisches Bildarchiv Köln.
Just as his learned fellow-travelers would document nature in their scientific research reports, Wolf reflected upon his experiences and visual impressions in his paintings. We would paint his learned friends, for instance, as they were measuring the height of a mountain or collecting stones, and he sometimes placed himself into the picture as a prop.

Wolf's fellow-travelers were typical representatives of the scientific conquest of the Alps. They were the ones to initiate him into mountaineering, into the laws of nature and into the formation and tectonics of mountains. Wolf's artistic interest focused above all on different rock formations, cliffs, peaks and caves, though he was also interested in water in its various states of aggregation, such as fog, ice and snow.

"This meant that Caspar Wolf became, as it were, a learned painter who aimed for profound knowledge of what he depicted and who claimed to take sublime nature as the yardstick for his art: he wanted to achieve artistic quality and topographical accuracy." (Beat Wismer)
Holzsteg über die Lütschine bei Gsteig, 1774-1777. Öl auf Leinwand, 54 x 82 cm. Museum Oskar Reinhart am Stadtgarten, Winterthur
Wolf's most favorite subjects were glacial streams, ice formations, mountain lakes, waterfalls and mountain caves. His legacy includes a large number of cave paintings - a motif which prompted contemporaries to call him !Cave Wolf". One of his famous caves was the famous Bärenhöhle (Bear's Cave) east of Welschenrohr near Solothurn.

From 1773 to 1777 Wolf undertook a range of study trips into the mountains. These led to a steady stream of new drafts which eventually grew to a gallery of the Swiss Alps of nearly 200 works and which formed the basis for a book published by Wagner in 1777 under the title: "Remarkable Views of the Swiss Mountains".

In 1780 Wolf traveled to Spa and Aachen to cure his kidney complaint, a trip which also took him to Düsseldorf where he worked on a series of paintings for the Prince Elector's palaces. The Prince's collection thus came to acquire 80 watercolors of the Swiss Alps. The painter died in Heidelberg in 1783, on his return journey to Switzerland.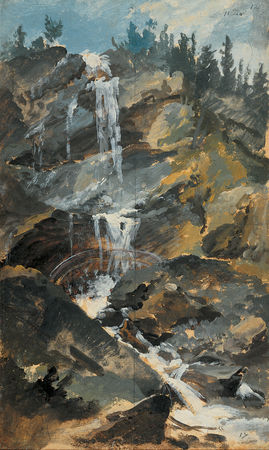 Studie zu: Der Obere Staubbachfall im Lauterbrunnental, 1774-1777. Öl auf Karton. 36,2 x 21,8 cm. Aargauer Kunsthaus Aarau. Foto: Jörg Müller, Aarau
The exhibition at museum kunst palast focuses on Caspar Wolf's mountain paintings of the 1770s. They are complemented by the artist's amazingly modern oil studies. In addition, there is also a series of sheets from his !Düsseldorf Study Portfolio" with depictions of the city of Düsseldorf and the two palaces, Schloss Bensberg and Schloss Benrath.

Caspar Wolf (1735-1783) is one of the most important pre-Romantic painters in Switzerland and is considered to be a pioneer painter of the high peaks. After his training in Switzerland, southern Germany and Paris, he created his main works for the publisher Abraham Wagner in Berne, inspired by Enlightenment researchers around Albrecht von Haller: a gallery of nearly 200 oil paintings of the Swiss Alps. After 1773 Wolf undertook various study trips and accompanied geographers, geologists, botanists and glaciologists on their expeditions into the mountains. He has received considerable attention in the history of European art and is seen as an important representative of the turbulent period between the Enlightenment and Romanticism. Wolf's superb paintings are important testimonies to the history of science.

In 1781 Wolf went to Düsseldorf where he worked on a series of paintings for the Prince Elector's palaces. This is also when he contributed 80 watercolors of the Swiss Alps to the Prince Elector's collection.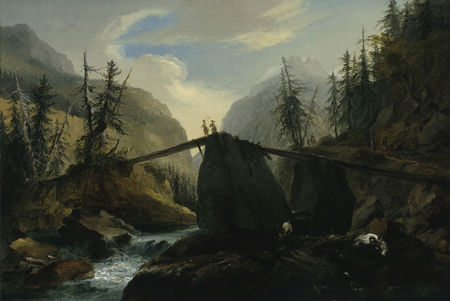 Holzsteg über die Lütschine bei Gsteig, 1774-1777. Öl auf Leinwand, 54 x 82 cm. Museum Oskar Reinhart am Stadtgarten, Winterthur