Vasudeva, India, Kashmir, 9th century. Brass with silver inlay. Height: 11⅜ in (29 cm)
Visitors to Carlton Rochell's gallery in the Fuller Building, New York, were fascinated by the exhibition of twenty-five works from Tibet, Nepal and India from a European private collection shown jointly with London dealer Rossi & Rossi from 11 to 25 September. Six of these sold to American and European collectors, at prices ranging from $100,000 to $300,000.
One of the most important pieces to find a buyer was a figure of Akshobya, the Transcendent Buddha, cast in bronze with pigment and silver inlay, from 13th century Tibet. Two sculptures of Manjusri were sold, one dating from 8th/9th century Kashmir, depicting the Bodhisattva seated in lalitasana upon a waisted double-lotus base, and the other in the Esoteric form dating from the 12th/13th century, Pala Dynasty. Other works acquired by private collectors were a 13th century copper alloy figure of Indra from Nepal, where the deity is a highly important god in the Hindu pantheon, and a group of three figures from the same period each on an individual throne on a tall stepped base, with Shiva as Lakulisa in the centre, Brahma on his right and Vishnu on his left. A ritual dagger or Purba, carved from ebony with ivory inlay, gilt and polychrome and dating from 15th/16th century Tibet also found a new home.
Visitors to Rossi & Rossi's stand at the 4th Hong Kong International Art and Antiques Fair (HKIAAF) from Saturday 3 to Tuesday 6 October 2009 will have an opportunity to see ten of the serene pieces from this prestigious collection. The works on view there include a powerful yet graceful figure of Vishnu, in his most supreme aspect or para, otherwise known as Vasudeva. Dating from 9th century Kashmir, the god is cast from brass with silver inlay and has a pair of attendant figures, while between his feet a diminutive earth goddess gazes up in adoration (price in the region of US$600,000). Another refined bronze is a 14th/15th century figure of the buddha Vajradhara seated on a double lotus throne. Probably the work of a Newari artist living in Tibet, it is priced in the region of US$500,000.
Rossi & Rossi at Hong Kong International Art Fair, Hong Kong Convention and Exhibition Centre, Hall 3, 1 Expo Drive, Wanchai, HONG KONG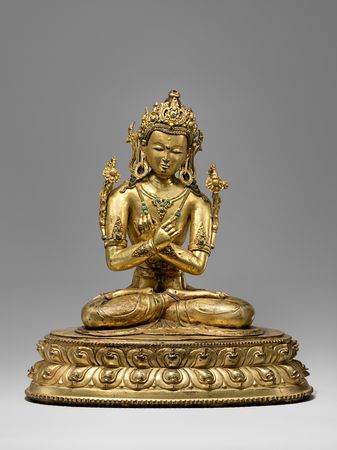 Vajradhara, Tibet, 14th/15th Century. Gilt copper alloy. Height: 18in. (46cm.)