Panamarenko, Blauwe Archaeopterix, 1991. Dimensions variables. © Panamarenko, Courtesy The Deweer Collection Otegem
Artiste, ingénieur, physicien et inventeur, Panamarenko a construit son oeuvre autour de l'espace, du mouvement, du vol, l'énergie et de la gravitation. Ses expérimentations artistiques et technologiques aboutissent à la création d'objets imaginaires en forme d'avions, de sous-marins, de voitures, de tapis volants, ou d'oiseaux — des constructions toujours spectaculaires, à la fois ludiques et imposantes.

Testant lui-même ses engins fous, machines volantes, sous-marins, automobiles, Panamarenko impulse dans ses projets une ambition à la fois technique et utopique, créant un écho artistique à la création industrielle du port de Dunkerque. Les pièces proposées tissent un lien entre le futur lieu pour le FRAC (ancien atelier de préfabrication de navires) et sa nouvelle vocation artistique de «Maison Ouverte» qui sera dédiée à l'art contemporain.

Au FRAC Nord-Pas de Calais, l'exposition de l'artiste belge Panamarenko est déclinée en quatre approches, quatre thématiques et quatre lieux :
— Dunkerque
Panamarenko, Scotch Gambit
Sculpture monumentale, sorte d'aéroglisseur futuriste de 16 mètres de long, 10 mètres de large et 6 mètres de haut.
Place Charles Valentin
19 sept.-19 oct. 2009

— Gravelines
Panamarenko, l'Homme volant
Le musée expose des multiples (objets), des éditions graphiques et des dessins de Panamarenko. Le thème des machines et de l'homme volant est au centre de l'exposition en relation avec les collections permanentes du musée.
Musée du dessin et de l'estampe originale
19 sept.-13 dec. 2009

— Dunkerque
Panamarenko, Machines de mer
Présentation d'une sélection d'oeuvres autour de la question maritime à vocation historique et patrimoniale. Quelques oeuvres et objets produits par Panamarenko sont installés parmi les collections permanentes du musée.
Musée portuaire
19 sept.-22 nov. 2009

— Grande-Synthe
Panamarenko, le processus artistique
La Galerie donne une vision du processus artistique chez Panamarenko à partir de l'exemple de la Hinky Pinky Prova Car, véritable bolide. Dessins, maquettes, oeuvres à l'échelle 1/1 et objets multiples sont rassemblés.
Galerie Robespierre
19 sept.-14 nov. 2009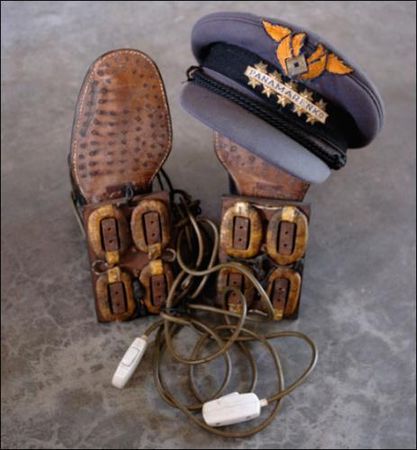 Panamarenko, Magnetische Shoenen, 1966-67. (Chaussures magnétiques et képi), dimensions variables. © Panamarenko, Courtesy The Deweer Collection, Otegem, © Photo Dries Verstraete, BE.