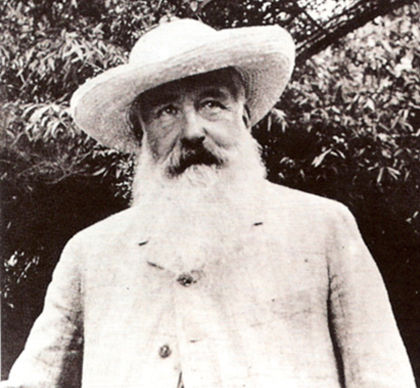 WUPPERTAL.- The great French painter Claude Monet has gone down to art history as the founder of French impressionist painting and the most consistent and prolific practitioner of the movement's philosophy of expressing one's perceptions before nature, especially as applied to plein-air landscape painting. Born in 1840, one year earlier than Auguste Renoir, to whom the Von der Heydt-Museum had dedicated a noteworthy exhibition in late 2007, Monet lived and worked until 1926 and created a great number of masterpieces that enjoy world wide reputation.

To outline the importance and beauty of Monet's work it seems necessary, to show the "whole" artist from his very beginnings as a caricaturist in Le Havre and his friendship with the painters of the school of Barbizon to his impressionist paintings hosted today as highlights in the great public and private collections around the world. The Von der Heydt-Museum's exhibition starts with the caricatures Monet designed when he was only a schoolboy in Le Havre. "At fifteen I was known by the whole of Le Havre as a caricaturist. I charged ten to twenty Francs depending on whether I liked the look of my clients or not. Had I continued this way, I would today be a millionaire", he later said when he remembered his very beginnings. Some of these rare caricatures belong to the Musée Marmottan-Monet in Paris and we will be able to present them in our show. Our presentation continues with Monet's early years as a painter in which he was influenced by the seascapes of Eugène Boudin and the time he spent at the Académie Suisse and at the studio of Charles Gleyre where he met Renoir, Sisley, Cézanne, Pissarro and Bazille, the later circle of impressionists. The name "Impressionism" was born in 1873 when a critic made fun of a painting by Claude Monet titled "Impression – Sunrise". The first series as such, started in 1889, was of haystacks. He depicted them in varying light and weather conditions, accentuating the effects of the passage of time. Series of the Cathedral of Rouen, of the Houses of Parliament and Mornings on the Seine followed to culminate in the famous series of the Water Lilies of Giverny. A number of these marvellous "Nymphéas" from the Musée Marmottan-Monet in Paris will be shown in our exhibition.

Exhibitions showing singular aspects of Monet's work such as "the fields" or the paintings of his wife Camille have been organized in Germany in recent years. The Von der Heydt-Museum Wuppertal will show the whole genius of Claude Monet at the threshold of a new millennium and a revolution in art history.