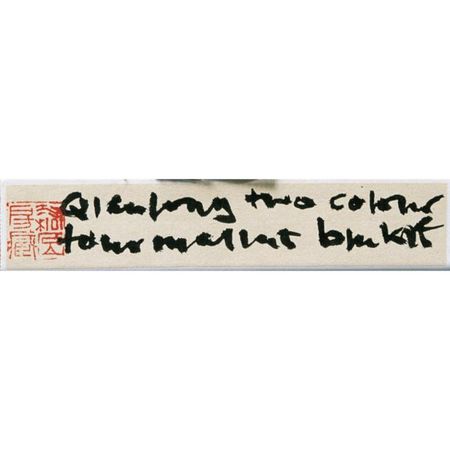 A Dichromic Tourmaline belt buckle. Qing Dynasty, Qianlong Period. photo Sotheby's
the two-colour transparent stone of light pink and olive green tone cleverly carved with a green pair of peaches and their attendant peaches on the back forming the catch of the belt hook, enclosed by a border of five pink bats with linked wingd, (fitted box). 7.5 cm., 2 7/8 in. Est. 80,000—120,000 HKD - Sold 250,000 HKD
PROVENANCE: Acquired in Hong Kong, 1985.
NOTE: This exquisitely carved belt-buckle, made in dichromic tourmaline, represents the high level of artistic and technical skills achieved by the Qing carver who expertly used the different colourations in the stone to produce an elegant and highly decorative piece. The carving is full of auspicious symbolism with the bats (fu) and peaches (shoutao) together representing blessings and longevity. The five bats (wufu) represent the Five Blessings (wufu) which include old age, wealth, health, love of virtue and a peaceful death. Buckles of this type would have been worn on special occasions or birthday celebrations.
A number of Qing Imperial belts and belt ornaments were included in the Exhibition of Ch'ing Dynasty Costume Accessories, National Palace Museum, Taipei, 1986, cat. nos. 34-125, where, on p. 117, it is noted that 'belt plaques in the Ch'ing dynasty costume accessory system were derived from hsie-hsie leather belts' ringed plaques, from which hung various items, again, which used the type and number of precious materials inlaid into the plaques as a measure of high and low status'. The gilt-copper buckle inlaid with tourmaline and pearls, in the National Palace Museum exhibition, ibid., cat. no. 51, is especially noteworthy for its beauty and the skilful use of the two materials. (fig. 1).
See two examples of Qianlong belt ornaments illustrated in The Complete Collection of Treasures of the Palace Museum. Treasures of Imperial Court, Hong Kong, 2004, pls. 95 and 96; and a tourmaline pendant carved with two hydras in openwork, from the Qing Court collection, included ibid., pl. 111.
Sotheby's. Water, Pine and Stone Retreat Collection - Qianlong. 08 Oct 09. Hong Kong www.sothebys.com