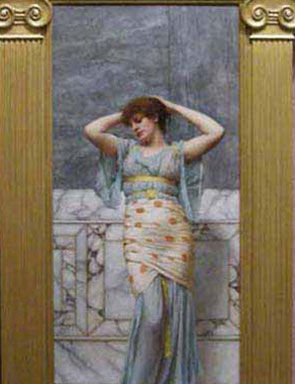 Beauty in a Marble Room by John William Godward
NEW YORK, NY.- This Fall Sotheby's will unveil two highly important 19th Century European paintings: one on a painting by Sir Frederic Lord Leighton Venus Disrobing for the Bath and the other Beauty in a Marble Room by John William Godward.

The Eli Wilner Company, which is based in New York replicated the frames as both artists are noted Victorian painters that favored classical-style frames for their artworks.

Frederic Lord Leighton was especially active in frame design much like the Pre-Raphaelites, and favored his original tabernacle-style designs for many of his paintings.

Godward was a protégé of Sir Lawrence Alma-Tadema (who also designed classically-inspired frames) and incorporated architectural elements in his paintings that depicted idealized, romanticized views of classical civilization, especially ancient Rome.

Wilner used two of Sir Frederic Lord Leightron's favorite tabernacle frames – One for Leighton and one for Godward.

Eli Wilner & Company is the world's largest resource for antique American and European frames. Recently, Eli Wilner & Company completed reframing 28 paintings for the White House. As a specialist in period framing for over 30 years, Eli Wilner has worked with museums including the Metropolitan Museum of Art and auction houses such as Sotheby's and Christie's.

With a collection of over 3,000 American and European frames, Eli Wilner & Company has been able to pair frames with paintings in a way that is consistent in terms of style, artistic composition and period. The company has created perfect marriages by uniting paintings with appropriate frames, enhancing both their quality and beauty. Among these are the paintings of Renoir, Monet, Picasso, Sargent, Eakins, Church, Bierstadt, Hartley, and O'Keeffe.
Sir Frederic Lord Leighton Venus Disrobing for the Bath