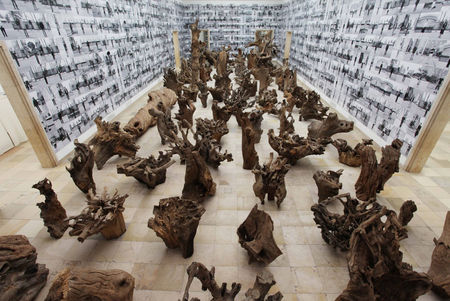 Ai Weiwei, Soft Ground, 2009. Wool, 3560 x 1060 cm © Ai Weiwei; and Rooted upon, 2009, 100 pieces of tree trunks, 640 x 3500 x 1100 cm © Ai Weiwei; and Fairytale, 2007, 1001 Chinese visitors. Wallpaper from digital photographs © Ai Weiwei.
MUNICH.- "How is it possible that such technical refinement and craftsmanship were able to develop and unfold in China under imperial tyranny? For me the Haus der Kunst, which was commissioned by Hitler for exhibitions of German art, provides the contextual and formal framework in which to examine this question." Ai Weiwei.

The exhibition presents two new large-scale works created especially for the Haus der Kunst. Additionally the show brings together early photographs, films made since 2003, the documentation of the documenta 12 project, "Fairytale", as well as a selection of works made after 1997.

The exhibition's title "So Sorry" is directed at the new culture of apologizing with which politicians and managing boards react to the misguided developments in the financial markets and to other global crises.

Blog activity and political involvement
Ai Weiwei believes that the most important political debates of the last decade in China have been initiated through the Internet. He, therefore, feels this medium has great potential to bring about social change. The blog that Ai Weiwei maintains is visited by an average of 10,000 people each day, attracting great interest. In his blog https://blog.aiweiwei.com and also in http://www.bullogger.com/blogs/aiww/ Ai Weiwei documents his activities and artistic projects, repeatedly calls for freedom of the press and expression, as well as for independent critique and opinions from his fellow Chinese. Every time his blog is shut down, Ai Weiwei opens a new one somewhere else. Encouraged by the Haus der Kunst, he will now blog for the first time in English (http://aiweiwei.blog.hausderkunst.de/, from September 3, 2009).

On May 12, 2008 an earthquake with the magnitude of eight on the Richter scale occurred in the Chinese province of Sichuan. Among the circa 80,000 victims were several thousand children, who were buried underneath the rubble of collapsed schools. Because the buildings around the schools remained conspicuously unharmed, accusations were made of botched building work; these, however, were rejected by the government. Together with a team of about 30 volunteers, Ai Weiwei researched the names of the victims – in opposition to the government, which did not officially provide information on the actual number of the dead, and which threatened parents with reprisals if they provided their dead children's names. Nonetheless, Ai Weiwei was able to publish more than 4,000 names on his blog.

New works from 2009
"Remembering" is designed for the Haus der Kunst's façade consisting of 9,000 backpacks made specifically for this purpose. With this installation Ai Weiwei recalls the earthquake in Sichuan since many backpacks of the buried children were found under the collapsed schools. The backpacks on the façade are in one of five colors and arranged to spell out the sentence "She lived happily for seven years in this world" in Chinese characters. These words stem from the mother of one of the earthquake victims commemorating her daughter. The pixel-like effect of the large image stretches across the entire façade. It is 100 meters long and ten meters high, and attached to the columns in front of the building with a steel structure.

Also created especially for the exhibition is the woolen carpet "Soft Ground", which will cover a surface of 380 square meters in the largest exhibition space. The pattern of "Soft Ground" is a faithful reproduction of the 969 stone floor tiles on which the carpet lies. In order to reconstruct the floor tiles exactly – including the traces left by 70 years of exhibition activity – each tile was first photographed and its position recorded. Handmade in a weaving mill in Hebei province, "Soft Ground" serves as a kind of buffer protecting the floor and also creating an acoustic effect.

Among Ai Weiwei's most recent works and included in the exhibition are: "Rooted upon", a 100-piece large installation of tree trunks from all over China, that are arranged on "Soft Ground"; "Cube in Ebony", a 100 x 100 x 100 cm cube of solid rosewood; and "Bamboo and Porcelain", a piece the artist created together with Herzog & de Meuron that will adorn the rear façade of the Haus der Kunst.

"Fairytale" and "Template"
With his project "Fairytale" Ai Weiwei drew a lot of attention at the last documenta 2007 by inviting 1,001 Chinese to Kassel. They arrived in groups of 200 and remained in the city for a week. For many of them, it was their first trip to a foreign country, for others their very first trip ever. Convinced that individual experiences are the basis of social change, Ai Weiwei wanted to make such an experience possible for some of his fellow countrymen. Every one of the 1,001 Chinese documenta guests is represented in the exhibition by a black-and-white portrait, which all together result in a photographic wallpaper. In addition to a documentary about the documenta project, the wooden sculpture "Template" will also be presented, as well as the living units Ai Weiwei designed for the Chinese as accomodations for their stay in Kassel: Each guest was provided with a bed, mattress and sheets, an antique chair and a black-and-white trolley suitcase for his/her luggage.

Destruction and Recycling
Ai Weiwei uses Chinese antiques and spiritual artifacts that he alters significantly or whose destruction is integrated into his artworks. A well-known example of this are the antique Chinese vases that Ai Weiwei reworks: the three-part photograph series that depicts him dropping a vase, which breaks into a thousand pieces (Dropping a Han Dynasty Urn, 1995); vases painted with the name "Coca-Cola" and vases dipped in industrial paints (ongoing series). At first glance such actions and performances seem like iconoclastic gestures, yet Ai Weiwei's aim is to pose questions about how old and new can coexist, what the new quality of tradition could look like and how modern China relates to itself.

Ai Weiwei commissions highly regarded traditional workshops such as the kilns in Jingdezhen to realize his porcelain works, and has the individual elements of his wooden sculptures joined together without nails, following the method of classical Chinese carpentry. Such exceptionally well-trained craftsmen react quite sensitively when asked to make their skills available to serve Ai Weiwei's artistic efforts: capturing sunflower seeds in porcelain or ancient wood taken from temples to create a map of China. The technical perfection and the highly sensual quality of Ai Weiwei's works provoke questions crucial to every culture: Who decides what is precious? Who decides what the established values for a society are and for what reason?

Ai Weiwei (b. 1957) is the son of the poet Ai Qing. Mao personally admired Ai Qing but during his policy of the Cultural Revolution (1966 to 1976) only poetry dedicated to himself was acceptable. Since Beijing was therefore becoming too dangerous, Ai Qing left for Shihezi in Xinjiang Province with the help of a friend. As the second oldest son, Ai Weiwei helped support the family. Ai Qing was rehabilitated in 1976; in 1979 he was able to travel to Austria and Germany, where he visited the Dachau Concentration Camp Memorial. The family then moved back to Beijing, where Ai Weiwei began to study at the Film Academy.

After moving to the United States in 1981, he studied with Sean Scully at the Parsons School of Design in New York. When his father became ill, Ai Weiwei returned to China in 1993 and has lived in Beijing ever since.

While in New York, Ai Weiwei's artistic work was characterized by various excursions into materials as well as formats, like painting, sculpture and photography. In the early 1980s he created paintings of nudes that were vaguely reminiscent of figures in an Edvard Munch painting; these were followed by three portraits of Mao in 1985. In 1986, after completing two paintings of the Mona Lisa, which he was able to handle with surprising emotional neutrality considering the highly charged quality of the subject, Ai Weiwei turned his back on painting. However, as early as 1983 he had created his first sculptures using ordinary objects; these attest to his fascination with Duchamp and Warhol. By the end of the 1980s Ai Weiwei took mostly photographs as a form of sketching and remembering.

Back in China, Ai Weiwei published an Art Manifesto of the Chinese avant-garde with three books, in which other contemporary Chinese artists discussed their approaches to art (The Black Cover Book, 1994; The White Cover Book, 1995; The Grey Cover Book, 1997). His first works involving antique Chinese vases and wood were also created during this period. These materials, which he continues to use today, were later joined by fresh water pearls, stones, tea, marble and lacquer.

His own studio residence that Ai Weiwei designed and built following his return to Beijing marked the beginning of his architectural activities. Among the subsequent public commissions was the stadium for the 2008 Beijing Olympics; Ai Weiwei served as a cultural interpreter for the architects Herzog & de Meuron, who were commissioned with the design and construction of the stadium. His largest architectural project to date, "Ordos 100", is a residential development in Inner Mongolia. Its hundred villas are designed by 100 architects from 27 countries selected by Herzog & de Meuron. Ai Weiwei curated the project.

Ai Weiwei has also made several feature length films about the gridlock in Beijing (2003-2005); the camera travels through the streets of Chang'an Boulevard and the Second and Third Ring Roads. Without any additional plot, the films can be distinguished by the weather conditions: "Beijing: The Second Ring" was shot only on cloudy days, while "Beijing: The Third Ring" only on sunny days – "an almost mathematical and unemotional way to show the powerlessness of the people, and the blind nature of the redevelopment" (Ai Weiwei).

Ultimately the daily writing on his own blog is also an integral part of Ai Weiwei's artistic activities, for he believes that taking a social and political stand is the moral responsibility of every artist.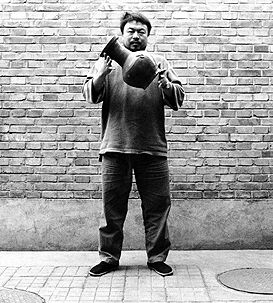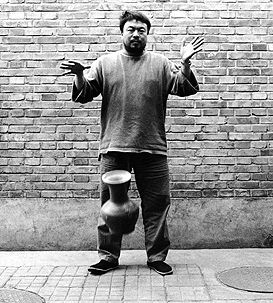 1-3. Ai Weiwei, Dropping a Han dynasty, urn, 1995 © Ai Weiwei