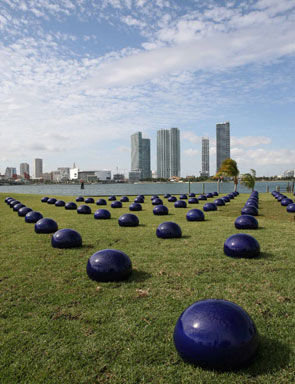 Ai Weiwei, Bubble, 2008. Meile
MIAMI, FL.- This year, the layout of Art Basel Miami Beach will be extensively redesigned, including larger spaces for many galleries, and an innovative floor plan to maximize the visitor experience inside the Miami Beach Convention Center. The Art Positions sector, focused on special projects by young artists and galleries, formerly situated at Collins Park, will now be sited in the center of the Miami Beach Convention Center. Art Galleries, the main section of the show, will again feature the Art Kabinett program, which spotlights curated presentations in the selected gallery's booth, while Art Nova will present new works by more than 170 artists.

The totally new Oceanfront exhibition environment will be created by Los Angeles artist Pae White commissioned by Creative Time, the legendary New York-based public art organization, and host a daily program including the Art Basel Conversations, Art Perform, Art Video and Art Film. Presented in the public spaces between and around the Oceanfront and the Miami Beach Convention Center, this year's Art Projects will connect the two main areas of the show.

Occurring annually since its launch in 2002, Art Basel Miami Beach 2009 will run from December 3 through December 6, 2009, with a VIP opening on December 2. Galleries selected from 33 countries will be showcasing paintings, drawings, sculptures, installations, photography, editions, and videos. The show's list of participants makes Art Basel Miami Beach the most prestigious art show of the Americas, featuring highly established galleries and the most dynamic newcomers. (The full list of exhibitors can be found at www.artbasel.com/sections). Prices range from a few hundred dollars for multiples and works by young artists, to several million for museum-quality masterpieces.

On the eve of the opening, prominent guests from around the world will attend the exclusive Vernissage. Many major US museums are organizing trips to Florida, and numerous groups of art collectors from Latin America and Europe have already announced their visits. During the show's five-day run, more than 40,000 art lovers are expected to visit the international art show.

The redesign of Art Basel Miami Beach
At the center of the Miami Beach Convention Center visitors will discover a cube housing the Art Salon talks program, Art Magazines, Art Institutions and two restaurants. This cube will be surrounded by the Art Positions booths, while Art Nova will extend along a concentrated row at the south end of the halls. This new layout will improve visitor navigation and orientation within the halls, allowing more room for amenities such as restaurants and resting places, further enhancing Art Basel Miami Beach's ability to be the best platform for its galleries. Furthermore, the Art Collectors Lounge will be significantly redesigned and enlarged, now including a restaurant with seated dining, plus lounges by our main sponsor, UBS, and the associate sponsors Cartier, NetJets and AXA Art.
Olaf Breuning, Untitled, 2008. Metro Pictures