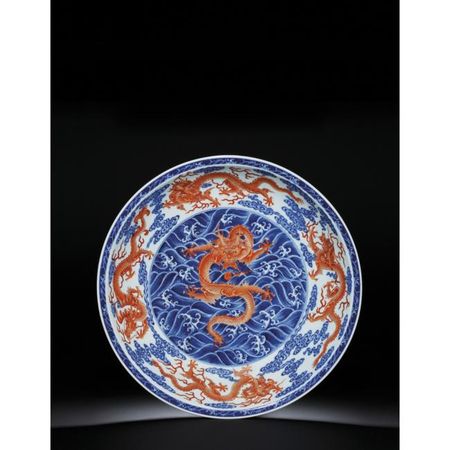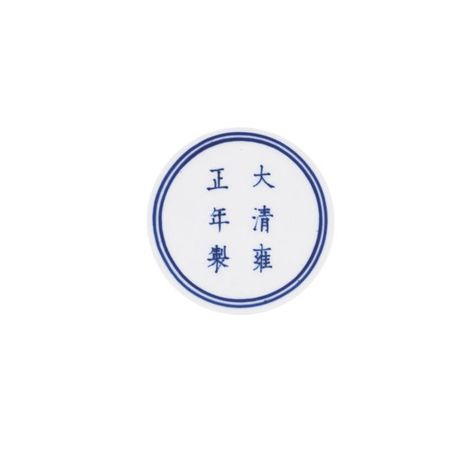 An extremely rare and large iron-red and underglaze blue 'dragon' charger. Mark and period of Yongzheng; photo Sotheby's
the rounded sides flaring from a tapering foot to an everted rim, vividly decorated in the centre with a full-faced iron-red dragon pursuing a 'flaming pearl' on a ground of underglaze-blue swirling crested waves, the cavetto with four dragons on the underside, a band of cresting waves on the rim. 47.1 cm., 18 1/2 in. Est. 1,000,000—1,500,000 HKD - Sold 3,500,000 HKD
PROVENANCE: Sotheby's London, 6th December 1994, lot 179.
NOTE: It is extremely rare to find a dish of this design with a Yongzheng reign mark and only three closely related examples, all of this impressive size, appear to be recorded. See one in the Umezawa Kinenkan, Tokyo, illustrated in Toji taikei, vol. 46, Tokyo, 1973, pl. 14; one sold in our London rooms, 6th June 1995, lot 242, and again in these rooms, 23rd October 2005, lot 208; and a third sold at Christie's London, 10th April 1978, lot 49.
Large Qianlong dragon dishes of this form and design are found in important museums and private collections around the world; see one in the Idemitsu Museum of Art, illustrated in Chinese Ceramics in the Idemitsu Collection, Tokyo, 1987, pl. 956; one in the Shenyang Palace Museum, included in the exhibition Imperial Life in Qing Dynasty, Singapore, 1990, cat. no. 12; another sold in these rooms, 15th May 1990, lot 207, and illustrated in Sotheby's Hong Kong – Twenty Years 1973-1993, Hong Kong, 1993, pl. 380; and a fourth dish sold at Christie's Hong Kong, 31st October 1994, lot 599.
Although Qianlong dishes of this type appear to have been strongly influenced by the Yongzheng prototype and at first glance appear to be very close copies, on close examination it is evident that the artists of the two periods interpreted the design differently. It is interesting to note that while the Qianlong dragon is impressive in its own right, the Yongzheng dragon appears more masculine in its depiction with a larger and more ferocious body. The four dragons around the well of the earlier are also designed to complement the central dragon and are superbly painted with close attention to detail. In addition, these four dragons are positioned differently on the dishes of the two periods, with the Yongzheng dragons being placed on the axis of the central dragon, with the single winged and forked-tailed dragon at the left, and the Qianlong dragons placed at angles to the centre and the winged dragon placed lower in the well. The waves on the Yongzheng dish are designed to give a sense of strength; the Qianlong waves are heavily stylised and uniform. Overall, the Yongzheng version appears to be more painterly in its execution compared to the formal and heavily stylised Qianlong examples. The two different dragons in the 'official' poses thus represent two very different emperors.
Sotheby's. Fine Chinese Ceramics & Works of Art. 08 Oct 09. Hong Kong www.sothebys.com