Pablo Picasso, Buste d'homme. Painted on October 15, 1969. Oil on canvas, 76¾ by 51⅛in. (195 by 130 cm). Est. $8/12 million. Photo: Sotheby's
NEW YORK, NY.- Sotheby's fall Evening Sale of Impressionist and Modern Art in New York on 4 November 2009 presents a remarkable offering ranging from an exquisite group of classic Impressionist pictures by Renoir, Pissarro and Sisley from the family of legendary dealer Paul Durand-Ruel, to key works by modern masters such as Picasso, Giacometti, Derain and Miró. Many come from esteemed private collections and estates and are fresh to the market. Prior to the auction, the works will be on view in Sotheby's 10th floor galleries from 30 October to 4 November 2009.

Icons of Modernism
Following the success of important late works by Pablo Picasso at auction so far this year Sotheby's is thrilled to be offering one of the artist's greatest monumental interpretations of the musketeer, Buste d'homme (est. $8/12 million). In October 1969, Picasso executed several canvases on the theme of a man seated in an armchair and the present oil is the largest of the group (195 x 130 cm). The canvas was included in the 1970 exhibition of the artist's recent work at the Palais des Papes in Avignon and has not been shown publicly since. The recent exhibitions Picasso et les maîtres at the Grand Palais in Paris, and Picasso: Challenging the Past at the National Gallery in London have been part of a critical reappraisal of Picasso's late years which are now recognized as one the most fertile and inspired periods of the twentieth century's greatest artist. The present work has been consigned by a Private European Collection and has never before been offered at auction.

Alberto Giacometti's mesmerizing L'Homme qui chavire is an instantly recognizable icon of the modern era. Caught in the instant he loses his balance, the legendary Falling Man, as he is known in translation, exists in a state of perpetual instability and in a moment of transcendence as he hurls towards the future (est. $8/12 million). Giacometti's creation of this sculpture in 1950 coincided with his production of other career-defining bronzes, all featuring his signature attenuated figures. But the image of the man stumbling on the unsteady terrain of the modern world is perhaps Giacometti's most literal attempt to personify his own existential preoccupations in the years following the war.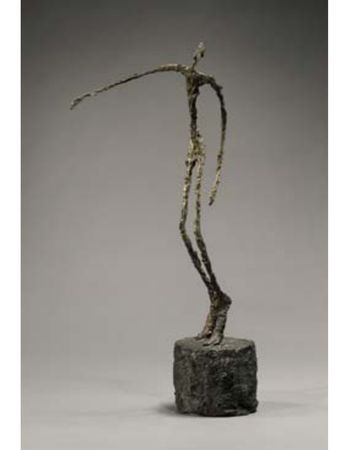 Alberto Giacometti, L'Homme qui chavire. Est. $8/12 million. Photo: Sotheby's
The cover lot of the Evening Sale is a powerful masterwork by Kees van Dongen from 1910, Jeune Arabe which comes from an Important European Collection (est. $7/10 million). This dazzling oil of a nonchalant North African boy exemplifies the artist's reputation as the greatest figural painter of the Fauves. Matisse, Van Dongen, and Derain had earned this soubriquet in 1905 for their audacious brushwork and vibrant colors. Van Dongen painted Jeune Arabe at the height of his career and following a series of highly-successful exhibitions in Paris. His penchant for hot colors and dominant reds is well-known, and his use of impactful colors to express emotion is evident in the present work. A trip to Morocco in 1910 transformed Van Dongen's vision, foregrounding a brand of raw sensuality that intensified the original shock of Fauvism. "Van Dongen has a personal and violent sense of Orientalism", as the poet Apollinaire observed the following year, "a painting often reeking of opium and amber".
Kees van Dongen, Jeune Arabe, 1910. Est. $7/10 million. Photo: Sotheby's
Barques au port de Collioure by André Derain is a seminal Fauvist landscape executed during the summer of 1905 when Derain joined Henri Matisse in Collioure, a coastal town on the Spanish border, and the artists spent two months working side by side (est. $6/8 million). The dazzling effect of light is captured in brushstrokes of pure, primary tones. Derain has rendered the port with broad strokes of juxtaposed complementary color contrasts. The treatment of a single object, such as a boat, in a number of contrasting colors, is a feature that characterizes Derain's style of this period; taking the Impressionist rendering of the effect of light to its extreme.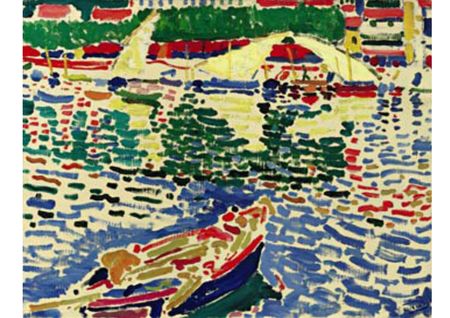 André Derain, Barque au port de collioure. Painted circa 1905. Est. $6/8 million. Photo: Sotheby's
Six works from the collections of renowned philanthropist and patron of the arts Dr. Arthur M. Sackler, will be offered in the Evening Sale, including Wassily Kandinsky's stunning Krass und Mild (Dramatic and Mild), one of the greatest Bauhaus-period works to have appeared at auction in decades (est. $6/8 million). Painted in May 1932, during Kandinsky's final months at the Bauhaus, the canvas is a visual symphony of geometry and color. Krass und Mild was purchased by Dr. Sackler in Sotheby's historic sale of Fifty Paintings by Wassily Kandinsky from the Solomon R. Guggenheim Foundation in 1964.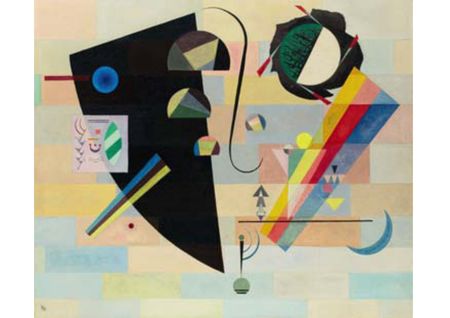 Wassily Kandinsky, Krass und Mild (Dramatic and Mild). Painted in May 1932. Est. $6/8 million. Photo: Sotheby's
Classic Impressionism
Seven paintings from the Durand-Ruel Family encompass works by a number of the Impressionist masters that legendary art dealer Paul Durand-Ruel represented -- Pierre-Auguste Renoir, Camille Pissarro and Alfred Sisley. All but one work were acquired by Durand-Ruel directly from the artists and all have remained in the family ever since. This direct line from the great champion of Impressionism is a truly impeccable provenance. Three works by Pierre-Auguste Renoir will be offered including Femme au Chapeau Blanc which belongs to a series of oils that Renoir completed in the early 1890s of young women wearing elaborate chapeaux (est. $2.5/3.5 million).
Pierre-Auguste Renoir, Femme au Chapeau Blanc. Painted ca 1890. Est. $2.5/3.5 million. Photo: Sotheby's
Another classic Impressionist work from a private Belgian collection is Claude Monet's Clématites (est. $2.5/3.5 million). Painted in Monet's garden at Giverny in the summer of 1887, the present work belongs to a series of paintings in which flowers dominate the picture space to the exclusion of any sort of landscape or contextualizing background. In its scale and focus, the present painting prefigures the artist's later fascination with waterlilies. The single-minded concentration on leaf and petal spread out across the picture plane provides a precedent for the waterlily compositions, leading ultimately to the dissolution of form by light and color which led Monet to the limits of abstraction.

One of Edgar Degas' finest racing pictures, Avant la course, painted circa 1882-88 will also be offered (est. $4/6 million). The artist's exploration of the world of the racetrack and steeplechase developed in tandem with his survey of other aspects of the modern world, notably the world of dance. In his depictions of equestrian subjects, Degas moved from the precise delineation of complex arrangements of figures in space in the first half of his career to a much broader, more atmospheric approach in the latter half, when the present work was executed. Avant la course is composed of flat modernist patches of color in which the artist employed great contrasts of light and dark forms and asserted the dynamism of the composition over any specificity of details.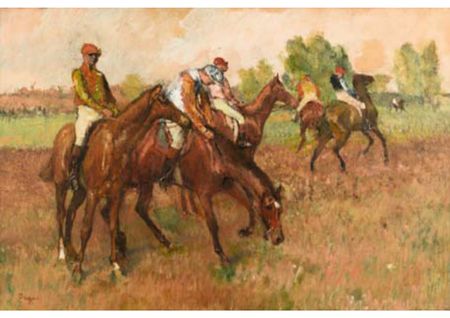 Edgar Degas, Avant la course. Painted circa 1882-88. Est. $4/6 million. Photo: Sotheby's
Other Highlights
Two works by Picasso from the late 1940s will also be offered. Painted in 1947, Pablo Picasso's Tête de femme au chapeau vert is a portrait of the artist's lover Françoise Gilot (est. $4/6 million). Gilot, who was the mother of Picasso's two children – Paloma and Claude, was a painter in her own right. The present work is a reflection of both Picasso's renewed optimism following the war years, and Gilot's full asecndancy as his lover. Pablo Picasso's lively portrait of their son, Claude à Deux Ans et Son Cheval de Bois (est. $5/7 million), was completed a few weeks after the boy's second birthday in the summer of 1949. The picture is one of two oil versions that Picasso painted of his son Claude with his hobby horse and marks the beginning of an important new stage in his artistic development. Beginning in 1949 and continuing through the early 1950s, Picasso completed a series of portraits of Claude and his younger sister Paloma that reflect the powerful impact the children had on his art as he witnessed their childhood wonderment and joy of first discovery.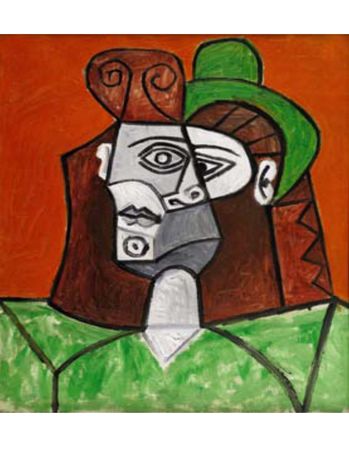 Pablo Picasso, Tête de femme au chapeau vert . Est. $4/6 million. Photo: Sotheby's
Alberto Giacometti's startling Tête d'homme from 1964-65 is the personification of the artist's existential dilemma in the last month of his life (est. $1.5/2 million). Giacometti's late portraits are all inextricably linked to the artist's confrontation of his own mortality and the personal turmoil that clouded his later years. The stark images were a conduit for expressing his anxiety surrounding these issues that became central to the Existentialist movement.

Femme, oiseau from 1972 is a striking example of Joan Miró's late works, featuring the characteristic iconography of figures and birds (est. $3/4 million). Executed with a technical assurance and the economy of pictorial means typical of the last decades of his career, the present work shows his style verging between figuration and abstraction. Also by Miró is Femmes et oiseau dans la nuit, one of the compositions which the artist completed in the aftermath of the war. This jewel-like picture from 1946 is populated by Miró's Surrealist characters who are recognized easily for who they are - women cocooned by the night sky.

In addition to the works coming from the Durand-Ruel and Sackler Collection, property from other distinguished private collections will also be offered this fall. From the estate of Chicago collector Grace E. Hokin is Fernand Léger's Les Trois Musiciens, ler Etat, 1932, a vivid depiction of the spirit of its era, personifying the Jazz Age and "joie de vivre" of Paris in the years leading up to the war (est. $2.5/3.5 million). Léger took his inspiration here from the performers at the bals musettes, where working-class Parisians would come on any given Saturday and Sunday afternoon to dance to the melody of an accordionist, the harmony of a horn player and the rhythmic thump of a bass player. The painting is the first version of the celebrated work in the Museum of Modern Art, New York.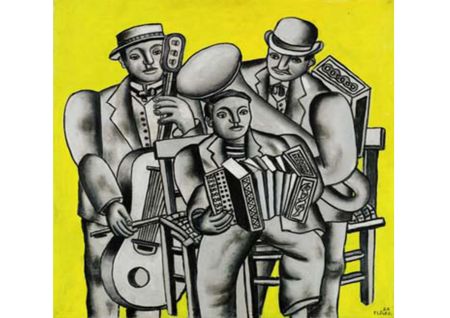 Fernand Léger, Les Trois Musiciens, ler Etat, 1932. Est. $2.5/3.5 million. Photo: Sotheby's