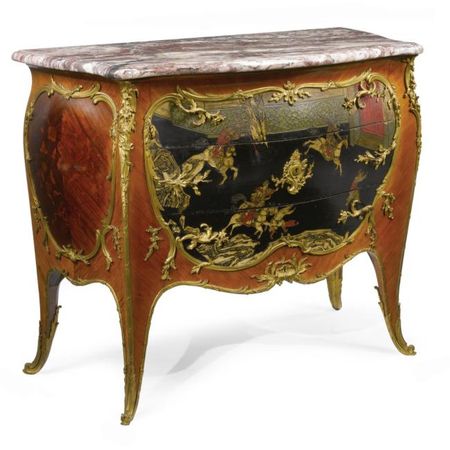 François Linke (1855 - 1946), A Louis XV revival gilt-bronze and chinese coromandel lacquer mounted kingwood commode, Paris, circa 1897, index number 245 (variant) photo Sotheby's
fleur de pêcher marble top, signed F. Linke to the right-hand chute, locks stamped by Clément Linke, keyhole escutcheon stamped FL and number 845 from linke's workshop metalworks numbering. 95.3 cm; 120 cm; 58.4 cm - Est. 60,000—80,000 USD - Sold 92,500 USD
NOTE: The present lot is a rare example of Linke's output. His archives are frustratingly unclear for the lacquer version. Two are recorded in the Blue Day Books but photographic evidence shows that he made three examples. Records show that Linke's workshops made two pairs of carcasses of this model thus it might be assumed that there is a forth of this model veneered in Coromandel lacquer although the fourth could have easily been veneered with marquetry as is the more common version of this commode.
Linke describes the commode in his 1900 book of retail prices as 'Commode Louis XV a trois tiroirs avec marqueterie violette de 97 haut 1.20 large marbre breche d'alep 1,800 (francs). La meme avec Coramandel 2,800'. He made a further, larger version in marquetry 138 centimetres wide, retailing at 2,500 francs.
Linke's pencil written notes in his Blue Day Book show that Knutzer made the first pair of carcasses at a cost of 370 francs – against which Linke has written 'TROP', meaning that he thought it had taken the unfortunate cabinet maker too long to do the work. Linke soon proved his point as his younger brother Wenzel Linke made the next two in thirty-three hours less time, shaving some three days off his colleagues time -337 hours at a cost of 183 French francs. Records show that Picard was paid 55 francs for gilding a Coromandel version in November 1897 and Sartori 98 francs for chasing the bronze mounts. The total cost for a Coromandel version appears to be 1,138 francs, some 350 francs more than the seemingly complex marquetry version.
Another of Linke's brothers, Clément, working as an independent lock and hinge maker in Paris but almost exclusively making the metalwork for his brothers' work made locks for a version of this commode in July 1901 but they were adjusted in July 1902. This delay was quite common in Linke's workshops, many items were made or part made for stock and only finished when a client ordered a model. Others were worked on over a period of years when business was slack. However the present lot, if the carcass was made in 1897 as records suggest, probably fell victim to the huge task that Linke's workforce faced when preparing for Linke's Gold Medal winning stand at the Paris World Fair of 1900, the 'Exposition Universelle'.
The distinctive Louis XV rococo style is typical of Linke's work as he expanded his repertoire in anticipation of his award-winning stand at the Paris Exhibition of 1900. However Linke is far from making a copy of an eighteenth century model but re-interpreting, in conjunction with his talented sculptor Léon Messagé, a highly popular style to suit modern taste of both Paris and the emerging New World for whom French furniture was the ultimate status symbol.
Coromandel lacquer, is named after the Coromandel Coast on the broad coastal plain in eastern Tamil Nadu, a state of southern India. Although the lacquer was made in China the panels and finished objects, commonly screens, were shipped via India in the seventeenth century to Europe. Sometimes referred to as Bantam work, became popular in Northern Europe from the late seventeenth century. Its distinctive incised fields filled with polychrome and gold are highly decorative and instantly recognisable and distinct from Oriental 'flat' lacquer or the European imitation commonly referred to as 'japanning' a term that distinguishes it from the original work originally imported from China or Japan. A cursory glance at the lacquer on the present lot suggests that it is actually one of the pair in Linke's photographic archive but, surprisingly, it is slightly different in detail. It would appear that the craftsman was in his own mind, making an exact match but there are enough minor details to show it is indeed a third example. It raises the intriguing question as to how and under what circumstances this type of lacquer was made in China in the latter part of the nineteenth century. Possibly several craftsmen were working on panels to order from Linke direct or a wholesaler, using a drawing or even an example of an eighteenth century panel as their guide, resulting in slight differences. Footnote courtesy of Christopher Payne
Sotheby's. 19th Century Furniture, Sculpture, Ceramics, Silver and Works of Art. 21 Oct 09. New York www.sothebys.com