A rare blue and copper-red pear-shaped vase, 18th century © 2002-2009 Bonhams 1793 Ltd
Boldly painted on one side in a richly-toned cherry-red and blue palette with a large cluster of twelve peaches irregularly grouped along two long leafy branches, the design extending almost around the vase beneath a band of formal lotus scroll at the shoulder and overlapping stiff leaves rising to the flaring rim. 27cm (10¾in) high. Estimate: £12,000 - 18,000, HK$150,000 - 230,000
Provenance: Bluett and Son, London
FG and EH Morrill, Collection no.85
Edward (Ted) Wrangham, O.B.E. (1928-2009) Collection

During the Yongzheng and Qianlong periods potters at Jingdezhen sought to emulate the style and quality of 'classic' Ming Dynasty porcelains and treasured antiques from the Imperial collection were sent to Jingdezhen to be copied. The present vase owes much of its form, stylistic composition and even colour to earlier Ming Dynasty prototypes. However, the production of porcelain vessels displaying the technical virtuosity of successfully firing both the under-glaze cobalt blue and copper-red displays the creative inspiration of Jingdezhen potters who, from the mid-Kangxi Period onwards were determined to revive, and indeed improve, the classic copper-red porcelains of the early 15th century, see R.Scott(ed.), Chinese Copper Red Wares, London, 1991, p.27. It is interesting to compare a Yongle blue and white pear-shaped vase with its Qianlong Period counterpart, which is unusually painted in underglaze-copper-red against a ground of overglaze yellow enamel, illustrated by E.S.Rawski and J.Rawson, China. The Three Emperors 1662-1722, London, 2005, Catalogue nos.207 and 208.

The fruiting peach branches were a popular decorative motif on early 15th century porcelains, see for example a Yongle Period bowl in the British Museum illustrated by J.Harrison-Hall, Ming Ceramics in the British Museum, London, 2001, p.113, fig.3:26. Its Qing Dynasty counterpart, a Yongzheng mark and period bowl painted with related peach blossoms, but in underglaze-red, in the Asian Art Museum of San Francisco is illustrated by He Li, Chinese Ceramics. The New Standard Guide, London, 1996, p.287, fig.582.

The present vase may well have taken its decorative inspiration from Xuande Period blue and white meipings, similarly painted with fruiting and blossoming peach branches, see one example in the Palace Museum, Beijing illustrated in Ming Chu Qing Hua Ci, Vol.I, Beijing, 2002, fig.76. See a Yongzheng Period underglaze-blue and red meiping similarly painted with fruiting and blossoming peach branches, as well as fruiting pomegranates and berries in the Shanghai Museum, see Underglaze Blue & Red, Shanghai, p.198, fig.187.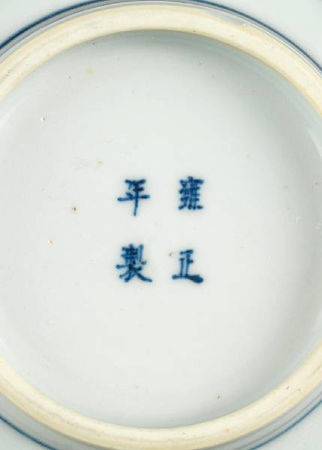 An unusual blue and copper-red green-washed bowl, Yongzheng four-character mark and of the period © 2002-2009 Bonhams 1793 Ltd
The exterior painted in blue and red, and washed in green over engraved details with two large clusters of leafy flowering lotus in a pond of rippling waves beneath two birds. 17.8cm (7in) diam. Estimate: £1,500 - 2,500, HK$19,000 - 31,000
Provenance: W.W.Winkworth
Purchased at Sotheby's London, 13 December 1973, lot 141
Provenance: Edward (Ted) Wrangham, O.B.E. (1928-2009) Collection

The decoration of this unusual bowl is more characteristic of Kangxi wares, and recalls a short-lived moment of engraved and underglaze decoration found in a similar way on a few bowls in the 1643 Asian Junk cargo; see C.Sheaf and R.Kilburn, The Hatcher Porcelain Cargoes, London, 1988, p.70, pl.109
Bonhams. Fine Chinese Art, 5 Nov 2009. New Bond Street www.bonhams.com