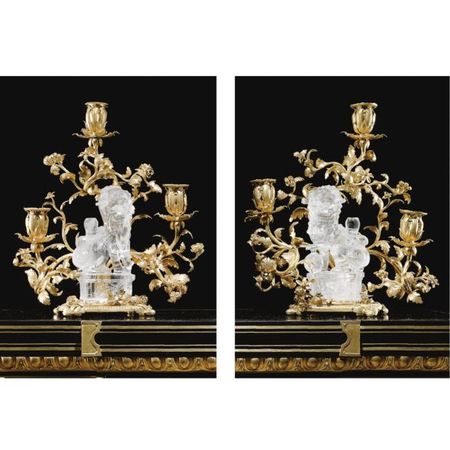 A pair of rock crystal and gilt-metal candelabra, Paris, attributed to Escalier de Cristal, circa 1890. photo Sotheby's
carved as a pair of Buddhistic lions in mirror image, the female with a cub and the male with its foot on a brocade ball. each 32cm. high; 1ft. 1/2in. Est. 25,000—30,000 GBP - Sold 49,250 GBP
NOTE: The attribution to Escalier de Cristal is based on a drawing by Henry Pannier in a private collection, which appears to be a design for these candelabra. Pannier took over the business with his brother Georges from his father in 1885. It was very much under their influence that the company pursued the market for the highest quality goods. There are several examples of work by Escalier de Cristal in the Musée D'Orsay. For further information on Escalier de Cristal see Lot 84.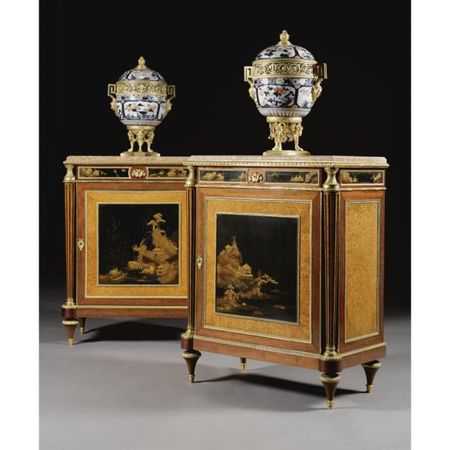 A pair of amboyna, mahogany and black lacquer side cabinets, by Henry Dasson, Paris, circa 1880. photo Sotheby's
in the manner of Weisweiller, each with a brocatelle d'Espagne marble top above a frieze drawer and a panelled door, stamped Henry Dasson. 105cm. high, 83cm. wide, 45cm. deep; 3ft.5½in., 2ft.8¾in., 1ft.5½in. Est. 20,000—30,000 GBP - Sold 22,500 GBP
NOTE: Henry Dasson (1825-1896) is amongst the most distinguished of ébènistes of the second half of the 19th century. He had a remarkable career establishing himself as one of the most sought after makers from relatively humble beginings. The son of a leather worker he commenced as a bronzier specialising in clock cases. The catalyst for him to widen his oeuvre seems to have been the purchase of the models and casts from the workshop of Charles-Guillaume Winckelsen (1812-1871). Winckelsen specialised in very high quality furniture in the Louis XVI style with very finely cast and chased bronzes.
He made a significant contribution to the International Exhibition in Paris in 1878, which was acclaimed by the official jury who reported, "M. Dasson eût mieux à sa place dans la classe 17, où il aurait eu à lutter directement avec ses pairs, M.M. Fourdinois, Grohé. Beurdeley fils etc." Perhaps his most extraordinary contribution to the exhibition was his version of the Louis XV bureau made by Oeben and Reisener, now at the Château de Versailles. It was highly justly praised at the time and became to forerunner of later versions by all the great ébènistes of the period, including Beurdeley, Zwiener, Jansen and Linke. In 1883 he took part in the International Exhibition in Amsterdam, alongside his peers, Beurdeley, Fourdinois, Damon et Cie and Christofle.
Dasson also took a major role in the International Exhibtion of 1889 in Paris where his stand reflected that pragmatic combination of "meubles à bon marché et meubles de luxe". HIs stand stood opposite M.Beurdeley and next to the celebrated house of Jeanselme. Alongside his classic interpretations of Louis XIV, Louis XV and Louis XVI furntiure his work began to embrace the new sinuous forms that heralded the emergence of Art Nouveau. Following the exhibiton in recognition of his achievements he was promoted to an Officier de l'ordre de la Légion d'Honneur.
The business was wound up in 1894 just before his death, when the remaining furniture, bronze models and casts were sold in three separate auctions on the premises at 106 rue Vieille-du-Temple. Examples of his work are highly prized and can be found in many distinguished collections, such as the Camondo, Stein, the Duke of Hamiltion and the Wallace Collection at Hertford House.
A pair of gilt-bronze-mounted Japanese Imari jars and covers, the porcelain late 17th century, the gilt-bronze Paris, circa 1880. photo Sotheby's
each with a cover witha pomegranate finial, above a pierced border, elaborately painted with panels of crysanthemums, peony and prunus. each: 58cm. high, 1ft.11in. Est. 18,000—25,000 GBP - Sold 37,250 GBP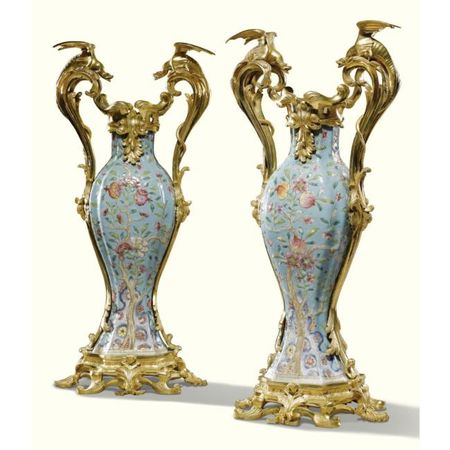 A pair of gilt-bronze-mounted famille rose facetted vases, circa 1860. photo Sotheby's
each cast with double scrolled handles with dragons painted with branches of peaches, pomegranates and peonies on a turquoise ground. each 46cm. high, 1ft.5¼in. Est. 8,000—12,000 GBP - Sold 10,000 GBP
NOTE: This pair of vases reflect the perennial fascination with the orient that has endured in Europe from the 17th century. The exotic nature of the gilt-bronze dragons, which form the handles are typical of this desire to emulate Chinese style. There a number of 18th century examples, which make use of similar dragon handles to complement the oriental porcelain. Amongst the most notable are a pair of ewers now in the Musée du Louvre, see above, which originally came from the collection of the Duc d'Aumont and were listed in the inventory after his death, as `689.Item deux vases...à anses de dragon & pieds'.. They make use of the same distinctive dragons with outstretched wings, their tails intertwined with the scroll handles.
Comparative Literature: Daniel Alcouffe et al, Gilt-bronzes in the Louvre, Dijon, 1996, pp.89-90, no 40 (inv. OA 5151).
Sotheby's. M&N Uzal, 19th Century Excellence . 28 Oct 09. London www.sothebys.com