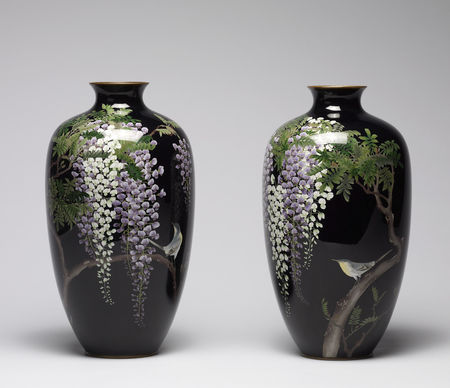 Pair of Vases Decorated with Japanese Bush Warblers Perching on Blossoming Wisteria, Goto Seizaburō, standard cloisonné enamel over metal, 36.5 cm, Stephen W. Fisher Collection, Baltimore (FE.13, FE 14)
BALTIMORE, MD.- The Stephen W. Fisher collection of Japanese cloisonne enamels is one of the finest in the world. Comprised largely of pieces created during Japan's "golden age" of decorative art production, the special exhibition at the Walters, Japanese Cloisonne Enamels from the Stephen W. Fisher Collection, will feature many intricately adorned vases, boxes and trays worked in gold, silver and dazzling colored enamels. On view from February 14 - June 13, 2010, the exhibition features over 130 objects that have been chosen to illustrate the wide range of forms, styles and techniques that have come to define the high point in the production of Japanese enamel.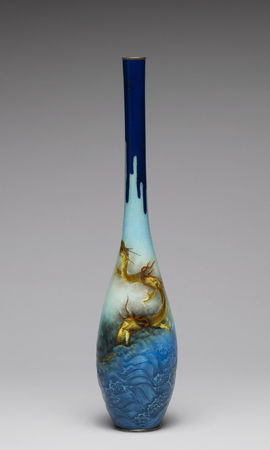 Vase Decorated with a Dragon Rising from Waves, Kumeno Teitarō, opaque and transparent enamels over sculpted silver, 36.4 cm, Stephen W. Fisher Collection, Baltimore (FE.45)
Cloisonne is a method of enameling an object using fine wires to outline decorative areas within which enamel paste is applied before the object is fired and polished. These enamels played an important role in Japan?s assertion of its own modernity in newly opened international markets. Reaching artistic maturity in the 1870s and being aggressively produced through the first decades of the 20th century, production of these brightly colored works was stimulated by worldwide demand fed by Japan's participation in international expositions and world's fairs. Masterworks of cloisonne were sent as showpieces to the expositions where they served both to meet European expectations of Asian exoticism and inspired the development of international modern decorative styles. Many of the distinctive styles that emerged during this period are represented by outstanding examples in the Fisher collection, including works by the masters Namikawa Yasuyuki, Namikawa Sōsuke and Andō Jubei.
"Steve Fisher is generous in his dedication to sharing superb objects with our museum visitors," said Walters Director Gary Vikan. "By partnering with the Walters, his collection has the ability to reach out and inspire visitors with the power of its beauty and intricate detail."
Vase with Scrolling and Floral Decoration Imitating Patinated Bronze, Ōta Hiroaki silver wire cloisonné with opaque and transparent enamels over metal, 31.2 cm, Stephen W. Fisher Collection, Baltimore (FE.135)
"Cloisonne enamel has only a few precedents in pre-modern Japanese art but rose rapidly to become synonymous with the best of Japanese design, decoration and technical refinement during the liberalizing tenure of the Meiji government," said Walters Associate Curator of Asian Art Robert Mintz. "The works selected for this exhibition were produced at the very peak of innovation and creativity for this art form during the forty years or so surrounding the turn of the 20th century." With the feudal control of the Tokugawa shogunate gradually losing its grip on society and seaports opening to foreign trade at the beginning of the Meiji period (1868-1912), Japanese enamellists pushed the limits of their craft both domestically and internationally to much acclaim.

Owari cloisonne, named for a pre-Meiji Japanese province centered in the city of Nagoya, was the first and longest-lived of the 19th-century Japanese enameling traditions. Owari cloisonne artists introduced new techniques, including "wireless" cloisonne, relief enamel and transparent enamel cloisonne that led to their continued success during this period. Artist Andō Jubei formed the Andō Cloisonne Company and began production in Nagoya. In the exhibition, Tripod Incense Burner Decorated with Japanese Sweetfish illustrates the Andō Company's aesthetic. This company is the only remaining Meiji-era Japanese cloisonne production studio still producing enamels today.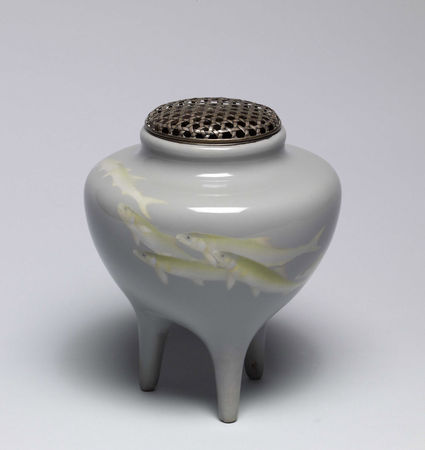 Tripod Incense Burner with Sweetfish, The Andō Company, opaque and translucent enamels, 20 cm, Stephen W. Fisher Collection, Baltimore (FE.127)
Hattori Tadesaburō and his artisans worked in competition with the Andō Cloisonne Company. They developed a distinctive style inspired by keen observations of nature. For example, Hattori's Vases Decorated with Calla Lilies and Camellias capture the essence of their floral subjects. When vessels like these reached the European markets they had a profound impact on the development of modern Art Nouveau decoration.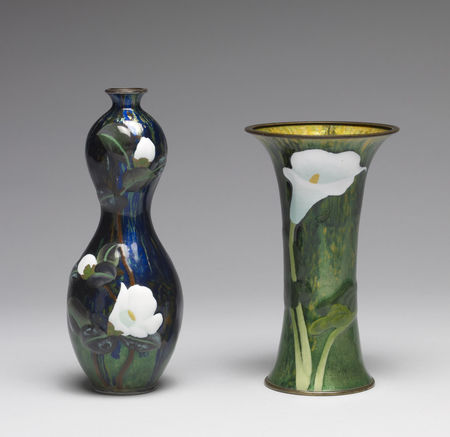 Vases Decorated with Calla Lillies and Camellia, Hattori Tadasaburō, low-relief opaque and transparent enamels over metal, 15.8 cm, Stephen W. Fisher Collection, Baltimore (FE.16, FE.17)
Artist Namikawa Sōsuke's work emerged directly from the Owari tradition. He led the Nagoya Cloisonne Company's factory in Tokyo, and his work revels in the potential of "wireless" cloisonne. The painterly effects this technique enabled can be see in his Pair of Vases Decorated with Ducks Among Snowy Reeds. His skill helped to elevate cloisonne enamel from an industrial craft to fine art.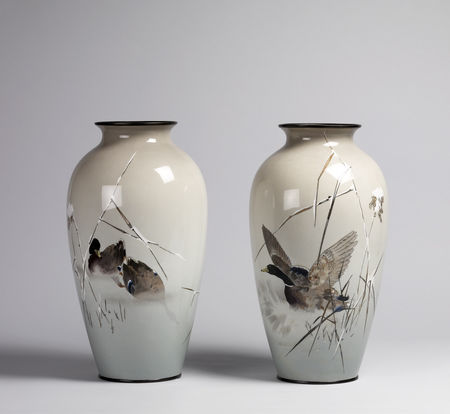 Pair of Vases Decorated with Ducks among Snowy Reeds, Namikawa Sōsuke, dard and wireless cloisonné enamel over metal with shakudo rims, 52 cm, Stephen W. Fisher Collection, Baltimore (FE.73, FE.74)
Pair of Covered Urns Decorated with Scenes of Minamoto Yoritomo's 1193 Excursion to Mt. Fuji, Attributed to Namikawa Sosuke, Standard cloisonné enamel over metal with gold and silver wire and bronze mounts, 44 cm, Stephen W. Fisher Collection, Baltimore (FE.87, FE.88)
One of the most famous cloisonne artists in Japan, Namikawa Yasuyuki, worked in the city of Kyoto, known for its elegant if somewhat conservative style of decoration. Namikawa's pieces exhibit refined workmanship and extremely rich decorative schemes. While his works were thematically restrained, his use of sculpted wires to accent his designs reveals his mastery of cloisonne techniques and his willingness to innovate, as demonstrated in his Incense Burner Decorated with Hydrangea.
Incense Burner Decorated with Hydrangea, Namikawa Yasuyuki, standard cloisonné enamel over metal with silver wires, height 6.9 cm. Stephen W. Fisher Collection, Baltimore (FE.48)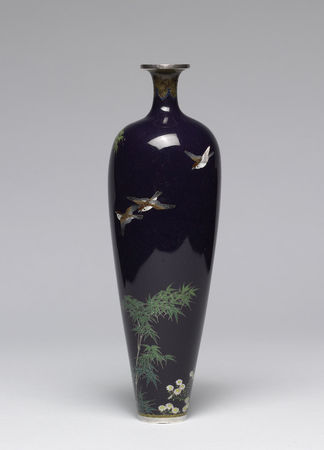 Vase with Bamboo and Birds, Namikawa Yasuyuki, standard cloisonné enamel over metal, 15.4 cm, Stephen W. Fisher Collection, Baltimore (FE.49)