Herakles as a Youth. Marble. Roman copy after a Hellenistic original; height 64 cm. Staatliche Museen zu Berlin, Antikensammlung, Sk 188; Bildarchiv Preussischer Kulterbesitz / Art Resources, NY (Johannes Laurentius)
Baltimore—From ancient times to present day, heroes and heroines have played vital cultural roles in society by defining trends, creating norms and shaping behavior. Sometimes heroes are portrayed as superhuman protagonists while at other times they emerge as average people who rise above the ordinary. Heroes are acknowledged with admiration by the mass media and sometimes even with offerings, rituals or monuments. On view Oct. 11, 2009-Jan. 3, 2010, at the Walters Art Museum, Heroes: Mortals and Myths in Ancient Greece will explore the inherent human need for heroes through the arts of one of the oldest and most influential cultures in history.
Heroes, a traveling exhibition, will feature more than 100 artworks from European and North American museums. Statues, reliefs, vases, bronzes and jewelry will be combined with literary quotes to illustrate the lives of heroes and heroines, including their tasks, adversaries, challenges, failures and private moments.
"We are so pleased to have loans from such highly regarded museums as the Metropolitan Museum of Art, the National Archeological Museum in Athens and the Museum of Fine Arts, Boston," said Walters' Director Gary Vikan. "The Walters has one of the largest and finest collections of ancient Greek art in the United States and with the contributions of these outstanding lenders, along with many others, the exhibition will allow a greater understanding of heroes past as well as examine our own attitudes towards the heroes of today."
There is no easy answer to what makes a hero—either in ancient Greece or in modern times. The reasons why somebody became a hero or heroine in ancient Greece were manifold. In general, before a person could be considered a hero two important characteristics had to be met.
"First, heroes had superhuman powers but were mortals who were believed to have lived and died, and second, becoming a hero in the Greek sense occurred only after death," stated Sabine Albersmeier, former Walters' associate curator of ancient art.
This exhibition is dedicated to the memory of Christine Dunbar Sarbanes (1935–2009).
"Christine is a true and abiding hero of our time," said Vikan. "Odysseus-like in her commitment to the Walters Art Museum, she was a compassionate advocate for the audiences we strive to serve."
The planning and implementation of this exhibition have been generously supported by grants from the Samuel H. Kress Foundation. The exhibition catalogue received a leadership grant from the Alexander S. Onassis Public Benefit Foundation (USA). The exhibition is supported by an indemnity from the Federal Council on the Arts and the Humanities. The presentation in Baltimore has been made possible by the Women's Committee of the Walters Art Museum, the Bank of America Charitable Foundation, the Gladys Krieble Delmas Foundation and generous individual donors. Through the generous gift of Mr. and Mrs. Peter G. Angelos, this exhibition is offered at the Walters Art Museum free of admission charge.

Medallion with Bust of Alexander the Great (ca. 218-235 CE) gold. Roman (probably struck in Macedonia), diameter 5.4 cm. Baltimore, The Walters Art Museum, 59.1
Exhibition Overview
The Heroes exhibition is divided into three sections. The first, Heroes in Myth, presents the lifecycles of four major heroes—Achilles, Herakles, Odysseus and Helen—each with their own distinctive characteristics and unique tales. Visitors will learn about their parentage, birth, education, marriages and death. A major component focuses on the crucial moments of triumph as well as setbacks in their lives, revealing not only their vulnerability but also their ability to overcome obstacles. An interactive component will include a quiz linking visitor's personality traits to those of eight Greek heroes, gods and monsters. Each person can take the quiz to see which protagonists they are most like and then follow "their" hero through the exhibition.
The highlighted heroine Helen represents the archetype of feminine grace, power and beauty. She can be seen on a large vessel for mixing wine and water in Helen and Menelaos at the Sack of Troy (440–430 BCE). Menelaos, her husband, is shown racing towards her. Helen flees with her clothes enticingly loose about her. Menelaos changes any thoughts he had about murdering his willful wife and moves towards here with a leer on his face while dropping his sword.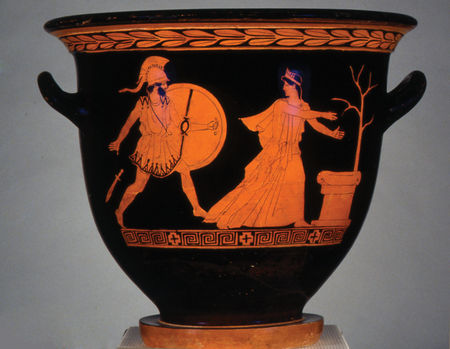 Helen and Menelaos at the Sack of Troy (440–430 BCE). Attic red-figure bell-krater. Attributed to the Persephone Painter; height 32.5 cm. Toledo, Ohio, Toledo Museum of Art, Purchased with funds from the Libbey Endowment, Gift of Edward Drummond Libbey, 67.154 Toledo Museum of Art (Richard Goodbody, NY)
Some heroes are defined by their adversaries—monsters or warriors they kill in battle. The Head of Polyphemos (Roman, 1st or 2nd century CE) represents the Cyclops with a single large eye extending across the bridge of the nose. Polyphemos appears in Greek and Roman art primarily as one of the major foes and many obstacles encountered on Odysseus' journey home from Troy.
The Head of Polyphemos (Roman, 1st or 2nd century CE). Thasian marble. Roman; height 38.3 cm. Museum of Fine Arts, Boston, Museum purchase with funds donated in honor of Edward W. Forbes, 63.120 Photograph © 2009 Museum of Fine Arts, Boston
The second section, Heroes in Cult, is devoted to the worship of heroes. After their death, heroes received sacrifices and offerings from worshippers in hope that their prayers would be heard. A large-scale reconstruction of a hero shrine within the exhibition will contain typical offerings and give visitors an immediate, tangible experience of such a place of worship. Photomurals depicting actual sites of hero worship will place the objects in their context, and visitors will be able to make offerings, such as drawings and poems, to their heroes.
The Corinthian Helmet (700–500 BCE) in this section is part of a foot soldier's armor. The nose-guard and cheekpieces of the bronze helmet left only the eyes and mouth exposed. The armor signified the social status of its owner, who was required to furnish his weapons at his own expense. Helmets were prized possessions that were sometimes placed in the grave of a fallen warrior and could also be given by worshippers as offerings to heroes.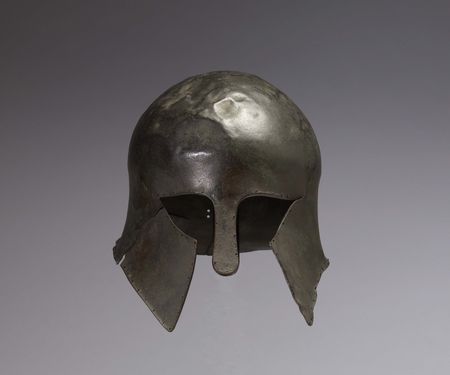 The Corinthian Helmet (700–500 BCE). bronze, 24.3 x 20.8 x 25.7 cm. Baltimore, The Walters Art Museum, 54.2304
Focusing on warriors, athletes, musicians and women, the last section, Hero as Role Model, reveals not only the omnipresence of heroic representations and their reflection in portrayals of ordinary Greeks, but also how much warriors and athletes were admired. Although they could not be heroes in the Greek sense while alive, they served as role models for society. Riders Competing in a Horse Race (ca. 500–480 BCE), for example, shows two young jockeys in the heat of the race. The focus is clearly on the rider on the left, whose horse occupies the composition's foreground, its head partially obscuring the other rider. The prominence of the horse and rider, captured at a decisive moment in the race, may signal the contest's victor. Also, in this section, visitors will be invited to add their own personal hero to the exhibition. They can post a statement introducing heroes in their lives and what makes them heroic to them on the walls.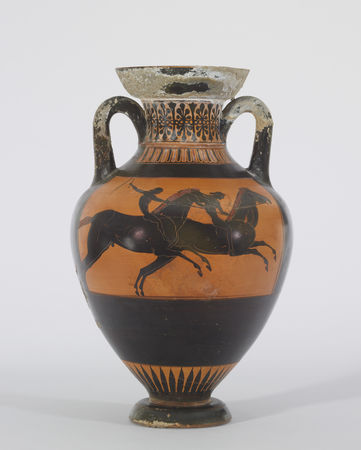 Riders Competing in a Horse Race (ca. 500–480 BCE), Black-figure pseudo-Panathenaic amphora. Attributed to the Vatican G 23 Group; height 41 cm. Baltimore, The Walters Art Museum, 48.2105
Art on Purpose: Heroes in Our Midst Collaboration
Inspired by the Walters' Heroes exhibition, Art on Purpose presents Heroes in Our Midst, a project about modern-day Baltimore individuals who share attributes with ancient Greek heroes. Art on Purpose, an organization dedicated to using art to bring people together around issues and ideas, presents a series of exhibitions and events in partnership with the Walters to explore, uncover and celebrate the lives of contemporary Baltimore heroes. The first exhibition, A Thousand Ships, on view Sept. 16 to Nov. 8, 2009, is based on the heroism of Helen of Troy and will celebrate 12 individuals in Baltimore public schools whose inherent charisma has had a life-altering impact on those who come to know them. The second exhibition, Twenty Years of Wandering, on view from Nov. 11, 2009 to Jan. 3, 2010, is about the Odysseus-like heroism it takes for refugees, immigrants and the homeless to survive and thrive in Baltimore. It will feature artwork created by clients of several Baltimore social service organizations that serve the homeless and refugee populations.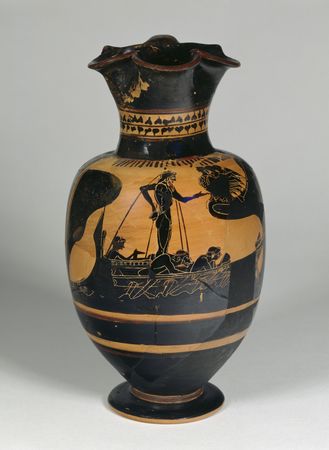 Odysseus and the Sirens (ca. 520 BCE). Attic black-figure oinochoe; height 22 cm. Staatliche Museen zu Berlin, Antikensammlung, 1993.216; Bildarchiv Preussischer Kulterbesitz /
Heroes will travel to The Frist Center for the Visual Arts in Nashville from Jan. 29–April 25, 2010, the San Diego Museum of Art from May 22–Sept. 5, 2010 and the Onassis Cultural Center in New York City from Oct. 5, 2010–Jan. 3, 2011.
Published by the Walters Art Museum and distributed by Yale University Press, the 328-page catalogue includes ten essays and 106 color entries with nearly 60 objects from the Walters' collection. The book is edited by Sabine Albersmeier with contributions from leading experts in the field.
Dueling Warriors (ca. 530 BCE) Attic black-figure mastos, height 9.3 cm. Baltimore, The Walters Art Museum, 48.223