Rare aiguière couverte en argent et vermeil, Paris, vers 1480 (avant 1507), poinçon d'orfèvre uniquement. Trésor National.
[a rare French parcel-gilt silver covered ewer, Paris, circa 1480 (before 1507), maker's mark only partly legible] Estimate upon request. photo courtesy Sotheby's
Close to the border with Belgium in the Meuse in eastern France, three years ago, a man made an incredible discovery. As he was digging in his garden, he uncovered a hiding place behind some large stones and retrieved some 32 pieces of French Renaissance silver, made in Paris, Reims, Châlons en Champagne and Strasburg between 1480 and 1570. Consisting of ewer, cups, beakers, spoons and salt-cellars, in extraordinary condition, this amazing discovery, now classified as a French National Treasure, greatly increases our knowledge of French Renaissance silver. For instance, the set of twelve parcelgilt silver spoons discovered means the earliest known date for such pieces can be revised by almost 200 years to 1520.
This exceptional treasure will be joined be pieces from across Europe, including a Madrid tureen attributed to Pedro Luesma, from the Duke of Talleyrand collection; a magnificent Portuguese silver-gilt dish circa 1500; and a rare set of four Parisian candlesticks made by Joseph Duguay between 1756 and 1759. The vertu section of the sale will offer many attractive boxes such as the natural specimen box with enamelled gold mounts by Adrien Vachette, Paris, 1784. The wax panels enclosing real insects are reminiscent of the Louis XVI medal-cabinet made by Guillaume Benneman with wax panels enclosing bird feathers, insects and butterfly wings, now in the Palace of Versailles.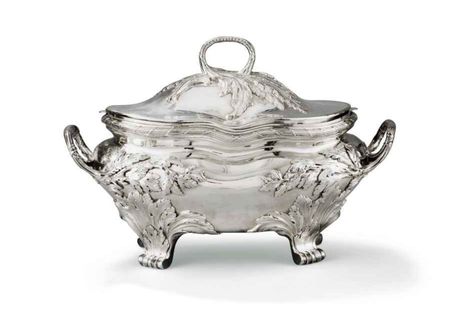 Terrine couverte et sa doublure en argent attribuée à Pedro Luesma, Madrid, 1774
[A spanish silver oval tureen, cover and liner, attributed to Pedro Luesma, Madrid, 1774] photo courtesy Sotheby's
reposant sur quatre pieds appliqués de feuillages de céleri, les anses se terminant en feuillages de céleri, le bord du corps mouluré d'une frise de filets rubans croisés, le couvercle à prise en anneau godronné reposant sur une terrasse de feuilles de céleri, chaque pièce estampée du n° 4 et de la lettre N. Est. 10.000 - 15.000 €
Cette terrine est identique à un ensemble de trois, avec leurs présentoirs, numérotées 1, 2 et 3, par Pedro Luesma, Madrid, 1774, provenant de la collection du duc de Talleyrand au château de Valençay ; voir Sotheby's Genève, 12 novembre 1985, n° 61. Le fait que la terrine ici présentée soit numérotée 4 prouve qu'elle complète cette série.
Celery leaves modelled at the body and cover Long. 37 cm, 4.994 gr. ; 14 1/2 in, 160oz 11dwt
This model, numbered 4, is identical to a set of three tureens and stands, numbered 1, 2 and 3, made by Pedro Luesma, Madrid, 1774, from the collection of the Duke of Talleyrand at the Château de Valençay, see Sotheby's Geneva, 12 November 1985, lot 61.
PROVENANCE: Très probablement duc de Talleyrand, château de Valençay.
Plat de présentation sur pied en vermeil, Portugal, non poinçonné, vers 1500
[A Portuguese silver-gilt salver on foot, unmarked, circa 1500] photo courtesy Sotheby's
reposant sur un pied circulaire à large frise cordée, repoussé et ciselé de motifs en pointe de diamants de taille décroissante convergeant vers le centre, encerclés de frises feuillagées, le dôme central composé de couples de chérubins soutenant des médaillons incarnant probablement les continents, sommé d'armoiries, Les armes sont celles des Oliveira.Parmi le petit nombre de présentoirs portugais répertoriés à motif de pointes de diamants, un modèle auparavant dans la collection du vicomte Lee of Fareham, Toronto1 et un autre appartenant à la Fondation Ricardo Espirito Santo Silva foundation2. Estimate upon request
The arms are those of Oliveira
Within the small surviving group of diamond-embossed Portuguese salvers, an example formerly
in the collection of Viscount Lee of Fareham, Toronto1 and another in the Ricardo Espirito Santo Silva foundation, Lisbon2, bear closest comparison having the diamond shapes enclosed by curved foliate bands of identical decoration to the present example. Both are dated to the latter half of the 15th century, the dating of the Espirto Santo Silva example being substantiated by 15th century Lisbon hallmarks. The diamond pattern motif is used on a number of other Portuguese salvers in public collections, notably a late 15th century example with Oporto marks in the Victoria and Albert Museum London3, one with Lisbon marks, circa 1500 in the Art Institute of Chicago (Gift of Mrs Chauncey Mccormick ref. 1962.97) and an unmarked example in the British Museum (Franks bequest 1897, ref. AF 3062).
The Portuguese were heavily involved with the diamond trade from the 15th century, at which time
most diamonds were coming from alluvial deposits in India. After the Portuguese explorer Vasco da Gama discovered a sea route west from India around Africa's Cape of Good Hope in 1488 a direct diamond trading link was established between Portuguese Goa on the west coast of India and Portugal itself.
Real diamonds at this early period would often have been in the form they appear on the salvers.
This pyramidal shape with four facets (`fower facet dyamonnades') was a natural form of the stone which has a cubic structure, and also reflects the contemporary aversion to cutting stones, believed to be imbued with special powers, and which` above all other Creatures excel so much in sinceritie, in puritie in cleernes and Bewtie as they are not only compared to ye firmament of ye Starres, but also doe take from them their infinit vertues'4. The mystical power of diamonds has been discussed by Eleonor D'Orey in her work on the Sprito Santo example mentioned above.
She sees the stones themselves and the ornament of these salvers which reflects them as being an attribute of princes, to whom by association were lent their mystical and special powers. Such princes were the Medici who saw their permanence reflected in the diamond and who took as their emblem three entwined diamond rings below the word Semper, or Duke Ercole I, whose emblem, a diamond, is reflected in the architecture of his Palazzo de Diamante in Ferarra. The diamond shapes on the silver salvers anticipated the motif's application into plateresco (from the silver) architecture such as the Casa de Bicos in Lisbon whose façade is covered in diamond shapes. The builder of this house was Brás de Albuquerque (1501-1581), whose father Afonso was the governor and first Duke of Goa, where most of the western world's diamonds came from at that time.
PROVENANCE: Jacques Kugel
LITERATURE: 1 Reynoldo dos Santos e Irene Quilhó, Ourivesaria Portuguesa nas colecçôes particulares,
Lisbon, 1960, vol II, p. 129
2 Leonor D'Orey, Ourivesaria, Fundaçáo Ricardo do Espirito Santo Silva, Lisbon,, 1988, p.21
3 Charles Oman, The Golden age of Hispanic silver 1400-1665, London, 1968, fig. 98
4 Helen Clifford, The inventory of Nicholas Herrick, Goldsmith; Life and Trade in 16th century, London, Apollo, 147:431 (1998)
Ensemble de quatre flambeaux et leurs bobèches en argent par Joseph Duguay, Paris, une paire 1756-1757, l'autre 1758-1759
[A set of four french silver table candlesticks, Joseph Duguay, Paris, one pair 1756-1757, the other 1758-1759] photo courtesy Sotheby's
chacun reposant sur une base chantournée agrafée de coquilles et rinceaux, l'ombilic gravé et ciselé de palmettes stylisées et d'armoiries, le fût de section triangulaire agrafé de coquilles, le binet hexagonal gravé de fleurettes et cartouches, la bobèche ciselée de motifs de vagues, le bord mouluré de filets agrafé de trois médaillons.
Joseph-Pierre-Jacques Duguay est le fils de l'orfèvre Jacques Duguay et de Marie-Catherine Moillet. Il est reçu maître le 29 mai 1756.
Il est surtout connu pour ses terrines (une datant de 1771 figure dans les collections du Metropolitan museum de New York) et pour les pièces du service du comte Branicki.
Joseph-Pierre-Jacques Duguay's parents were Marie-Catherine Mollet and Jacques Duguay, himself a silversmith. He became a master on 29 May 1756. His work is best known for soup tureens, one of which, dated 1771, is in the Metroplitan Museum, New York, and for supplies to the service for Count Branicki.
PROVENANCE: Ancienne collection duchesse d'Uzès.
Christie's Genève, 18 novembre 1981, n° 132.
Collection Ludmilla Pioget, duchesse de Caylus.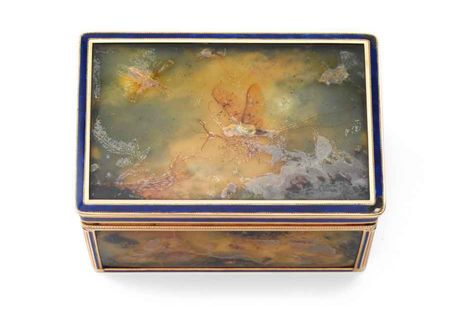 Rare boîte 'aux papillons' à montures en or et émail par A.J.M Vachette, Paris, 1784
[An unusual 'specimen' box with enamelled gold mounts, A.J.M. Vachette, Paris, 1784] photo courtesy Sotheby's
la monture à cage émaillée de bleu et encadrant d'extraordinaires panneaux de cire contenant de vrais insectes sous cristal, le couvercle des papillons de nuit, le dessous une libellule et des fourmis, poinçons de charge et décharge d'Henri Clavel, la bordure gravée de l'inscription: Vachette Bijoutier à Paris - Est. 8 000-12 000 €
the cagework mounts enamelled in blue and enclosing wax panels containing preserved insects, the lid with moths, the base with a dragonfly and ants, under crystal, charge and discharge of Henri Clavel, the rim engraved: Vachette Bijoutier à Paris.
NOTE: Les panneaux en cire rappellent de toute évidence ceux visibles sur le fameux médailler par Guillaume Benneman à Versailles. Ce travail rarissime est traditionnellement attribué à la mère du peintre animalier Constant Troyon. On a récemment découvert que Jean-Jacques Hettlinger, co-directeur de la manufacture de la porcelaine de Sèvres où a travaillé Madame Troyon a présenté au roi Louis XVI des panneaux similaires en 1779 ( (Daniel Meyer, Furniture of the royal palaces, Dijon, 2002, pp. 236/7).
The wax panels on this box evidently come from the same hand as those on Louis XVI's celebrated medal-cabinet, by Guillaume Benneman, at Versailles, decorated with ten wax panels enclosing birds made of feathers, butterfly wings and plants in imitation of moss agate.
Traditionally attributed to the mother of the animal painter, Constant Troyon, it was recently discovered that Jean-Jacques Hettlinger, co-director of the Sèvres porcelain manufactury where madame Troyon worked, had presented similar panels to the King in 1789 (Daniel Meyer, Furniture of the royal palaces, Dijon, 2002, pp. 236/7).
Adrien-Jean-Maximilien Vachette, a prolific and inimitably varied gold box maker seems to have combined the excellence of quality and inventive creativity of a Carl Fabergé whilst always remaining within his strictly defined area of boxes. Born at Cauffrey in the Oise in 1753, he was the 15th and last child of Pierre Vachette, a tax collector, and his wife Marie-Ann Pillon. After 8 years of apprentissage, he became master under the auspices of Pierre-François Drais (see lots 32 & 33) whose influence can be seen, particularly in the pre-revolutionary period, in Vachette's clean lines emphasised often by pilasters. He remained for some years in the vicinity of Drais's former workshops taken over by Ouizille, in the place Dauphine. Not surprisingly for a purveyor of luxury goods, he disappeared during the confused years of he Terror and Consulate re-emerging in the records in 1805 at 3 quai de l'Horloge and 45 quai du Nord in 1806. He continued to produce a large number of boxes, many in association with Charles Ouizille, Nitot and Montauban. He died in 1839, leaving a widow and daughter. The line of masters did not die, however, but was continued by Jean-Valentin Morel who had been apprenticed to Vachette and applied his creative ideas both in Paris and London. The variety of Vachette's work can be best seen in the collections of the Louvre (see Grandjean, 200-216 and 352-367). The present box is exemplary: using the simplest of mounts and a slightly taller form than was usual at that date, Vachette thus ensured that all attention was drawn to the airy insect specimens trapped forever in the wax panels.
Important European Silver. Paris, Mon, 9 Nov 09, 11:00 AM & 2:30 PM www.sothebys.com