Anthonis van Dyck (1599-1641) Självporträtt / Self-portrait. c.1620-21.Olja på duk, 119,7 x 87,9 cm. The Metropolitan Museum of Art, The Jules Bache Collection, 1949 © The Metropolitan Museum of Art
STOCKHOLM.- In a one-off exchange this fall, two of Sweden's largest and most famous baroque paintings have been taken to Munich to star in a major exhibition of works by Peter Paul Rubens, the 17th-century Flemish master. In return, Nationalmuseum will receive 20 spectacular paintings from Munich next spring. These will go on show alongside other works in Nationalmuseum's "Rubens & Van Dyck" exhibition, opening February 25, 2010.

Mythological and biblical scenes. Still lifes of Flemish kitchens. Personal portraits, dramatic hunting scenes. The motifs in 17th-century Flemish painting are vivid and colorful. After several years' research and inventory of its Flemish art collection, Nationalmuseum can now present an exhibition, a guide book for the general public and a detailed catalogue.

In addition to the extensive collection owned by the Swedish state, the exhibition will be enhanced with loans from museums across the globe, including world-class works by Titian and Rubens from the Prado in Madrid. Good negotiating skills and offers to loan works in exchange proved the key to success. The two key works by Rubens had only been loaned out twice before their present sojourn in Munich. They will be back in Stockholm in time for the February opening.

The spring exhibition, "Rubens & Van Dyck", focuses on Antwerp as the 16th-century's principal artistic centre north of the Alps. Artists flocked to the city, and art trading flourished. Paintings were exported by the boatload to fashionable collectors across Europe. As a result of this high demand, artists chose to specialize, and close working relationships developed among them. As a master, Rubens collaborated with Jan Brueghel, Frans Snyders and Anthonis van Dyck on various details in his paintings. His pupils, who did the rough work, later became masters in their own right, with their own distinctive style and career.

The exhibition compares works by Rubens and Van Dyck, highlighting the relationship between them and the unparalleled influence of these two masters on Flemish painting in their day.
Peter Paul Rubens (1577-1640) Backanal på Andros / The Andrians.Olja på duk, 200 x 215 cm. Nationalmuseum © Nationalmuseum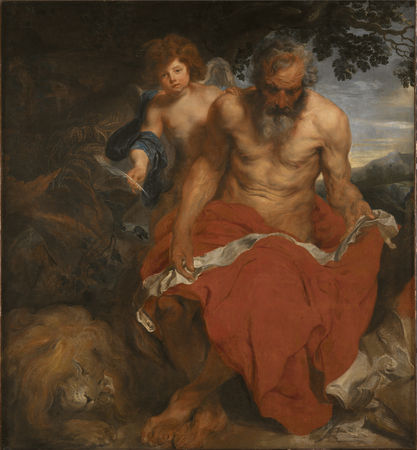 Anthonis van Dyck, Den helige Hieronymus / St Jerome. Olja på duk. 167 x 154 cm. Nationalmuseum © Nationalmuseum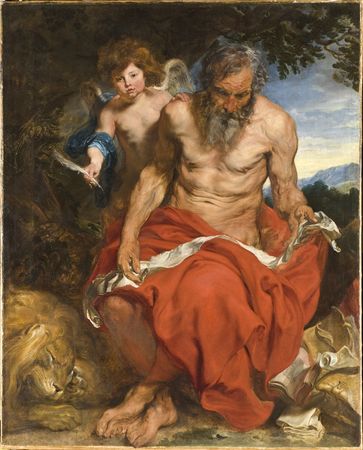 Anthonis van Dyck (1599-1641) Den Helige Hieronymus / St Jerome. c. 1618-20. Olja på duk, 165 x 130 cm. Museum Boijmans van Beuningen, Rotterdam; on loan from Foundation Willem van der Vorm © Foundation Willem van der Vorm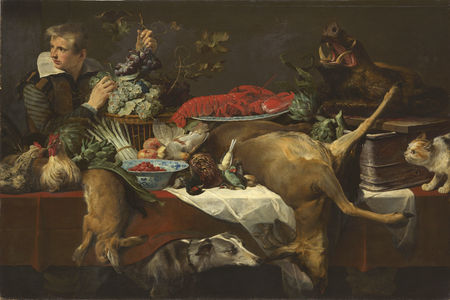 Frans Snyders (1579-1657) Visthusbord med tjänare / Pantry Scene with Servant. 1615/20. Olja på duk, 135 x 201 cm. Bayerische Staatsgemäldesammlungen München, Alte Pinakothek © Bayerische Staatsgemäldesammlungen München, Alte Pinakothek
Titian (1488-1576) Adam och Eva / Adam and Eve. 1550.Olja på duk, 240 x 186 cm. Museo Nacionál del Prado, Madrid © Museo Nacionál del Prado, Madrid
Peter Paul Rubens (1577-1640) Adam och Eva / Adam and Eve. 1628-1629. Olja på duk, 237 x 184 cm. Museo Nacionál del Prado, Madrid © Museo Nacionál del Prado, Madrid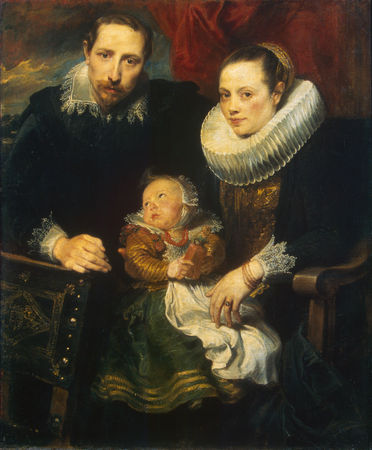 Anthonis van Dyck (1599-1641) Familjeporträtt / Portrait of a Family. c. 1619. Olja på duk , 113,5 x 93,5. The State Hermitage Museum © The State Hermitage Museum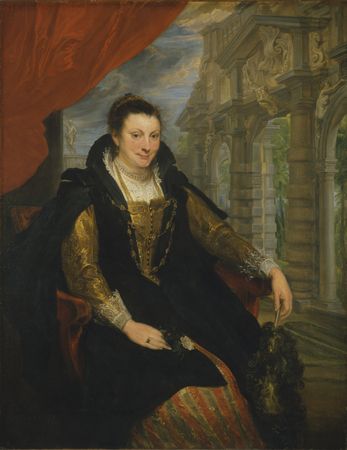 Anthonis van Dyck (1599-1641) Isabella Brant. Olja på duk, 153 x 120 cm. National Gallery of Art, Washington, Andrew W. Mellon Collection 1937 k © National Gallery of Art, Washington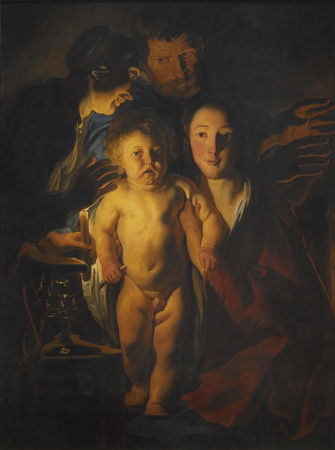 Jacob Jordaens (1593-1678) Den heligen familjen / The Holy Family. Olja på trä. 122 x 92 cm. Nationalmuseum © Nationalmuseum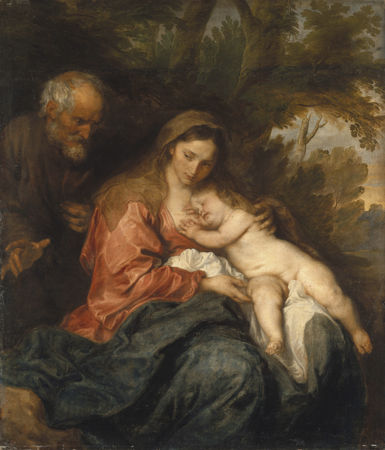 Anthonis van Dyck (1599-1641) Vilan under flykten till Egypten / Rest on the Flight into Egypt. c 1627/32. Olja på duk, 134,7 x 114,8 cm Bayerische Staatsgemäldesammlungen München, Alte Pinakothek © Bayerische Staatsgemäldesammlungen München, Alte Pinakothek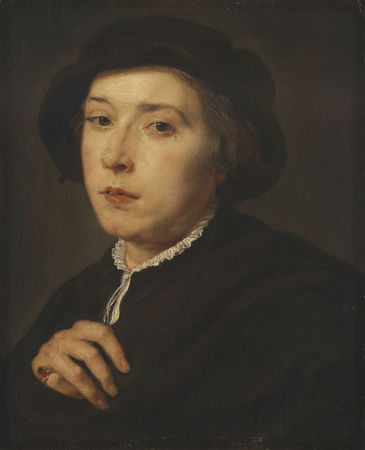 Peter Paul Rubens (1577-1640) Ung man med svart barett / Young Man with a Black Cap.1615. Olja på ek, 44,1 x 35,3 cm Bayerische Staatsgemäldesammlungen München, Alte Pinakothek © Bayerische Staatsgemäldesammlungen München, Alte Pinakothek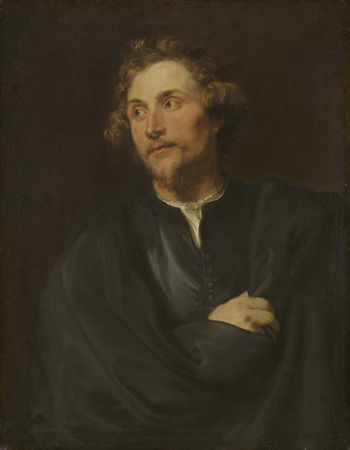 Anthonis van Dyck (1599-1641) Bildhuggaren Jörg Petel / Portrait of the Sculptor Georg Petel. 1627/28. Olja på duk, 73,3 x 57,2 cm Bayerische Staatsgemäldesammlungen München, Alte Pinakothek © Bayerische Staatsgemäldesammlungen München, Alte Pinakothek
Frans Snyders (1579-1657) Räven på besök hos hägern / Sable of the Fox and the Heron. Olja på duk, 121 x 238 cm. Nationalmuseum © Nationalmuseum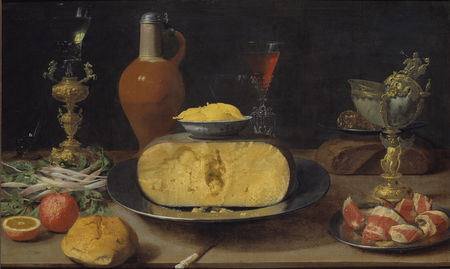 Jacob Fopsen van Es (1596-1666) Frukoststycke med ost och pokaler / Breakfast Piece with Cheese and Goblets. Olja på trä, 50 x 84 cm. Nationalmuseum © Nationalmuseum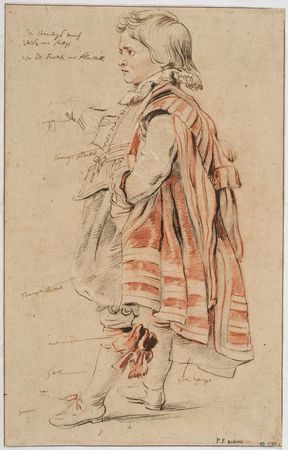 Peter Paul Rubens (1577-1640) Dvärgen Robin / Robin, the Dwarf of Earl of Arundel. 1620. Svart, röd och vit krita, penna och brunt bläck på ljusgrått papper (från Held), 40,8 x 25,8 cm. Nationalmuseum © Nationalmuseum
Jacob Jordaens (1593-1678) Kung Kandaules av Lydien visar sitt gemål för Gyges / King Candaules of Lydia Showing his Wife to Gyges. Olja på duk. 193 x 157 cm. Nationalmuseum © Nationalmuseum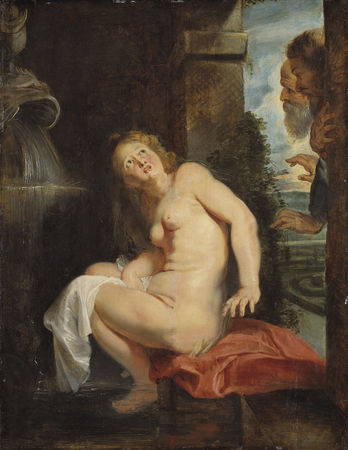 Peter Paul Rubens, Susanna och gubbarna / Susanna and the Elders. 1614. Olja på trä 64 x 46 cm. Nationalmuseum © Nationalmuseum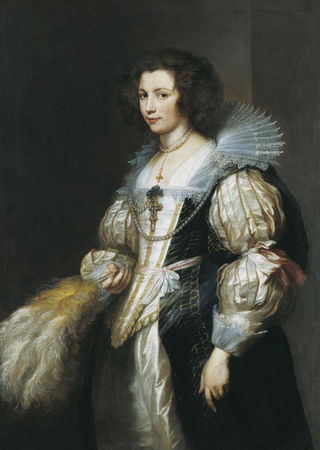 Anthonis van Dyck (1599-1641) Porträtt av Maria Louisa de Tassis / Portrait of Maria Louisa de Tassis. c.1629. Olja på duk, 129 x 93 cm. Sammlungen des Fürsten von und zu Liechtenstein, Vaduz - Wien © Sammlungen des Fürsten von und zu Liechtenstein, Vaduz - Wien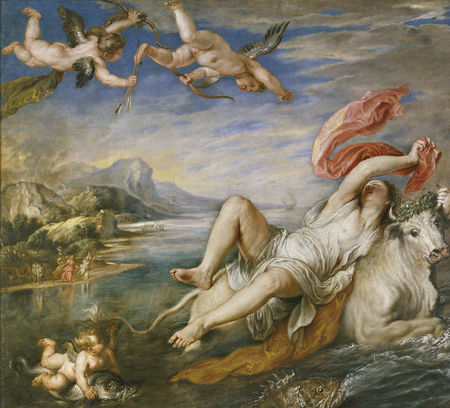 Peter Paul Rubens (1577-1640) Europa och tjuren / The Rape of Europa. 1628. Olja på duk, 181 x 200 cm. Museo Nacionál del Prado, Madrid © Museo Nacionál del Prado, Madrid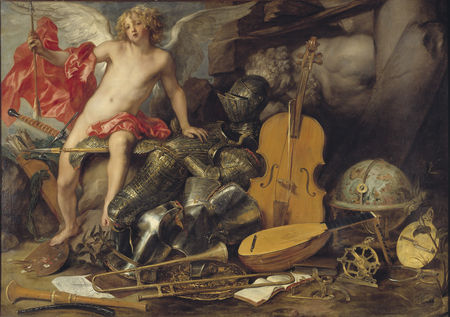 Thomas Willeboirts Bosschaert (1613-1654) Amor triumferande bland konstens och krigets emblem / Amor Triumphant among Emblems of Art, Science and War. c. 1645-50. Olja på duk, 169 x 242 cm. Nationalmuseum © Nationalmuseum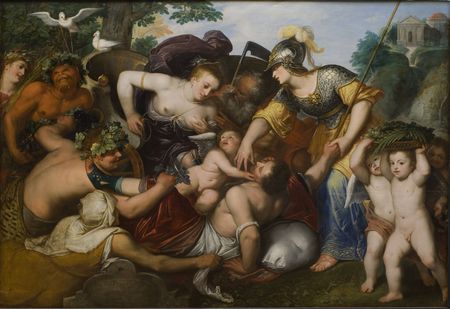 Otto van Veen (1556-1629) Allegori över ungdomens frestelser / Allegory of the Temptations of youth. Olja på trä, 146 x 212 cm. Nationalmuseum © Nationalmuseum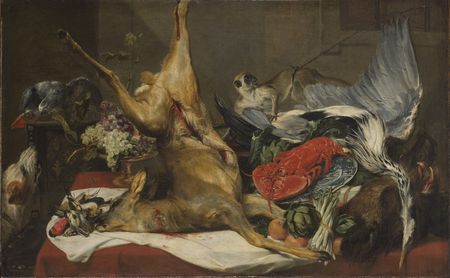 Frans Snyders (1579-1657) Stilleben med villebråd / Still life of Dead Game. 1630-1650. Olja på duk, 111 x 180 cm. Nationalmuseum © Nationalmuseum