The forthcoming sale of Magnificent Jewels in Geneva on 17 November 2009 includes a selection of exceptionally fine coloured diamonds, signed jewellery and jewels of historical significance and with impeccable provenance.
Highlights include a fancy vivid blue diamond, weighing 5.96 carats, a fancy pink diamond, weighing 6.63 carats and an extremely rare fancy vivid green diamond, weighing 2.52 carats – the largest fancy green diamond to have been offered at auction.
One of the important lots, from the Collection of Daisy Fellowes, is a rare and exceptional sapphire brooch by Cartier, 1940, designed as an iris. A highly important ruby and diamond necklace, property of Mary, Duchess of Roxburghe, dates from the 19th century. There is also a fine sapphire and diamond demi-parure from the collection of HIH Grand Duchess Maria Pavlovna.
The auction also features signed jewels by Van Cleef and Arpels, Harry Winston, Cartier and Bulgari. The sale consists of over 400 lots and there is truly something for everyone, ranging from CHF 5,000 to CHF 5 million.
The auction takes place at the Hotel Beau-Rivage, Geneva and the exhibition runs from 14 through 17, November 2009.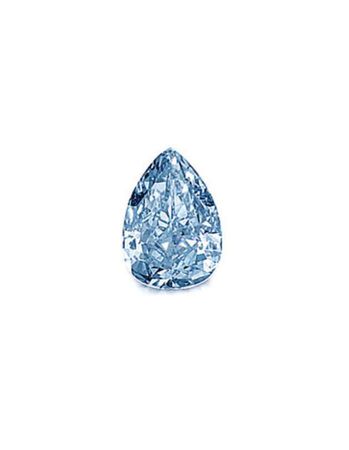 Magnificent Fancy Vivid Blue Diamond Ring. photo Sotheby's
Claw-set with a fancy vivid blue pear-shaped modified brilliant-cut diamond weighing 5.96 carats, mounted in yellow gold and platinum, size 52. Est. 5,600,000 - 7,600,000 CHF
Accompanied by GIA report no. 1112026431 stating that the diamond is Fancy Vivid Blue, Natural Colour, VS2 Clarity, together with an additional GIA worksheet stating that the clarity may be Improvable after repolishing.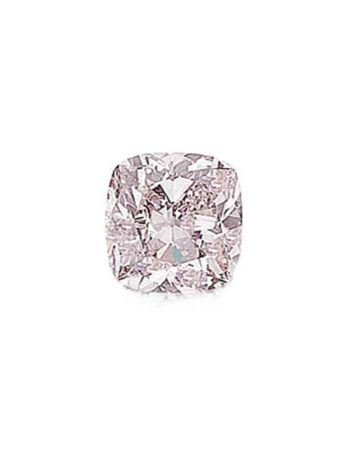 Very Attractive Fancy Pink Diamond Ring. photo Sotheby's
The fancy pink cushion-shaped diamond weighing 6.63 carats, mounted in gold and platinum as a ring, size 52, illustrated unmounted. Est. 1,350,000 - 1,950,000 CHF
Accompanied by GIA report no. 2105427758 stating that the diamond is Fancy Pink, Natural Colour, VVS1 Clarity.
Magnificent Fancy Vivid Green Diamond Ring. photo Sotheby's
Claw-set with a cushion modified brilliant-cut fancy vivid green diamond weighing 2.52 carats, to a plain platinum and yellow gold mount, size 51. Est. 3,300,000 - 5,450,000 CHF.
Accompanied by GIA report no. 2106213537 stating that the diamond is Fancy Vivid Green, Natural Colour, VS1 Clarity. Together with a GIA letter stating that the combination of the colour's natural origin and its saturation makes it an extremely unusual occurrence.
NOTE: GREEN DIAMONDS : A WONDER OF THE WORLD
In the elite world of fancy coloured diamonds, green and red are by far the rarest body colours. The appearance of green in a diamond is caused by millions of years of exposure to a source of natural irradiation in the earth, either among uranium compounds or percolating groundwater, which changes its specific absorption of light. The majority of naturally irradiated diamonds show isolated green stains or spots that barely penetrate the surface of the crystal and are almost always removed during the cutting process. On the other hand, a very small minority of them were consistently exposed to the irradiation source over time and therefore exhibit an even green hue throughout the entire crystal. Among this extremely select group of stones, only a very few have a true green colour without any bluish, greyish or yellowish secondary colour, as is the case with the present diamond.
True green diamonds are therefore unique gemmological rarities, and represent an extraordinarily group of beautiful and mysterious gems.
The most famous of all green diamonds worldwide is the legendary 'Green Dresden' stone, which is an antique-cut pear-shaped bluish apple-green diamond of 41.10 carats. It was bought by Frederick Augustus II (1733-1763), Elector of Saxony and King of Poland, from the Dutch merchant Delles at the Leipzig Fair in 1741 and set by the Court jeweller Dinglinger in a Golden Fleece Order. It was said at the time that the stone was the first of its kind to appear on the European market.
Only a handful of natural green diamonds have been auctioned in the past thirty years, and most of them exhibited either a bluish or yellowish secondary colour. As far as our records indicate, this is the largest Fancy Vivid Green diamond ever to have appeared at auction.
The very appearance of the present diamond is an extraordinary event in itself, and it presents a rare opportunity to acquire a unique gem which has never before been set in a jewel.
From the jewellery collection of Daisy Fellowes. Exceptional sapphire, emerald and diamond brooch, Cartier, 1940. photo Sotheby's
Designed as a sculptural iris, the petals set with cushion-shaped sapphires, the stem set with step-cut emeralds highlighted with cushion-shaped, circular-cut, and baguette diamonds, mounted in gold and platinum, signed Cartier London and numbered, maker's marks. Est. 155,000 - 255,000 CHF
LITERATURE: Cf: Stefano Papi and Alexandra Rhodes, Famous Jewelery Collectors, London, 1999, page 163 and 165, where this brooch is described and illustrated.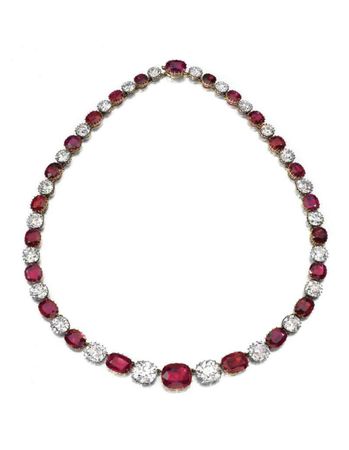 Property of Mary, duchess of Roxburghe. Rare and highly important ruby and diamond necklace, late 19th century. photo Sotheby's
Designed as a rivière of twenty-four cushion-shaped rubies alternating with twenty-four similarly shaped diamonds, mounted in silver and gold, length approximately 433mm, accompanied by the original worksheet listing the weights of the stones and stating that four rubies and four diamonds were added to lengthen the original necklace on 24th October 1884. The turquoise velvet fitted case embellished with the monogram R under a coronet, by R & S Garrard & Co, Goldsmith and Jewellers to The Crown, 25 Haymarket, London, Est. 540,000 - 1,000,000 CHF
Accompanied by SSEF report n°54668 stating that twenty one rubies are of Burmese origin, with no indications of heating and that two rubies are of Thai origin, one with no indications of heating, one with indications of heating and that one ruby next to the clasp is a synthetic ruby.
NOTE: On the 20th March 1878 the 5th Earl of Rosebery married Hannah, only daughter and heiress of Baron Mayer Amschel de Rothschild, of Mentmore, Buckinghamshire.
It is highly probable that these jewels were those purchased from Garrards by the 5th Earl in 1884. The fitted case bears the crest of the Earls of Rosebery and there is a marvellous diary entry from the 5th Earl of Rosebery on the 28th March 1884 which succinctly reads: London, "Garrard came at 12 with the ruby necklace which I bought". The workings for the necklace and earrings which are in the fitted case are dated 24th October 1884 and it would appear that the Earl had requested the necklace to be lengthened. This necklace and pair of earrings would have been a gift for his wife Hannah and may well have required some adjustment.
The Earl and Countess's youngest daughter, Margaret Primrose, was born in 1881 and in 1884, the same year as the purchase of the ruby necklace, she became the subject for one of Sir John Everett Millais' most charming and renowned portraits which he entitled simply "Lady Peggy Primrose". There is a delightful passage in "The Life and Letters of Sir John Everett Millais", written by his son, J. G. Millais. For the year 1884 he writes: "One of this year's portraits that interested him very much was that of little Lady Peggy Primrose (now Countess of Crewe) youngest daughter of the Earl of Rosebery. During the progress of this work the child became much attached to my father; and afterwards when, owing to an illness some of her pretty hair had to be cut off, one of her golden locks was sent to him at Murthly, at her special request. He was much touched by this souvenier of his little friend; and the childish gift is still carefully preserved at
Bowerswell. The portrait was exhibited at the Academy in the following year as a pendant to that of Lady Sybil Primrose by Leighton".
On April 20th, 1899 Lady Margaret Primrose married Robert Crew-Milnes, the first and last Marquess of Crewe, in Westminster Abbey. The Times of that day reported that "among those present at the abbey were 600 invited guests, all wearing wedding favors(sic) of marguerites and primroses, representing the brides name". Even her wedding dress was embroidered with diamond primroses.
In our opinion the necklace and the pair of earrings, sold as lot 431, were most probably gifted by the Earl and Countess of Rosebery to their daughter, the Marchioness of Crewe and thence by decent to her daughter, Mary, Duchess of Roxburghe.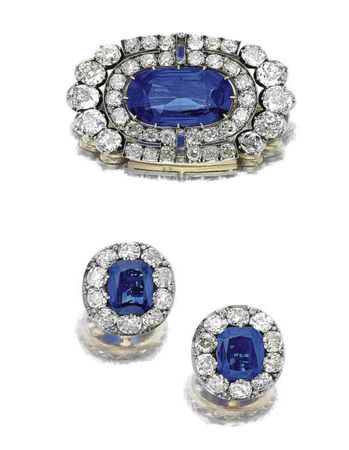 Property from a member of a European imperial family. Historically important sapphire and diamond demi-parure, circa 1900. photo Sotheby's
Comprising: a brooch of plaque design, set at the centre with an oval sapphire, the border set with cushion-shaped diamonds in claw settings and cutdown collets, maker's marks for Sophia Schwan, probably for Bolin, St Petersburg, 1899-1908 and Russian assay marks, the pair of ear clips en suite, set with step-cut sapphires, within a border of rose-cut and cushion-shaped diamonds, to a later fitted case by Cartier stamped with the crown of the Royal House of Greece, King of the Hellenes.
The accompanying fitted case was made by Cartier to house these items for Princess Elena of Greece and Denmark, née Grand Duchess Vladimirovna of Russia. She had inherited these jewels in 1920 when her mother, Grand Duchess Maria Pavlovna, died in France.
Accompanied by SSEF report no. 54683 stating that the sapphires are of Ceylon origin, with no indications of heating.
PROVENANCE: Grand Duchess Maria Pavlovna of Russia, Duchess zu Mecklenburg-Schwerin (1854-1920)
Princess Elena of Greece and Denmark, Grand Duchess Vladimirovna of Russia (1882-1957)
Thence by descent
Sotheby's. Tue, 17 Nov 09: 10:30 AM, 2:30 PM & 7:00 PM www.sothebys.com