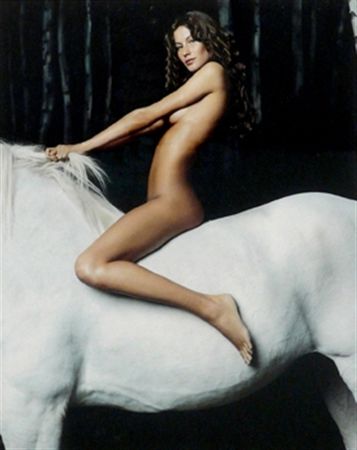 Walter Chin, Gisele on Horseback, 2000.
Iris digital inkjet print, 20 x 15.5 inches, 50.8 x 39.4 cm. Signed. Estimate: from $4,000 to $6,000

Notes: A striking image of supermodel Gisele Bündchen by photographer Walter Chin.

Walter Chin is a fashion and celebrity photographer who currently lives and works in New York. Chin was born in Jamaica, but spent much of his life in Toronto, Canada, where he attended art school. After studying painting, he discovered his passion for photography and film, and decided to make his degree in photographic arts. After graduation, he moved to Paris, where he began his career as professional fashion photographer. In 1990, he moved to New York. His photography has been seen in fashion magazines such as French Elle, Allure, German Vogue, Glamour, GQ, Interview, Italian Vogue, L'Uomo Vogue, Mademoiselle, Vanity Fair and W.
Artnet Auctions. Thursday, November 19, 2009, 1:11 PM EST www.artnet.com/AUCTIONS
NB: Walter Chin made my portrait for French Elle magazine...