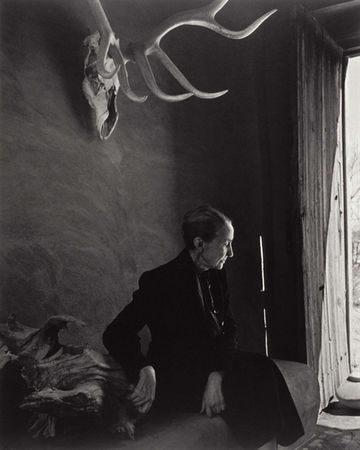 Yousuf Karsh (1908-2002), Georgia O'Keefe, c. 1956.
Gelatin Silver Print. 20 x 16 in., print. 27 x 31 in., framed. 50.8 x 40.64 cm., print. 68.58 x 78.74 cm., Framed. Signed. Estimate: from $10,000 to $12,000.
A similar photo was sold for US $10,625 by Christie's New York: on Wednesday, December 17, 2008, (Lot 00131), Icons of Glamour & Style: The Constantiner Collection.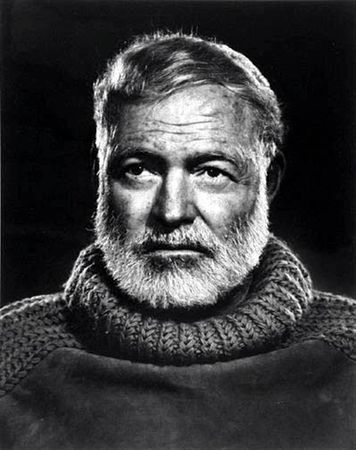 Yousuf Karsh (1908-2002), Ernest Hemingway, 1957
Gelatin silver print, 8 x 10 in (20.3 x 25.4 cm) Stamped on verso. Printed after 1957. Estimate: from $1,500 to $2,000
Similar photos was sold recently for : US $13,200 by Swann Galleries, Thursday, October 22, 2009, (Lot 00196) Photographs & Photographic Literature ; US $4,560 by Swann Galleries, Thursday, May 14, 2009, (Lot 00270) Photographic Literature & Fine Photographs ; US $19,120 by Heritage Auction Galleries, Friday, December 12, 2008, (Lot 75122) Signature Vintage & Contemporary Photography Auction #5015.
Notes: Yousuf Karsh was born in Mardin, Armenia in December of 1908. During his childhood, Karsh witnessed the horrific Armenian massacres. In 1924, he was taken to Canada by his uncle where he was schooled in Quebec and afterward was an apprentice to the photographer, John Garo of Boston. In 1932, Karsh settled in Ottawa where he began his professional career. In 1943, Karsh was asked by the Canadian government to go to England to begin work on an international portfolio of world figures.

Karsh has been awarded honorary degrees from more than two dozen universities, Ohio University appointed him Visiting Professor in the School of Fine Arts, and Emerson University also appointed him visiting professor. He was awarded the Canada Council Medal in 1965; the Medal of Service of the Order of Canada in 1968; the Medal of the Royal Canadian Academy of Arts; Honorary Master of Photographic Arts (Professional Photographers of Canada); Honorary Fellow of the Royal Photographic Society of Great Britain; and in 1971, the Presidential Citation (U.S.A.) for meritorious service on behalf of the handicapped. He has also been made a Companion of the Order of Canada (Canada's highest civilian honor). Karsh has presented a major collection to the Museum of Fine Arts in Boston.
Artnet Auctions. Thursday, November 19, 2009, 1:02 PM EST www.artnet.com/AUCTIONS