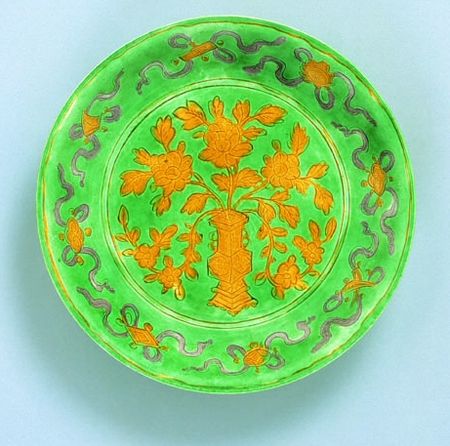 Ming dynasty. Imperial green-ground incised saucer dish. Incised six character mark of Wanli within a double ring and of the period, 1573-1619.
with gently flaring rim, incised in the centre with an archaic style four sided gu-form vase containing three branches of flowering peony and two branches of flowering prunus in a double ring medallion encircled by eight yellow-ground treasures, babao, tied with incised aubergine ribbons, the underside with six lingzhi fungus branches all on a luminous green ground, the base incised with a collector's mark. 7 ¼ inches, 18.5cm diameter. Price on request.
Notes: • Formerly in the collection of Edward Arthur Lane (1909-1963), keeper of the department of ceramics at the Victoria and Albert Museum 1950-1963 and celebrated author.
• Formerly in the collection of R.H.R. Palmer (1898-1970), no.239. The inventory states that the dish was purchased in May 1931 for £30. Reginald Howard Reed Palmer MC DL, Deputy Lieutenant of Berkshire 1953, and former chairman of Huntley and Palmers, which started life in 1822 as a small bakery in London Street, Reading. In 1846 they opened a large factory and by 1900 were the largest biscuit manufacturers in the world with over 400 varieties.
• A slightly smaller dish of similar type is illustrated by John Ayers in Chinese Ceramics in the Baur Collection, Volume One, Geneva, 1999, no.105 (A206), p.167; another, in the Musée Guimet, Paris (G.2852), is illustrated by Daisy Lion-Goldschmidt in Ming Porcelain, London, 1978, no.203, p.204, where the author states "the design was engraved in the body before being painted on to the biscuit. A cloudy green ground serves as backing for the yellow and aubergine enamels which complete the decoration", and goes on to mention "the colours of this very special scheme may be differently disposed, or only two of them used." Another is illustrated by R.L. Hobson, C.B. in A Catalogue of Chinese Pottery and Porcelain in the Collection of Sir Percival David B.T., F.S.A, London, 1934, pl.CL1, p.152/3.
Marchant Antiques. 120 Kensington Church Street London W8 4BH, United Kingdom - Tel: 44 0207-229-5319 - Fax: 44 0207-792-8979 www.marchantiques.com