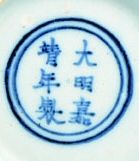 Imperial green-ground iron-red decorated vase of gourd form, Six character mark of Jiajing within a double ring and of the period, 1522-1566.
the lower bulb painted with four lotus flowerheads on a scrolling branch amongst leaves, beneath a classic scroll band on the shoulder, the upper bulb with three lotus flowerheads on a similar scrolling branch amongst leaves, above three peony flowerheads on a scrolling floral branch at the waist. 7 ½ inches, 19.2cm high. Price on request.
Notes: • Formerly in the collection of the City Art Museum of Saint Louis.
• Formerly in the collection of Samuel C. Davis (1871-1940), brother of Dwight F. Davis, after whom the Davis Cup in tennis was named. He first developed a taste for Chinese art in 1893 when taking a world tour, and gave the St Louis Museum of Art two hundred and two pieces and other pieces to Harvard.
• An identical vase, from the Bloxam collection, OA 1928.7-18.3, in the British Museum, is illustrated by Jessica Harrison-Hall in Ming Ceramics in the British Museum, 2001, no.9:94, p.255/6, and was also published by Hobson, Rackham and King in Chinese Ceramics in Private Collections, 1931, fig.178, p.100; another, in the Musée Guimet, is illustrated by Daisy Lion-Goldschmidt in Ming Porcelain, 1978, no.12, p.38/9 and front cover; a further example, gift of the Sumitomo Group, is illustrated in The Eyes of Ataka Eiichi, Seeker of True Art, Selected Chinese and Korean Ceramics from the Ataka Collection, Osaka, 2007, no.121, p.147; another is illustrated by Regina Krahl in Chinese Ceramics from the Meiyintang Collection, Volume II, full colour page no.707, p.86/7; a further example, from the Percival David Collection, was included by The Earl of Lytton, Sir William Llewellyn and Laurence Binyon in The International Exhibition of Chinese Art, The Royal Academy of Arts, London, 1935-6, no.1924, pl.181.
Marchant Antiques. 120 Kensington Church Street London W8 4BH, United Kingdom - Tel: 44 0207-229-5319 - Fax: 44 0207-792-8979 www.marchantiques.com