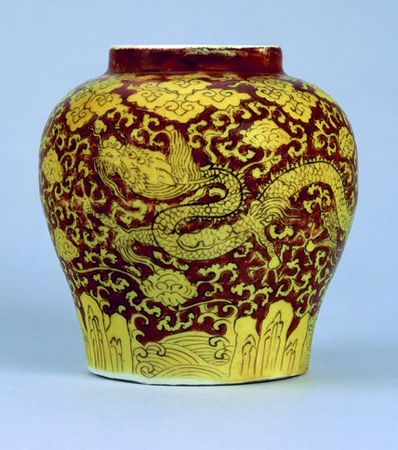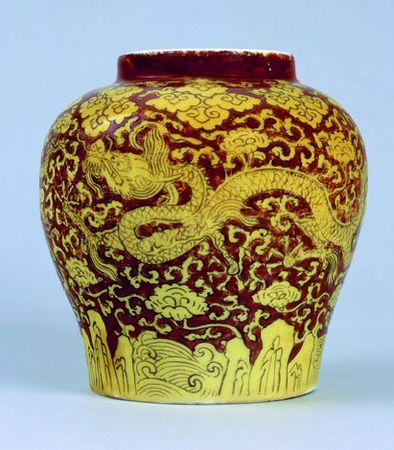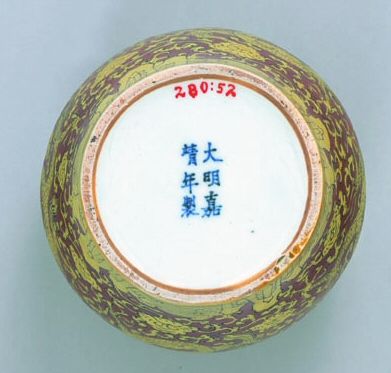 Imperial iron-red-ground yellow dragon jar. Six character mark of Jiajing and of the period, 1522-1566.
painted on the body in a continuous scene with two yellow-glazed black-outlined five-clawed dragons amongst peony flowerheads, flames and scrolls with ruyi-head clouds at the shoulder, all above rocks and crested waves at the foot. ½ inches, 13.9cm high. Price on request.
Note: • Formerly in the collection of the City Art Museum of Saint Louis, inventory 280:52.
• Formerly sold by C.T.Loo, New York.
• A similar vase is illustrated by Regina Krahl in Chinese Ceramics from the Meiyintang Collection, Volume II, no.706, p.86; another, from the Museum Yamato Bunkakan, Japan, is illustrated by Junkichi Mayuyama in Mayuyama, Seventy Years, Vol.1, 1976, no.834, p.278; a further example, in The Tokyo National Museum, is illustrated in Exhibition of Chinese Ceramics, Tokyo National Museum, 1970, no.107, p.86; another was included by Sazo Idemitsu and Ryosuke Suematsu in The 15th Anniversary Catalogue, Idemitsu Museum of Arts, 1981, no.814, p.188; another with a cover in the National Palace Museum, Taiwan, is illustrated in Enamelled Ware of the Ming Dynasty, Book II, Hong Kong, 1966, plate 4, 4a, 4b and 4c, p.54/5.
Marchant Antiques. 120 Kensington Church Street London W8 4BH, United Kingdom - Tel: 44 0207-229-5319 - Fax: 44 0207-792-8979 www.marchantiques.com