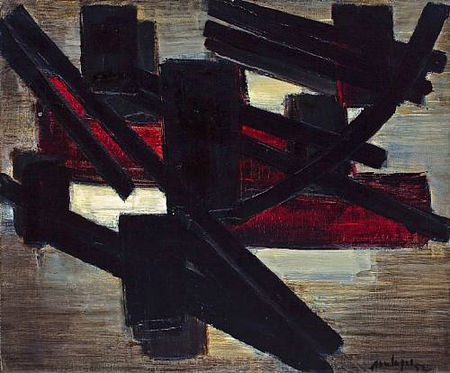 Pierre Soulages (French, born 1919) Pienture, Juin 14, 1952. photo Bonhams
NEW YORK, NY.- Bonhams New York's November 10th Contemporary and Modern sale was marked by excited international bidding and a number of outstanding performances.

The most sought after lot of the sale proved to be a work by Pierre Soulages. Called "The Painter of Black" Soulages is known for striating the black surface of his paintings and allowing the black to come out from the darkness and become a luminous color itself. "Titled Peinture", Juin 14, 1952, the painting more than doubled its estimate of $80,000-120,000 fetching an exceptional $266,000. The great interest in this artist's work is fueled in part by the attention generated by a number of recent high profile exhibitions, including a major retrospective at the Centre Pompidou in Paris. As well, bidders responded to the great condition of the work and the fact that it has not been on the market for over 30 years.
Another work long off the market that also generated a great deal of bidder interest was Alexander Calder's, 1966, "Red Pennant". This elegantly simple and lyrical piece performed strongly bringing $206,000.

François-Xavier Lalanne's iconic bronze and concrete sheep sculptures both greatly outperformed. The first to be offered–Belier, 1998–well surpassed its estimate of $40,000-60,000 realizing $85,400. The second sculpture to be offered "Mouton", 1999, exceeded its estimate of $20,000-30,000 with a final price of $51,850. The work of this recently deceased artist is becoming more well known in the United States, in part due to the outdoor exhibition of his work currently in the green islands running along Park Avenue.

A powerful work by Michael Goldberg fetched an exceptional price of $85,000 against a pre-auction estimate of $20,000-30,000. The artist, an influential member of the New York Abstract Expressionist movement, died in 2007. The work sold today, titled "Oregon Territory", comes from the artist's most celebrated period.

A large painting by the Austrian artist Alfred Kornberger also did extremely well, bringing $30,500 against an estimate of $15,000-20,000.

Other lots taking top lot position were a fine line drawing by Henri Matisse of his grandson Paul, which realized $85,400 and a 1971 painting by Friedel Dzubas titled "Velot" which brought $51,420.