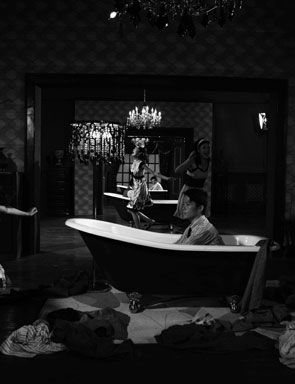 Yang Fudong, "Dawn Mist, Separation Faith" (stills from installation), 2009. 35 mm B&W film. 1.2 x 1.8 m.
BEIJING.- The Ullens Center for Contemporary Art (UCCA) presents "Breaking Forecast: 8 Key Figures of China's New Generation of Artists", a groundbreaking exhibition showcasing a comprehensive look at the future of contemporary art in China. The exhibition will gather an exciting group of emerging and mid-career artists working throughout China today: Cao Fei, Chu Yun, Liu Wei, MadeIn, Qiu Zhijie, Sun Yuan & Peng Yu, Yang Fudong and Zheng Guogu.

While UCCA's first exhibition reviewed the history of contemporary art in China, two years later, "Breaking Forecast" focuses on its future, marking a milestone in the development of the UCCA as an artistic organization with a global vision.

"Breaking Forecast" brings together an influential group, who collectively embody the artistic thinking and creative vitality of Chinese artists in this new century. Utilizing a group exhibition to demonstrate the impact and influence representative of the new generation, the exhibition shows that China's contemporary scene is both energized and active.

"The exhibition speaks about what is the history of the present, in relation to what is going on now in China. Rather than offering an exhaustive list, this exhibition concentrates on artists who are already influential for their generation, as well as for a younger generation," says Jérôme Sans, UCCA Director. ""Breaking Forecast" is the celebration of UCCA's two year anniversary. It affirms UCCA's support and commitment to the development and promotion of the Chinese art scene, for both established and upcoming artists alike."

China's new generation of artists are flexible, open-minded, and free from the weight of local pressure and obsession. They have renewed methods of thinking and addressing problems, creating relevant art using a vocabulary that global audiences are also able to understand, and relate to. Experts in a range of media, this show offers a wide scope of what the new generation in China is developing. The artists are versatile, and apply suitable media towards a certain concept or idea – "Breaking Forecast" will include works combining the genres of painting, sculpture, installation, performance, photography and film. The show will consists of eight separate solo shows in one unified exhibition, purposefully placed to fit together like an intricate puzzle. Visitors will be taken on an epic journey through every comer of UCCA as artwork fills the exhibition spaces, facilities, and rooms. Displaying both new and recent works, "Breaking Forecast" affirms UCCA's role as a production center, to help artists develop their talents, and to give them an opportunity to create something new.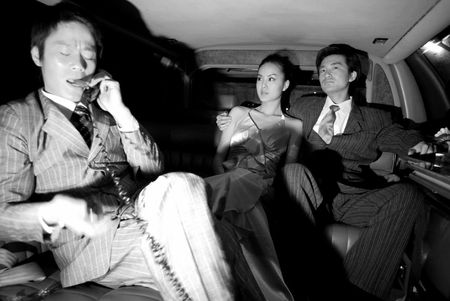 Yang Fudong, "Ms. Huang at M Last Night", 2006. Photo, C-print black and white. 1.2 x 1.8 m.