"Crossing the Street", 1873–75, by Giovanni Boldini. Oil on panel, 18 1/4 x 14 7/8 inches. (46.2 x 37.8 cm). Sterling and Francine Clark Art Institute, Williamstown, Massachusetts. Photo: Michael Agee.
WILLIAMSTOWN, MA.- During his lifetime, the Italian artist Giovanni Boldini (1842–1931) achieved tremendous popularity in Europe and the United States, where he was celebrated for his vibrant brushwork and striking portraits. The exhibition Giovanni Boldini in Impressionist Paris illuminates Boldini's early career when he lived in Paris and painted the city's bustling streets, cafes, and concert halls, as well as charming scenes of its sunny suburban landscapes, while developing his unique style. Giovanni Boldini in Impressionist Paris, the first Boldini exhibition in the United States in twenty years, opens at the Sterling and Francine Clark Art Institute on February 14, 2010.

"Collaborating with Ferrara Arte, the museum devoted to Boldini's works in Ferrara, Italy, to bring this exhibition to audiences on both sides of the Atlantic was an amazing experience," said Clark Director Michael Conforti. "Those familiar with Boldini will be pleased to find an unexplored area of his life, while those new to Boldini will take pleasure in discovering Boldini's beautiful works."

Through approximately seventy oil paintings and drawings, Giovanni Boldini in Impressionist Paris presents an innovative look at Boldini's Paris—its places of entertainment and leisure, its inhabitants, and its environs—at a time when the Impressionists were investigating the same sites and subjects.

"The vivacious portraits of society figures Boldini painted in Paris in the 1890s and early 1900s have tended to overshadow his earlier works," said the Clark's associate curator of European art Sarah Lees. "This exciting exhibition re-examines his experimentation with the artistic styles around him, including Impressionism, and gives a glimpse into his life before he became the famous painter of portraits."

The remarkable works featured in the exhibition demonstrate Boldini's wide-ranging interest in both traditional and innovative art, historic as well as contemporary practices. The exhibition is organized thematically and includes landscapes, cityscapes, nightlife and genre scenes, and casual and formal portraits. In addition, five Clark works by Ernest Meissonier, Camille Pissarro, Pierre-Auguste Renoir, Edgar Degas, and Edouard Manet make evident the influence of Impressionists and others on Boldini's early work.

The Clark houses the largest number of works by Boldini in the United States. Sterling Clark purchased most of his works by Boldini during the artist's lifetime, several of them in Paris while both men were living there when the artist was at the height of his popularity.

Works are on loan from both private collectors and museums including the Musée d'Orsay and the Museo Giovanni Boldini. The Clark's associate curator of European art Sarah Lees is the curator of the exhibition. The catalogue, with editions in Italian and English, is the first English-language publication on Boldini in a generation. It contains 232 pages with 134 color illustrations. New research and analysis undertaken for the exhibition, including the first publication of records documenting Boldini's early transactions with the Goupil gallery, will make the catalogue a valuable study of a seminal period in the artist's career.

Giovanni Boldini in Impressionist Paris was co-organized with Ferrara Arte in collaboration with the Museo Giovanni Boldini, and on view at the Palazzo dei Diamanti in Ferrara, Italy, September 20, 2009 through January 10, 2010. It will be on view at the Clark through April 25, 2010.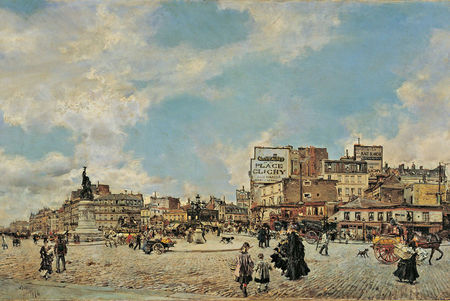 "Place Clichy", 1874, by Giovanni Boldini. Oil on canvas, 23 5/8 x 38 5/8 inches. (60 x 98 cm). Private collection. Photo: Giuseppe Schiavinotto, Rome.