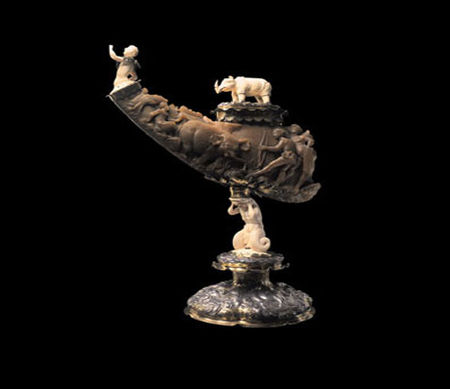 "Rhinoceros Horn and Ivory Cup", Johann Matthias Scheppich, (1652-1705)
An important Silver and Silver-Gilt Mounted Rhinoceros Horn and Ivory Cup, the mounts: Augsburg, ca.1675 by Johann Mathias SCHEPPICH (1652 1705), master in 1676, the sculpture by a follower of Georg PFRÜNDT (1603 1663) - Price on application

These baroque extravagances, called 'Objets de vertu', represented the glory of the Cabinet of Curiosities. Most of them were made in Nuremberg or Augsburg. Emperor Rudolf II of Prague had a large collection, both of plain rhinoceros horns and carved horns mounted by the leading silversmiths of that time. Today they are housed in museums in Munich, Berlin, Vienna and in Grünes Gewölbe in Dresden. They have in common the complicated form, the material, and the carving, which recalls the style of Georg Pfründt (1603 1663). They also evoke the style and patterns of the Chinese examples that had entered the European treasures in the 16th and 17th centuries.
This rhinoceros cup is the most beautiful example of its kind that still exists. The use of both horn and ivory in the same object is very rare. Having been in the same family since at least the 18th century, it was undoubtedly presented to one of the family's ancestors by a German or a Scandinavian sovereign.
Literature: T.H. CLARKE, The Rhinoceros from Dürer to Stubbs 1515-1799, London, 1986.
-P. MILLET, Le Rhinocéros dans l'art, de la préhistoire à nos jours, s.d., 1995.
-E. von PHILIPPOVICH, Kuriositäten und Antiquitäten, Braunschweig, 1966.
-R. BERLINER, Kataloge des Bayerischen Nationalmuseums, vol. XIII, 4, Augsburg, 1926.
-J. THINESSE, Appendix zum Elfenbein, Katalog, Rudolf Berliner, München, 1977.
-C. THEURKAUFF, Elfenbein. Sammlung Reiner Winkler, München, 1984, cfr. p. 112-114.
Provenance: Honnens family of Lichtenberg, mentionned in the inventory of their cabinet dated the 26 of August 1767 and in the one after the death of Mrs. de Lichtenberg in 1795.
Axel Vervoordt www.axel-vervoordt.com