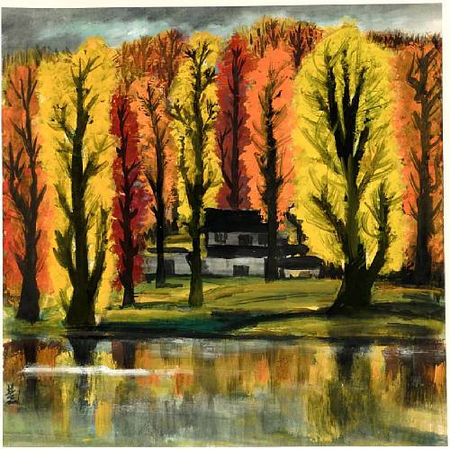 Lin Fengmian (1900-1991) Autumn Lake. Ink and colour on paper, hanging scroll. Signed Lin Fengmian, with one seal of the artist, 67cm x 67cm (26in x 26in).Estimate: HK$1,500,000 - 2,500,000, $190,000 - 320,000. Photo Bonhams
LONDON.- Bonhams will offer the Mary and George Bloch Collection of Lin Fengmian paintings at its 2009 Autumn Auction. A foremost collector of fine arts in Hong Kong, George Bloch (12 October 1920 - 27 April 2009) was born into a prominent industrial family in Vienna. He went to school in England, but his life changed radically in the mid-1930s when his father died and the Nazis nationalized the family business.

In 1938 he moved to Shanghai, arriving with only twenty pounds in cash, and knowing almost no one. After a couple of years, he started his own trading business and laid the foundations for his wealth.

In 1949 George uprooted yet again and moved to Tokyo. The entrepreneur recognized the business opportunities there and established Herald International Ltd, initially to sell watches to soldiers and staff on U.S. military bases throughout the Asia-Pacific region. George moved the company to Hong Kong in 1955, where Herald began to branch out, adding its own manufactured brands to imported Swiss watches and, eventually, developing other areas of business.

In 1969, George married Mary and they began to actively collect art together, expanding George's early interest in collecting stamps to encompass a wider, far more sophisticated range of art. George was a born collector, but with his partnership with Mary his interests broadened considerably. Early acquisitions of Chinese and some Japanese art, included lacquer and ivory carvings, ceramics, glass and other works of art soon led to a life-time love for modern Western paintings and sculpture. Together they also formed a stellar collection of scholarly works of art, which sold spectacularly in Hong Kong in 2005. Their collection of twentieth-century Western paintings was among the first formed in Hong Kong, and came to be seen as the most important in the region. From this interest sprang a range of activities which took them to museums and auctions around the world, and saw Mary appointed to the Peggy Guggenheim Advisory Board in Venice.

Another of their famous endeavors together was the formation of the foremost private collection of Chinese snuff bottles ever formed which is renowned worldwide and has been exhibited extensively, including at the Hong Kong Museum of Art (1994) and the British Museum (1995). It has also fostered a host of publications on the collection.

Their interest in twentieth-century Chinese painting was ignited by a chance meeting with Lin Fengmian at a dinner party in Hong Kong the late 1970s. Later this inspired them to collect other twentieth century artists, including Lu Shoukun, Wang Jiqian (C.C. Wang), Chen Qikuan, He Huaishuo, Fang Zhaolin and others. George sadly passed away in April 2009.

The Mary and George Bloch Collection of Lin Fengmian paintings features eight ink paintings with various subject matters, such as landscape, figures, nude, fisherman, and flying geese, executed in light and rich colors. Although different from each other, the paintings show Lin Fengmian's work from his mature period. Both exhibited and available on the art market for the first time, these paintings are completely fresh to the market and present excellent opportunities for collectors to own a painting from the renowned Chinese artist who pioneered modern Chinese paintings by blending Chinese and Western styles. The paintings are expected to sell for up to HK$2 million each.

Meilin Wang, head of Chinese paintings and Contemporary Asian Art comments: "Bonhams is delighted that the Bloch family has entrusted such extraordinary works by Lin Fengmian to us. The Bloch name is unparalleled in Hong Kong in its association with the highest quality 20th-century Western paintings. Lin Fengmian was painting with the vision of the 20th-century, while his average contemporary Chinese artists lagged behind in the 15th and 16th-century. This group of Lin Fengmians, bought directly from the artist, epitomise the apex of Lin's modern achievement". Highlights of the collection are:

• Lot 102 "Autumn Lake" (estimate: HK$1,500,000-2,500,000) used the dry paint skill of oil painting with layers of western opaque pigment on Chinese rice paper. It is an innovation by Lin Fengmian. Each brushwork has a different color tone. The yellow, orange and red, constituting the autumn wood and the lake reflection, are a nuanced interface of color and light. It is a color poem.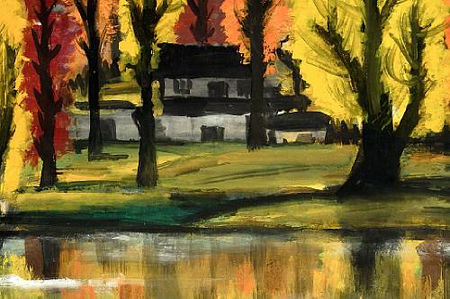 Lin Fengmian (1900-1991) Autumn Lake (detail). Ink and colour on paper, hanging scroll. Signed Lin Fengmian, with one seal of the artist, 67cm x 67cm (26in x 26in).Estimate: HK$1,500,000 - 2,500,000, $190,000 - 320,000. Photo Bonhams
林風眠 秋之湖 設色紙本 立軸
款識:林風眠
鈐印:林風眠印

註: 飲湖上初晴后雨 蘇軾
水光瀲灩晴方好,山色空蒙雨亦奇。
欲把西湖比西子,淡妝濃抹總相宜。

畫中樹木葉叢在逆光下猶如鍍上一層金邊,而與濃黑的樹幹交相輝映,以最濃的墨托最清麗的光,有如一場視覺的盛宴,是一首彩色的詩。
用油畫的乾畫法,在國畫的宣紙上,以不透明的西畫顏料,不摻水,層層堆厚的畫法,這是由林風眠首開風氣之先。他的畫中色彩層次豐富,秋林和湖中倒影的黃、橘和紅色,都不是平板的塗抹,而是有十分細微的色、光層次變化;即使林中小屋的白牆,也蘊含著十分豐富的色階,而不是簡單的純白。

• Lot 101 "Lady Holding a Lotus" (estimate: HK$1,200,000-1,800,000) presents a lady of delicate and transparent face, which was influenced by Song Dynasty ceramics Guanyao and Longquan. Her elegant body contour was inspired by Amedeo Modigliani (1884-1920) and Henri Matisse (1869-1954), the Expressionist and the Fauvist. In contrast with the curve lines, Lin's composition is square. His "formation in square" broke the traditional Chinese paintings' formats of hanging scrolls and handscrolls."

Lin Fengmian (1900-91) had studied in France from 1920 to 1925. He was enlightened by the 20th century Western prevailing styles, such as Impressionism, Post Impressionism, Fauvism, Expressionism and Synthetic Cubism, and finally created his own 20th-century Chinese style. In 1926 he returned to China, where he was appointed the Director and Professor of National Beijing Fine Art School.

After being purged in the Cultural Revolution, he was finally granted a visa to visit his family in Brazil. Stopping first in Hong Kong, he then returned and lived most of the rest of his life in Hong Kong, where he passed away at the Adventist Hospital in 1991.

Lin Fengmian had always retained his close links to France, where he had studied in the 1920s. These caused him considerable difficulties in the Cultural Revolution, where they were used against him. It was at a special party at the official residence of the French consulate-general in Hong Kong that he was introduced to Mary and George Bloch around 1977.

As great collectors of modern Western art, including Picasso, the Blochs were immediately drawn to these paintings, and agreed to buy several that very evening. This was the start of a close association, which was of great benefit to Lin Fengmian, who had arrived in Hong Kong near destitute. The Blochs followed up with further purchases selected from him and from the fairly large number of paintings circulating at the time.

George Bloch had always expressed a wish that his collections would be eventually disseminated for other collectors to enjoy.

"This is an outstanding opportunity for collectors to buy masterpieces by China's greatest artist of the 20th-century, with absolute confidence of their quality and authenticity", adds Meilin Wang.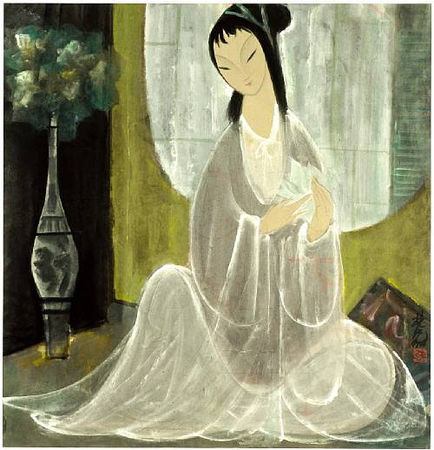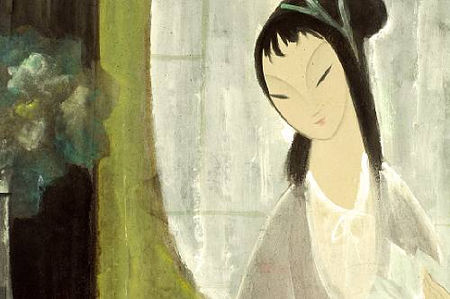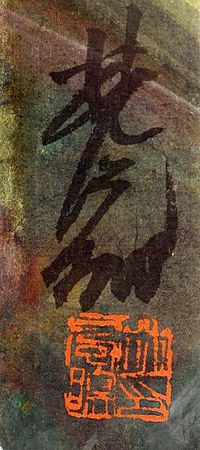 Lin Fengmian (1900-1991) Lady Holding a Lotus. Ink and colour on paper, framed and glazed. Signed Lin Fengmian, with one seal of the artist, 69cm x 66cm (27in x 26in). Estimate: HK$1,200,000 - 1,800,000, $150,000 - 230,000. Photo Bonhams
林風眠 捧蓮仕女 設色紙本 鏡框

款識:林風眠
鈐印:林風眠印

註:怨情 李白
美人卷珠簾,深坐顰蛾眉。
但見淚痕濕,不知心恨誰。

林風眠喜愛畫仕女,和自幼母子分離有相當關連。林風眠七歲時,母親被賣走,自此對母日夜思念,之後更將思念之情抒發於其畫作中。他筆下的女性,呈現畫家心目中所憧憬的完美女性形象,氣質嫻靜、優雅、溫婉而憂鬱。林風眠的古典仕女,融合了東西方的審美觀念。既吸收了二十世紀初巴黎畫派的新藝術風貌,亦注入了中國傳統陶瓷藝術的因子。修長的身軀,典雅的鵝蛋臉,以及哀傷的眼神,脫胎於西方表現主義莫迪里安尼(Amedeo Modigliani)。此外,他曾說:「我的仕女畫,最主要是受到中國陶瓷藝術的影響。我喜歡唐宋的陶瓷,尤其是宋瓷中官瓷和龍泉窑那種透明的顏色,它帶給我創作的靈感和繪畫技法的啟發。」