Bonhams are delighted to announce the sale of a remarkable pair of portraits, painted by Hilliard, depicting Queen Elizabeth I and Robert Dudley, 1st Earl of Leicester at Bonhams Knightsbridge on 25th November.

With each portrait measuring only 18mm high, the valuable lot, dating from circa 1575, is expected to fetch between £60,000 and £80,000 as part of the Merchiston Collection of Fine Portrait Miniatures.

Nicholas Hilliard (c. 1547–1619), was an English goldsmith, best known for his portrait miniatures of members of the courts of Elizabeth I and James I of England. His paintings are extraordinary records of the day and typify the image of Elizabethan England.

The relationship between Elizabeth I and the 1st Earl of Leicester characterised the reign of the Queen. Never had a nobleman been bestowed with so much patronage and power. Leicester, himself, possessed one of the largest and finest collections of paintings in Elizabethan England and was a principal patron of Nicholas Hilliard.

This pair of tiny portraits, almost certainly painted from life, would have originally formed part of a jewel or jewels of incredible significance, commissioned by either Elizabeth or Dudley for personal use or for exchange. They are a remarkable survivor from the Tudor period.

These miniatures form part of a 69-lot collection put together by Mrs Eleanor Hamilton, which spans the history of miniature painting from these examples through to works by Sir William Charles Ross, miniature painter to Queen Victoria. She purchased this pair after they appeared at Christie's, 28 October 1970, as separate lots from the Collection of Mr R H Spurway, Fredericton, New Brunswick.

Camilla Lombardi, Head of the Portrait Miniature department comments that: "To hold in the palm of your hand a pair of portraits that would have undoubtedly rested in the palm of the hand of the Queen of England five centuries ago is an extraordinary feeling. The intense personal nature of these miniatures, gives you a clear sense of the passionate woman behind the carefully cultivated public image."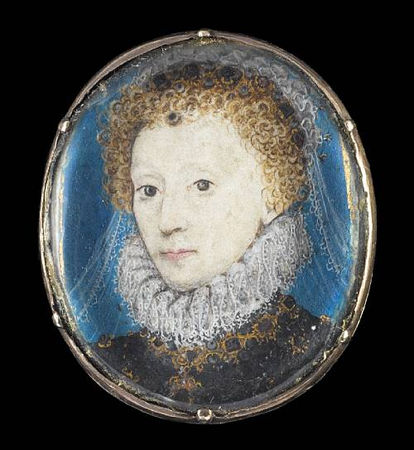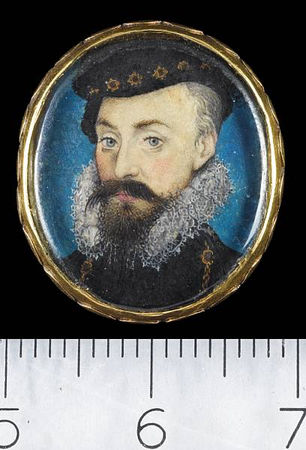 Nicholas Hilliard (British, 1547-1619) A pair of portraits of Elizabeth I (1533-1603), Queen of England and Ireland (1558-1603) and Robert Dudley, 1st Earl of Leicester (1532-1588):
She, wearing black bodice decorated with gold, lace edged pleated ruff and bejewelled gold necklace, jewels and gauze veil in her curled fair hair; he, wearing black doublet, collar of the Order of the Garter, pleated lace ruff and black cap with gold mounted ruby border. Watercolour on vellum laid down on card, gilt-metal frame and gold bracelet slide frame respectively. Oval, 19mm (3/4in) high (2) Estimate: £60,000 - 80,000
Provenance: The Property of Mr R. H. Spurway of Fredericton, New Brunswick, Canada; Christie's, 28 October 1970, lots 123 & 124
Purchased in 1976
Exhibited: Artists of the Tudor Court, The Portrait Miniature rediscovered 1520-1620, Victoria & Albert Museum, 9 July-6 November 1983, nos.185 & 186
Portrait Miniatures from the Merchiston Collection, Scottish National Portrait Gallery, 23 September – 11 December 2005, nos.3 & 4
Literature: Jim Murrell, The Way Howe to Lymne, 1983, pl.52
Roy Strong, Exhibition Catalogue, 1983, p.118
Stephen Lloyd, Exhibition Catalogue, 2005, p.16-17 and 56-7, ill.col.pl.1A & 1B
In 1569, Hilliard became a freeman of the Goldsmiths' Company, a versatile artist, skilled in the arts of goldsmithing, limning, jewellery, calligraphy, and designing for engravings. In 1572 he painted the first of his many limnings of Queen Elizabeth I. Hilliard and Elizabeth were in total agreement that the face should not be hampered by shadows, and it is perhaps for this reason that the relationship between the two blossomed, as patron and limner. From equally early in his career, the Queen's favourite, Robert Dudley, Earl of Leicester was also one of Hilliard's principal patrons. He is thought to have been Godfather to one of the miniaturist's seven children, many of whom bore names connected with the Dudley family.
The present two portraits can be dated to circa 1575 on the grounds of their similarity to other known images of Elizabeth and Dudley painted around this time. The portrait of Dudley can be compared directly with two other miniatures by Hilliard dated 1576 in the National Portrait Gallery, London (NPG4197) (see illustration) and the Victoria & Albert Museum (E.1174-1988). Whilst the portrait of Elizabeth cannot be specifically compared with another portrait, the veil that she is depicted wearing in the present lot is a feature of portraits from this period, namely 'The Phoenix Portrait', on loan to the Tate Gallery from the National Portrait Gallery, London (NPG190) (see illustration). Whilst a number of miniatures of Elizabeth by Hilliard are still in existence, few date to this "first" period before he was sent to France (1576-1578) by the Queen in order to provide likenesses of François, Duc d'Alençon, the subject of her last and longest matrimonial ploy.
Painted only a few years after Hilliard's first portrait of the Queen, the present portrait depicts the Queen in a relatively simple costume, almost without adornment. This simplicity of image increases the probability that the portrait was painted for someone close to the Queen who did not need to be awed by a jewel-bedecked regal image. This, combined with its intimate size, suggests that it was commissioned for a very personal purpose. There is no doubt that in this portrait we see the Woman rather than the Queen.
Importantly the miniatures date to a pivotal period in the relationship between Elizabeth and Dudley as 1575 was the year that Leicester appears to have finally given up all hopes of marrying the Queen. In the early 1570s he had started to look for love elsewhere, and by 1575 he was in a secret relationship with his future wife Lettice Knollys, who was at this time still married to the 1st Earl of Essex. Elizabeth is known to have reacted to his new romance with immense jealousy. In July 1575 Dudley made his last ditch attempt to capture the Queen, by the staging of a nineteen day extravaganza in her honour at Kenilworth Castle. Did Dudley commission these portraits as a gift for Elizabeth as part of this final effort to secure the Queen's hand; did Elizabeth commission these portraits in recognition of the lengths that he had gone to arranging such a spectacle in her honour; did Dudley commission these portraits as a parting memento as he abandoned all hope of marrying the Queen; or did Elizabeth commission these portraits as a lasting reminder to Dudley of his place in her heart? The answer to these questions will never be known for certain, nor is it possible to say whether they were originally housed in a single jewel to be kept by one of them, or as separate jewels exchanged between the two. However there is no doubt that they are a rare and lasting testament to the unique and forever fascinating relationship between the Queen and her 'bonnie sweet Robin'.

Born in 1533, Elizabeth was the only child of Henry VIII and Anne Boleyn. At birth, Elizabeth was the heiress presumptive to the throne of England. Her older half-sister, Mary, having lost her position as legitimate heir when Henry annulled his marriage to Mary's mother, Catherine of Aragon. The same fate happened to Elizabeth when her father had her mother beheaded less than three years after Elizabeth's birth. Eleven days after Anne Boleyn's death, Henry married Jane Seymour who died just 12 days after the birth of their son, Prince Edward. Edward VI succeeded his father in 1547, but died in 1553, aged 15 and Lady Jane Grey was proclaimed queen by the Privy Council. Her support quickly crumbled, and she was deposed after reigning nine days. Mary rode triumphantly into London, with Elizabeth at her side. The show of solidarity between the sisters did not last long due to their differing faiths. Mary, the country's first queen regnant, was determined to crush the Protestant faith which led to uprisings in early 1554. Upon the collapse of the uprising, Elizabeth was brought to court, interrogated and imprisoned in the Tower of London. On 17 April 1555, Elizabeth was recalled to court during the final stages of Mary's supposed pregnancy. When it became clear that Mary was not pregnant, no one believed any longer that she could have a child and Elizabeth's succession was assured. When Mary died at on 17 November 1558, Elizabeth became queen at the age of 25.
From the start of Elizabeth's reign, the question arose about whom she would marry. She only seriously considered three or four suitors for any length of time. Of these, her childhood friend Lord Robert Dudley probably came closest. She turned down Philip II's offer in 1559, his cousin Archduke Charles of Austria; and the two French Valois princes in turn, first Henri, Duke of Anjou, and later, his brother François, Duke of Anjou. In 1566, she confided to the Spanish ambassador that if she could find a way to settle the succession without marrying, she would do so. By 1570, senior figures in the government privately accepted that Elizabeth would never marry or name a successor.
Elizabeth's unmarried status inspired a cult of virginity. In poetry and portraiture, she was depicted as a virgin or a goddess or both. At first, only Elizabeth made a virtue of her virginity but later on, particularly after 1578, poets and writers took up the theme and turned it into an iconography that exalted Elizabeth. In an age of metaphors and conceits, she was portrayed as married to her kingdom and subjects, under divine protection. As Elizabeth aged and marriage became unlikely, her image gradually changed. She was portrayed as Belphoebe or Astraea, and after the defeat of the Spanish Armada, as Gloriana, the eternally youthful Faerie Queene of Edmund Spenser's poem. Her painted portraits became less realistic and more a set of enigmatic icons that made her look much younger than she was. In fact, her skin had been scarred by smallpox in 1562, leaving her half bald and dependent on wigs and cosmetics. Elizabeth was happy to play the part, but it seems that in the last decade of her life she began to believe her own performance. She became fond and indulgent of the charming but petulant young Robert Devereux, Earl of Essex, perhaps as a replacement for her lost love Robert Dudley. Essex took liberties with her for which she forgave him, repeatedly appointing him to military posts despite his growing record of irresponsibility. In February 1601, the Earl tried to raise a rebellion to seize the Queen but few rallied to his support, and he was beheaded on 25 February.
Elizabeth's most trusted advisor, Lord Burghley, died on 4 August 1598. His political mantle passed to his son, Robert Cecil, who soon became the leader of the government. One task he addressed was the succession. Since Elizabeth would never name her successor, Cecil was obliged to proceed in secret. He therefore entered into a coded negotiation with James VI of Scotland, who had a strong but unrecognised claim. The Queen remained well until the autumn of 1602, when a series of deaths among her friends plunged her into a severe depression. In February 1603, the death of Catherine Howard, Countess of Nottingham, was the last straw and in March, Elizabeth fell sick and remained in a "settled and unremovable melancholy". She died on 24 March 1603 at Richmond Palace and a few hours later, James VI of Scotland was proclaimed king of England.


Robert Dudley was born circa 1532, the fifth son of John Dudley, Duke of Northumberland. He first came to notoriety due to his involvement in the attempt to crown Lady Jane Grey, his sister-in-law. As a result he was imprisoned in the Tower of London a stay that coincided with the imprisonment of his childhood friend, Princess Elizabeth, who had been sent there on the orders of her half-sister, the Queen. Dudley was freed in 1554. His close friendship with Elizabeth really began in 1557 and he was probably with her when she received the news that she was Queen of England. She immediately made him Master of the Horse and he was entrusted with organising and overseeing a large part of the Queen's coronation festivities. In April 1559, Elizabeth named Dudley a Knight of the Garter. At about this time Dudley became a well-known figure, even in Europe. An Italian observer wrote: "My Lord Robert Dudley is...very intimate with her majesty". Despite Dudley being already married, by November 1559, he and Elizabeth were spending almost all their time together and were said to have a "secret understanding" to marry in the event of Dudley's wife being "sent into eternity". When Amy died suddenly in 1560, many people believed that Dudley had arranged for his wife to be murdered in order to free himself to marry the Queen.
In 1563, in a strange move, Elizabeth suggested him as a consort to the widowed Mary Queen of Scots, inferring that if she were to marry Dudley, she would make Mary her heir. In September 1564, Elizabeth bestowed on Dudley the Earldom of Leicester, with the aim of making him more acceptable to Mary. However it was Dudley who was not to be moved to comply. By 1564, Dudley realised that his chances of becoming Elizabeth's consort were small, but at the same time she herself continued to give the impression that she would have liked to marry him very much. It was widely accepted by 1566 that the Queen would either never marry or else marry Leicester. His intimacy with the Queen gave him an influence that other councillors hardly had - he was her consort in all but name. In July 1575, he staged a final, allegorical bid for the Queen's hand in the form of a nineteen day festival at Kenilworth Castle. The entertainments included a Lady of the Lake, a swimming papier-mâché dolphin with an orchestra in its stomach, fireworks, masques, hunts and bear baiting.
Robert Dudley had to be secretive of any love life he had for fear of enticing the Queen's rage. His flirtations with her cousin Lettice Knollys, the wife of the 1st Earl of Essex caused a prolonged outbreak of jealousy in the Queen. When Lord Essex went to Ireland in 1573, Robert and Lettice became lovers, causing much gossip, which was only to intensified after Dudley's supported sending Essex back to Ireland after he had returned home in 1575, and his death soon after. On 21 September 1578, Leicester married Lady Essex - he did not dare to tell the Queen of his marriage; after nine months, Leicester's enemies at court acquainted her with the situation, which caused a furious outburst. The marriage of her favourite hurt the Queen deeply. She never accepted it, often humiliating Leicester in public, calling him a traitor and a cuckold.
It was not until the threat of the Spanish Armada in July 1588 that Dudley's position was restored. He was appointed "Lieutenant and Captain-General of the Queen's Armies and Companies" and arranged for the Queen to visit her troops at Tilbury where she gave her famous speech, during which he walked beside her horse bare-headed. After the Armada, the Earl was seen riding in splendour through London, and he dined every day alone with the Queen, something unheard of before. A few months later, Dudley died suddenly on his way to Buxton in Derbyshire. Elizabeth was devastated, locking herself in her apartment for a few days, until Lord Burghley had the door broken down. She kept the letter he had sent her only six days before his death in her bedside treasure box, writing on it "his last letter." It was still there when she died fifteen years later.